CRUISING: Movie Review of Mission: Impossible – Rogue Nation by Howard Casner
Posted:
August 9, 2015 |
Author:
Donald
|
Filed under:
Uncategorized
|
Tags:
Alec Baldwin
,
Barbara Bain
,
Christopher McQuarrie
,
Drew Pierce
,
Jeremy Renner
,
Martin Landau
,
Mission: Impossible Rogue Nation
,
Rebecca Ferguson
,
Sean Harris
,
Simon McBurney
,
Simon Pegg
,
Tom Cruise
,
Tom Hollander
,
Ving Rhames
|
13 Comments »
First, a word from our sponsors: I am now offering a new service: so much emphasis has been given lately to the importance of the opening of your screenplay, I now offer coverage for the first twenty pages at the cost of $20.00.  For those who don't want to have full coverage on their screenplay at this time, but want to know how well their script is working with the opening pages, this is perfect for you.  I'll help you not lose the reader on page one. 
Ever wonder what a reader for a contest or agency thinks when he reads your screenplay? Check out my new e-book published on Amazon: Rantings and Ravings of a Screenplay Reader, including my series of essays, What I Learned Reading for Contests This Year, and my film reviews of 2013. Only $2.99. http://ow.ly/xN31r
and check out my Script Consultation Services: http://ow.ly/HPxKE
Warning: SPOILERS
In watching Mission: Impossible – Rogue Nation, the latest attempt by Tom Cruise to keep his box office status as superstar and not let his being a Scientologist be held against him, one thing that struck me is that it seemed to be violating a basic law of physics, as least physics as stated by such scientific experts as the writers of shows like Star Trek.
The basic premise of MI – RN is that there is now a mirror version of this secret espionage group that is doing everything it can to cause chaos in the world. Or as described by Ethan Hunt, our fearless leader, an anti-IMF (hold for gasps).
But if that is true, then if one IMF member comes into contact with an anti-IMF member, shouldn't the universe be destroyed in a huge explosion?
At any rate, growing up I was a big fan of the Mission: Impossible TV series. Every Sunday (or whatever night it was, it was so long ago, I don't remember) I was there to find out what foreign country the MI bunch were going to covertly go into and destabilize or stabilize, depending on how James Phelps' never seen but only heard, comforting, middle American accented boss felt about them.
My memory as to its final seasons is that the idea of covertly manipulating the affairs of foreign countries was more and more becoming unpopular in the U.S. and the show then switched gears and focused more on gangsters of the modern day Untouchables kind (the Bill of Rights be damned). With that the series lost something (along with Barbara Bain and Martin Landau), and it kind of limped along for a couple of more years and that was that.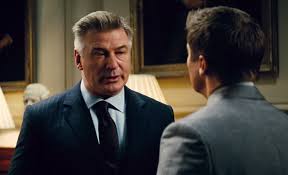 It's interesting to me, then, that the opening scenes in this new installment actually begins with acknowledging the idea that maybe, just maybe, secretly interfering in other regimes, etc., with no governmental oversight might not be the best way to run U.S. intelligence, as Alan Hunley, head of CIA, suggest as he tries to shut them down (Hunley is played in standard gruff manner—would you have it any other way—by Alec Baldwin, assuring himself a steady income for many, many years, or at least two more sequels, whichever comes first).
But no worry. You don't really think the movie is going to acknowledge that ultimately, whenever we've down things like this in the past, it's usually ended up an utter disaster, do you? No, by the time the story is over, it clings to the idea that an unchecked shadow spy organization is the only thing that can keep the free world safe, if, for no other reason than, if they didn't, there would be no more sequels and no more franchise.
I mean the only thing that can stop a bad shadow spy organization with futuristic weaponry is a good shadow spy organization with a futuristic weaponry, right?
Of course, the movie version of this concept has never really had a true Mission: Impossible set up and plot. In the show, the MIF was always in control, not being the ones who are on the defensive, but the ones who are offending, and the pleasure of the show was seeing just how all the clues to the plot will work themselves out and come together in a very clever and even witty way.
The movies have all been rather standard espionage thrillers that rely more on CGI and action set pieces than on adroit plotting. And true to form, Mission: Impossible – Rogue Nation is no different. And in the end, it is…perfectly all right. It's fun at times, exciting at times, enjoyable at times, but overall, in the end, it's just…all right.
Which isn't bad. I mean, it could have been a lot worse. And it's often more than entertaining.
What virtues it has I attribute to the script by Drew Pierce (story) and the director Christopher McQuarrie, the latter of whom has worked on many other Tom Cruise vehicles of late, like Edge of Tomorrow, Jack Reacher and Valkyrie.
Basically, it's a rather good idea and set up, this anti-IMF, whose only purpose seems to cause as much pain and suffering in the world as they can. Not to the highest bidder; not for some underlying goal, like all the gold in Fort Knox; but just for shits and giggles (though this played a lot better until Ethan Hunt, our peripatetic IMF head, actually psychoanalyzes the villain de jour in case the audience can't figure it out for themselves and thereby makes it a little less interesting).
At any rate, the powers that be don't believe in this anti-IMF, but have come to the conclusion that Hunt may be losing it, so he has to go underground in order to take out Rogue Nation, save himself and the future of IMF. Simple, no? Well, no, but much simpler since our hero seems to have all the money in the world, a secret base in Paris that goes a few stories under the Seine, weaponry and technical marvels that would put James Bond to shame, as well as the ability to keep up a body worthy of the cover of Sports Illustrated without having a gym membership.
It has one of those exciting opening scenes that ends with Hunt clinging for his life to a plane (a metaphor for Cruise's career, perhaps?) and proceeds to a chilling one where the authors turn the way Hunt gets his missions if he decides to accept them on its head.
And there are some marvelous set pieces after this, the highlight being one early on, an assassination attempt at an Austrian opera house aimed at the Archduke during what looks like a simply scrumptious performance of Turandot, obviously a homage to both Alfred Hitchcock's The Man Who Knew Too Much and the beginning of WWI.
In addition, McQuarrie has a way with a witty line here and there, especially when Simon Pegg as Benji Dunn, chief hacker and bottle washer, is on the screen. He seems to be having a whale of a time with his kibbles and bits of dialog and his is probably the most fun character in the film.
Well, there is perhaps one exception and that is Tom Hollander as the Prime Minster of England. Hollander is probably the very last person anyone would ever cast as the inhabitant of 10 Downing Street (and I swear there were some knowledgeable snickers from the audience when they realized who he was). But he more than pulls it off in a very, very, very droll showdown scene involving Hunt, Hunley and the head of MI5 during a charity auction.
As a director, I'm not convinced McQuarrie has the light touch that his screenplay has. The acting often seems a bit on the nose and obvious. There's no real subtlety here and so some of the line readings fall a bit flat.
But it does have a strong cast. Cruise as Hunt looks incredible and his bad boy charisma is often charming. In addition to Pegg and Baldwin, we have Jeremy Renner as William Brandt (who never really comes alive, unfortunately; the part has no personality and, though a fantastic actor, Renner has trouble bringing a personality of his own to roles that don't have them already, as in The Avengers); Ving Rhames as Luther Stickell, who is fun, but as a friend pointed out, what is the difference between the jobs that Stickell and Benji do exactly; Rebecca Ferguson who more than keeps up with everyone else as Ilsa Faust (the name is because she made a deal with the devil, I suppose); and Simon McBurney as the oily, corrupt head of MI5, the devil himself.
The head bad guy, Solomon Lane, is played by overly calm, steely eyed Sean Harris. He makes a very effective anti-Ethan Hunt. Perhaps the most interesting part of his villainy is his ability to attract far better looking agents than anyone in IMF, Hunt included. They may not be able to wipe the floor with an IMF agent fight wise, but they could all easily make the cover of GQ or do a series of photos for Abercrombie & Fitch with no competition.
---