BORN AGAIN or PHOENIX IS AS PHOENIX DOES: Movie reviews of Phoenix and Irrational Man by Howard Casner
Posted:
August 13, 2015 |
Author:
Donald
|
Filed under:
Uncategorized
|
Tags:
Christian Petzold
,
Emma Stone
,
Harun Faroqhi
,
Irrational Man
,
Joaquin Phoenix
,
Nina Hoss
,
Parker Posey
,
Phoenix
,
Ronald Zehrfeld
,
Woody Allen
|
5 Comments »
First, a word from our sponsors: I am now offering a new service: so much emphasis has been given lately to the importance of the opening of your screenplay, I now offer coverage for the first twenty pages at the cost of $20.00.  For those who don't want to have full coverage on their screenplay at this time, but want to know how well their script is working with the opening pages, this is perfect for you.  I'll help you not lose the reader on page one. 
Ever wonder what a reader for a contest or agency thinks when he reads your screenplay? Check out my new e-book published on Amazon: Rantings and Ravings of a Screenplay Reader, including my series of essays, What I Learned Reading for Contests This Year, and my film reviews of 2013. Only $2.99. http://ow.ly/xN31r
and check out my Script Consultation Services: http://ow.ly/HPxKE
Warning: SPOILERS
In the U.S., much has been made of the lack of women's roles in film, especially as they reach, in movie terms, the unmagical age of 40. There are many reasons for this, but the main one, I suggest, is that American filmmakers (directors, writers, producers) seem to have absolutely no interest in creating movies with women as central characters.
Though I'm not saying this isn't a problem everywhere, it does seem to be far worse in the U.S. In other countries, especially of the European variety, for whatever reason (perhaps a topic for another time), actresses of all ages, but especially older ones, don't seem to have that serious of a problem in this area.
In fact, it is not unusual for directors overseas to constantly use the same actress over and over again, often creating roles and movies as vehicles for them. Claude Chabrol loved, while Michael Haneke loves, using Isabel Huppert. André Téchiné seems to worship the ground that Catherine Deneuve walks on. Francois Ozon has a thing for Charlotte Rampling. And who can forget Lars Von Trier's constant use of Charlotte Gainsborough.
And from Germany we have writer/director Christian Petzold who has little trouble finding interesting and effective roles for his latest muse: Nina Hoss (quickly becoming one of the world's more impressive actors). Together they have made several films, from the existential Yella; the unofficial remake of The Postman Always Rings Twice, Jerichow; the cold war thriller, Barbara; and now the Holocaust drama, Phoenix.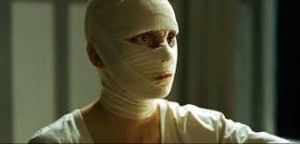 Phoenix has been described as a Hitchcockian thriller. It's about a Jewish woman, Nelly (Hoss), returning to post war Germany after being in a concentration camp for a year. Her face has been so damaged that she receives reconstructive surgery. As a result, she will resemble her former self, but, as the plastic surgeon points out, it won't be exact, just close.
She returns with the help of her friend Lene who tells her that she has been thought dead by many, but is actually the only survivor in her family (and thus a woman of some means via inheritance). Lene tells Nelly that it was her husband Johnny who betrayed her, but Nelly has trouble accepting this so she goes searching for him.
And she finds him, no longer a musician, but a busboy in a nightclub. When Johnny sees Nelly, he doesn't recognize her as his wife, but as someone who resembles her, which is exactly what he needs. Since Nelly hasn't been declared dead, he can't inherit her wealth. But if he can turn this woman he meets into Nelly, he can scam the inheritance.
Yes, it may seem Hitchcockian, but it's basically a variation on Anastasia, though this time, we in the audience know what is what while in that other film, the ending is ambiguous.
The movie has arrived with a lot of fanfare and critical raves. Unfortunately, I'm not sure I can join the club. I think the basic idea is quite intriguing. But I'm not sure the plot quite works.
I had to think about it a long time as to why I wasn't connecting with the movie, and I think the reason is his: we are watching a woman who has been viciously victimized for a year, and when she gets back to Berlin, we watch her voluntarily victimizing herself even more and in a very cruel manner. And I found it hard to watch someone who has been so cruelly treated putting herself of her own choosing in the same position again.
I think this might not have bothered me if I bought the central conflict: that Nelly is trying to ascertain the truth as to whether her husband betrayed her or not. But much of the time, I couldn't figure out whether her motivation was to discover that or whether Johnny still loved her or not (which isn't the same thing).
But her attempts often felt halfhearted to me. I never felt the character really focused on any goal, but tended to drift along with what was happening. She's a reactive character when I really felt the story called for her to be more proactive.
And it probably doesn't help that it's so obvious, so clear, so lacking in doubt that her husband not only doesn't love her, but obviously did betray her, so obvious it's hard to understand why she is so slow on the uptake (he's the sort of husband where if you asked him if he is cheating on you, he either changes the subject, or says something like "How could you think something like that"—when you get either of those reactions, you know the answer is that he's cheating).
Maybe if I felt she loved him so much she can't help herself; but it's difficult to understand what she could possibly love in this man, so it's hard to have any sympathy for her there.
So the movie tends to plod along without a lot of forward momentum and with a plot that doesn't have a lot of tension or build.
The screenplay is by Petzold and Harun Faroqhi, who also collaborated with Petzold on Barbara, a movie I also thought didn't quite work due to a faulty structure. I'm not sure why they didn't do more here to make the characters and their actions more ambiguous. If, from the beginning, Johnny had claimed he did love his wife, that everyone is accusing him of betraying her, and that he is just as much a victim here, then Nelly has something to do—figure out whether he is lying or not—that would, actually, have made it Hitchcockian, which it really isn't that much here.
Nina Hoss is full of conviction as the maimed and damaged Nelly. But the best performance is probably given by Ronald Zehrfeld as the brutal betrayer Johnny. He seems so world weary and his character has a goal that is so strong and focused, that he gives the film whatever energy it has.
I will say, though, it does have a wonderful ending, something that made me salivate for what the film could have been, but wasn't quite.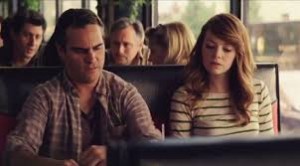 Writer/director Woody Allen has made four films on the metaphysics of murder: Crimes and Misdemeanors, Match Point, Cassandra's Dream and now Irrational Man.
Out of these four, Irrational Man is the one with the cleverest set up and is the best plotted. Ironically, it is also the worst written and the worst directed.
The movie stumbles from the very beginning with the arrival of Abe, a philosopher of world renown who has a reputation of being controversial and upsetting the philosophical community with some new ideas.
How do we know this? We're told it. And it's a good thing because Abe is one of those characters who doesn't remotely resemble the character he is described as so if we weren't told what he was supposed to be like, the movie would make little sense. In fact, Abe comes more across as a philosopher with no real original ideas and who just regurgitates what is status quo (based on the screenplay and how the character is described, his bent should probably be a new take on nihilism and that existentialism is no longer the answer to mankind's philosophical questions).
It then stumbles again in that the part is played by Joaquin Phoenix, one of our greatest actors, who seems totally miscast, acting his part as if he's in a totally different movie, coming across as someone searching for a character rather than playing one. He seems to have gained weight and put on enough belly fat to have a dad-bod, but as I told a friend, if you're going to change your physical appearance in order to more realistically portray a character, I'm not sure this is the movie I'd do it for.
The story limps along until something very interesting happens. Abe is at a restaurant with one of his students Jill (Allen's new muse, Emma Stone) when they hear some couples talking about a corrupt judge who is destroying their lives in a custody battle case. Abe realizes that he could kill this judge and no one would suspect him because he doesn't know the magistrate and he has no motive.
And with that this once moribund, depressed alcoholic finds a new reason to live and suddenly is full of energy and purpose of life.
But as so often happens, through a series of events, Emma comes to suspect the truth thus forcing a final confrontation.
So for those of you keeping score, from Abe's perspective, this is Crime and Punishment (which is referenced in the film), while for Jill, it's Shadow of a Doubt (which ain't).
And this is a great set up. And the basic plotting of this part of the story is very clever and a lot of fun.
But the set up also emphasizes one of the faults in the creation of the main character. At one point, Abe talks about Kierkegaard's philosophy, which Abe admires, but says that the problem is that Kierkegaard was a Christian, so that was that.
However, he seems to forget that Dostoevsky, who he also admires, was a Christian, too. And old Fyodor's conclusion about Abe's actions are different than Abe's. In fact, it feels that Abe only read the first half of C&P and stopped just before the arrival of Inspector Porfiry.
The plot does have a couple of nice scenes, or at least scenes with potential, like the murder of the judge, and especially a family dinner where Jill and her parents theorize about how the murder could have been carried out, accidentally stumbling on exactly how it was done, with Abe listening and commenting in high amusement.
But the movie never takes off. The rhythm is off, the pacing is slow, the writing is sloppy, and the characters ultimately aren't very interesting. Stone brings a lot of energy and gravitas to her roll and she's fine; she certainly acquits herself.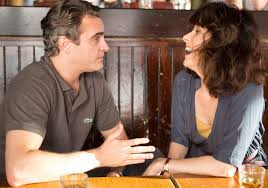 In the end, though, the only actor who really gets away with their part is Parker Posey who gives a wonderful performance as a fellow teacher who is bored and whose life has lost meaning, but finds her rebirth in an affair with Abe.
It would have been interesting to see this film with a different director (say Dan Gilroy) and with a different lead (like Mark Ruffalo).
---