WHITE MEN'S BURDENS: Movie Reviews of Suburbicon, Victoria and Abdul and Brad's Status by Howard Casner
Posted:
November 13, 2017 |
Author:
Donald
|
Filed under:
Uncategorized
|
Tags:
Ali Fazal
,
Ben Stiller
,
Brad's Status
,
Eddie Izzard
,
Ethan Cohen
,
Gary Basaraba
,
George Clooney
,
Grant Heslov
,
Joel Cohen
,
Judi Dench
,
Julianne Moore
,
Lee Hall
,
Luke Wilson
,
Matt Damon
,
Michael Gambon
,
Michael Sheen
,
Mike White
,
Oscar Isaacs
,
Paul Higgins
,
Shrabani Bash
,
Stephen Frears
,
Suburbicon
|
78 Comments »
First, a word from our sponsors: I am now offering a new consultation service: so much emphasis has been given lately to the importance of the opening of your screenplay, I now offer coverage for the first twenty pages at the cost of $20.00.  For those who don't want to have full coverage on their screenplay at this time, but want to know how well their script is working with the opening pages, this is perfect for you.  I'll help you not lose the reader on page one. 
Ever wonder what a reader for a contest or agency thinks when he reads your screenplay?  Check out my new e-book published on Amazon: Rantings and Ravings of a Screenplay Reader, including my series of essays, What I Learned Reading for Contests This Year, and my film reviews of 2013.  Only $2.99. http://ow.ly/xN31r
and check out my Script Consultation Services: http://ow.ly/HPxKE
Warning: SPOILERS
Blu3B33tl3
Suburbicon, the new postmodern, neo-noir written by Joel and Ethan Cohen, Grant Heslov, and the film's director George Clooney (perhaps two writers too many), is probably best described as if the Cohen brothers had adapted a James Cain novel with a bit of A Raison in the Sun tossed in for good measure.
The basic premise is that seemingly mild mannered middle class family man Gardner (Matt Damon) has paid some thugs to break into his house pretending to rob it, but in reality they have been hired to kill Gardner's wheelchair bound wife (Julianne Moore) for the insurance money and so he can marry his sister-in-law (Julianne Moore redux), who has a set of perfectly good legs thank you very much.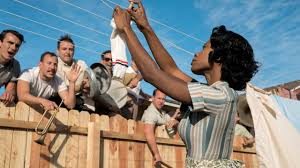 At the same time, in the house that backs up against theirs, a black family has unsuspectingly moved in without so much as a how do you do (and none will ever be given) and to the fury of their whiter than white neighbors.
The point is, I surmise, that the whites are so focused on driving out the black family that they are blithely unaware of the skullduggery that is going on right under their noses.
It sounds promising, but never quite comes together and I think there are a couple of reasons for this.
One is that I'm not quite sure that the screenplay and Clooney quite get the tone right, at least for the through line of the black family. It just comes across as a situation that doesn't seem to work that well in the jaundiced comic style of the Cohens.
The through line with the murder works much better style wise, but has its own issues.
I believe the story waits far too long to let us know what is going on. Because of that, the first half of the story is vague and nebulous and doesn't give us anything to latch onto.
In fact, the movie only really starts working when Oscar Isaacs, as a snake oil salesman of a corrupt insurance investigator, makes his appearance. At that point the story really takes off and has a very satisfactory ending where everything gets wrapped up not just quite cleverly, but also quite wittily in many ways.
But it left me with the thought as to how much better the film might have been if the investigator had shown up at the end of act one.
Technically, the film can't be faulted. The 1950's décor and fashions, often pastel like and realistic with a slight cartoonish feel to them (as are the actors' faces-not quite Fellini, but in that general direction), is perhaps the strongest aspect of the film.
Though Damon and Moore are fine enough in the central roles, the acting kudos are stolen by Isaacs and Gary Basaraba as Mitch, the brother-in-law.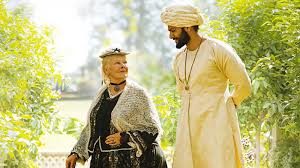 Victoria and Abdul is a movie that probably shouldn't be liked, except by authors like Rudyard Kipling. It takes place during the Raj and the height of England's rule over India and is often rather condescending and patronizing when it comes to Britain's treatment of the Indian populace, as well as how Muslim women are treated by their husbands.
All are reduced for the most part to the jousting repartee one might find in a play by Noel Coward or Somerset Maugham.
But, in fact, somehow, the result is often quite winning and witty and, rather than the revulsion you should perhaps feel, it wears you down until you have little choice but to enjoy it.
Victoria is played by Judi Dench (who else) as a cranky grandmother that everyone complains about but has to tolerate. It's the second time she has assayed this role, the first being in Mrs. Brown, which has a similar arc: an uncommonly good looking commoner is called upon to breathe new life into a monarch worn down by sorrow.
She's excellent. How could she not be? And because of that, perhaps not as exciting as one might wish.
Ali Fazal (of 3 Idiots and Furious 7) has an attractive twinkle in his eye. The part is a bit too Gunga Din for my taste, but he acquits himself nicely.
But the movie is stolen by Eddie Izzard as the Prince of Wales, a spoiled brat of a teddy boy who can't wait for his mother to die so he can inherit the throne, and Paul Higgins as the easily frustrated Scottish Dr. Reid.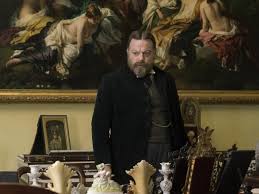 The screenplay is by Lee Hall (from a book by Shrabani Bash) and is satisfying while being clunky at times (there's an odd revelation of a social disease that goes nowhere and has no payoff for some odd reason) and gets a bit too over the top toward the end to be as believable as it might be (though the general outline of the story seems to be quite accurate). The directing is by the solid and stolid Stephen Frears.
Technically, it's as beautiful and historically accurate as one could want.
With Michael Gambon in a spot-on cameo as a frustrated prime minister.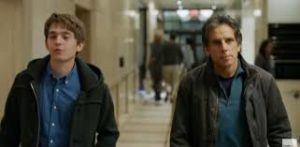 Brad's Status is a film that came and went some time ago, but since it fits the title of the reviews, and because, for the most part I liked it, I wanted to make mention of it.
Ben Stiller is probably our best practitioner of American, middle-age white male angst in having a mid-life crisis. This can be seen in such films as Greenberg, While We're Young, Mitty and to some degree, The Meyerowitz Stories (New and Selected).
In fact, it's getting to the point where this defines the term, a Ben Stiller role.
Brad's Status is written and directed by Mike White who also gave us Chuck & Buck, The Good Girl and Year of the Dog. His films are well done, quite entertaining and a satisfying time in the theatre without being much more than that. They don't rise above what they are, but do a solid job of rising above the majority.
Brad's Status, though, is probably his best and perhaps most ambitious when it tries to dig into and understand not just what makes the title character work, but how the human condition works as well.
On this iteration of a Ben Stiller movie, the actor plays Brad, of course, a reasonably successful father of a son about to go to college (Brad runs a non-profit and lives the life of the upper middle class).
But this new turn in his life is raising some disturbing thoughts. In college, he was a member of a gang of four, three of whom have now gone on to incredible success and wealth (one a Hollywood mogul, one a wealthy businessman, and one a nationally famous author and political pundit).
Not only does he begin to feel incredibly unsuccessful and a failure in life, it makes him panic to such a degree in his efforts to get his son accepted at a toney college, that not only does he think he has no white privilege and that all minorities have an automatic advantage over his son, he is totally blind to the fact that he is actually exploiting his white privilege when he calls up his old friends to ask them to intervene on his son's behalf, something most minorities would not have the remote ability to do.
It takes Brad a while to realize how privileged his life is and that maybe he's better off than his often beleaguered college mates, but it is an entertaining and insightful journey.
The screenplay is perhaps a little lacking in a few areas. We never find out why Brad has been so excluded over the years at important events his friends held or were involved in. And one of his friends (played in quickie cutaways by White) never takes part in the story, which leaves the film feeling a bit unbalanced.
But it has a fine cast with Luke Wilson and Michael Sheen as the two friends acquitting their cameos quite satisfactorily.
---