NO VACANCY: Movie reviews of 78/52 and The Florida Project by Howard Casner
Posted:
November 10, 2017 |
Author:
Donald
|
Filed under:
Uncategorized
|
Tags:
78/52
,
Alexander O. Philippe
,
Alfred Hitchcock
,
Bria Vinaite
,
Brooklyn Prince
,
Chris Bergoch
,
Danny Elfman
,
Elijah Wood
,
Guillermo del Toro
,
Jamie Lee Curtis
,
Marli Renfro
,
Martin Scorsese
,
Peter Bogdanovich
,
Psycho
,
Sean Baker
,
The Florida Project
,
Willem Dafoe
|
10,853 Comments »
For questions: hcasner@aol.com
First, a word iefrom our sponsors: I am now offering a new service: so much emphasis has been given lately to the importance of the opening of your screenplay, I now offer coverage for the first twenty pages at the cost of $20.00.  For those who don't want to have full coverage on their screenplay at this time, but want to know how well their script is working with the opening pages, this is perfect for you.  I'll help you not lose the reader on page one. 
Ever wonder what a reader for a contest or agency thinks when he reads your screenplay?  Check out my new e-book published on Amazon: Rantings and Ravings of a Screenplay Reader, including my series of essays, What I Learned Reading for Contests This Year, and my film reviews of 2013.  Only $2.99. http://ow.ly/xN31r
and check out my Script Consultation Services: http://ow.ly/HPxKE
Warning: SPOILERS
Writer/director Alexander O. Philippe's 78/52 is not only everything you wanted to know about the infamous scene in Alfred Hitchcock's seminal film Psycho that did for showers what Jaws would later do for Fourth of July swimming in the seas, but everything you didn't know you wanted to know (the name derives from the set piece requiring 78 camera set ups and 52 shots).
There has always been something perverse, not just about all of Hitchcock's oeuvre, but especially in Psycho.
It's not just that the movie is horrifying and scares the shit out of you.
It's not just that it's somewhat mean spirited (not just to the audience, but to the characters on screen).
It's just that you can tell Hitchcock is having fun killing someone in such a way that both terrifies the audience while making them enjoy it and then feel guilty about it.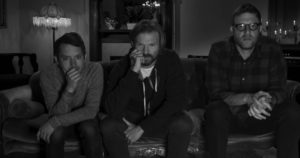 You can tell he's not just laughing at you, but is so proud of it, too, like a schoolboy playing a prank on a teacher.
And this joy is contagious in the way the myriad of talking heads talk about and react to it. They know what happens is awful, but it's simply far too much fun not to talk about it.
The film emphasizes the one aspect of Hitchcock's work that has influenced my writing. In many ways, Hitchcock was an existentialist before existentialism, before Sartre took pen to paper and the term became a household word.
In his movies, people just happen to become involved in dangerous and even absurd situations, usually by accident, often due to mistaken identity, including North by Northwest in which someone is mistaken for someone who doesn't even exist.
It's rarely, if ever, the hero's fault. It's more often the result of the random fickleness of a cold and uncaring universe, or worse, one that has a perverse sense of humor.
And in Psycho, poor Marian Crane just happens to get caught in a downpour and ends up at the Bates Motel, where the guests check in, but don't check out.
Though she's imperfect (she is an embezzler), here she's more sinned against than sinning and hardly deserves the punishment she receives.
And as the documentary points out, the macguffin (Hitchcock's term for the thing everyone is after in his films), basically disappears when Marian does, totally irrelevant to what is going on.
The one area where Hitchcock perhaps falls short of existentialism is the way his movies wrap up (with The Birds being the exception), with a rational explanation for everything, and with the world which had been turned upside down now been comfortably righted.
But the film is filled with fun factoids that should delight moviegoers of all ages and maybe even help at the next trivia night (casaba melon anyone?).
And the talking heads are endless including Peter Bogdanovich, Jamie Lee Curtis, Guillermo del Toro, Danny Elfman, Martin Scorsese, Elijah Wood, Leigh's body double Marli Renfro and the Master of Suspense himself.
The Florida Project is the follow up film of writers Sean Baker and Chris Bergoch (with Baker repeating as director), who gave us Tangerine, the marvelous movie about two transsexual best friends who march up and down Santa Monica Boulevard over and over again (the film is exhausting to watch), one of them newly released from prison for a crime her pimp/boyfriend committed and now searching for said boyfriend after discovering he cheated on her while she was behind bars.
It was wonderful, one of the best films of the year, shot entirely on an iPhone with unbelievable sound and extraordinarily graceful tracking shocks gathered by someone riding a skateboard.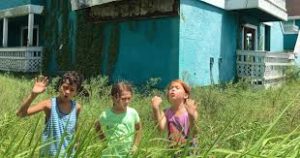 The Florida Project is basically a slice of life revolving around the denizens of a hotel painted a rather violent violet hue not far from Epcot Center (and referred to as the purple place) with the ironic name of the Magic Kingdom. The story primarily focuses on a little girl, Moonee, with a somewhat irresponsible mother who has problems making rent and just getting by.
Moonee is still too young to realize how precarious her life is and that there is little hope to her future. Instead, she still sees each day as an endless adventure of playing with friends, asking for money from strangers for ice cream and discovering beautiful places to wonder at in nature, like a misshapen tree.
It's a fun and ultimately moving film, filled with deep empathy for its characters and humanist to the core. And filled with a savory nostalgia for those of us who spent our early years barely supervised by adults.
With cute as a button Brooklyn Prince as Moonee and Bria Vinaite as her mother Halley, both memorable.
However, the heart and soul of the film belong to Willem Dafoe as Bobby, the long suffering manager of the motel. Crusty, feeling his age and life's shortcomings, he oversees his domain as a God who is frustrated at only being able to do so much and no more.
He has a memorable scene where he sees a pedophile stalking Moonee and her friends and ruthlessly sends the man running.
---