PROLOGUE TO GLORY: Movie Reviews of Southside With You and Sully by Howard Casner
Posted:
September 13, 2016 |
Author:
Donald
|
Filed under:
Uncategorized
|
Tags:
Aaron Eckhardt
,
Anna Gunn
,
Captain Phillips
,
Chesley Sullenburger
,
Clint Eastwood
,
Do The Right Thing
,
Jamey Sheridan
,
Laura Linney
,
Michael Rappaport
,
Mike O'Malley
,
Parker Sawyers
,
Pauline Kael
,
Richard Tanner
,
Saving Mr. Banks
,
Southside With You
,
Spike Lee
,
Tika Sumpter
,
Tom hanks
,
Tom Komarnicki
,
Tom McElroy
,
Valerie Mahaffey
|
2 Comments »
For questions: hcasner@aol.com
First, a word from our sponsors: I wanted to say thank you to everyone who contributed to our Indiegogo campaign for 15 Conversations in 10 Minutes. We did very well due to you folks. For those who weren't able to give, keep us in your thoughts. And if you are able to contribute in the future, contact me and I'll tell you how. I will even honor the perks on the original campaign.
I am now offering a new consultation service: so much emphasis has been given lately to the importance of the opening of your screenplay, I now offer coverage for the first twenty pages at the cost of $20.00.  For those who don't want to have full coverage on their screenplay at this time, but want to know how well their script is working with the opening pages, this is perfect for you.  I'll help you not lose the reader on page one. 
Ever wonder what a reader for a contest or agency thinks when he reads your screenplay?  FosCheck out my new e-book published on Amazon: Rantings and Ravings of a Screenplay Reader, including my series of essays, What I Learned Reading for Contests This Year, and my film reviews of 2013.  Only $2.99. http://ow.ly/xN31r
and check out my Script Consultation Services: http://ow.ly/HPxKE
Warning: SPOILERS
Some are born great, some achieve greatness, and some have greatness thrust upon them.
                                                            Twelfth Night, William Shakespeare
When Pauline Kael reviewed Abel Gance's Napoleon, she talked, somewhat negatively, of Gance's approach to the future emperor. She said something to the affect that when Napoleon is an adult, Gance treats him as a man of destiny; when the subject is young and in school, he's presented as a child of destiny.
This isn't an unusual way to approach biopics of famous people; treating them as archetypes, rather than human beings like anyone else one might meet on the street, an approach closer to what George Bernard Shaw tried to do in such works as Caeser and Cleopatra and St. Joan.
But even Shaw's plays seem more like the Fast and Furious franchise when compared to Southside With You, the chronicling of an early and ordinary day in the life of two people who later became two of the most powerful people in the world.
Very little happens in writer/director Richard Tanner's first feature. Two people go out on a date. Well, the man is on a date. The woman refuses to call it that since not only do the two work together, she is the man's mentor.
But go out they do. They visit an Afro-centric art exhibit; have lunch in a park where the woman reveals she prefers ice cream to pie; attend a community meeting about a youth center where the man gives a speech; see Spike Lee's film Do The Right Thing; accidentally run into one of their bosses, who ends their chance meeting rather gauchely; then end the night at a Baskin-Robbins.
The date/non-date is about as mundane as one can get. There is nothing that iconic in anything that happens. The man's car is even an old wreck with a hole in the floor.
But all this is to the point. The two dating are, of course, Michelle Robinson and Barack Obama, future first lady and president. And very little in their actions and dialog really give a hint that one day, they will become two of the greatest leaders the U.S. has seen. Everything is just too normal.
It's not that there is nothing there. Michelle is very aware of being not just a woman, but a black woman, in a white man's world. She is fiercely focused and independent. Barack has already started making inroads as a community organizer and displays his ability to bring people together and reap success out of stiff opposition.
Which leaves the film only one really important question: will Obama be able to convince Michelle that their outing is really a date?
The fate of the free world rests on the possibility of a kiss.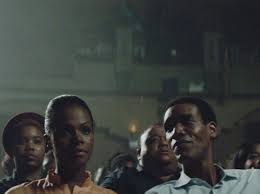 Tanner's direction is like the approach: there's not a lot there, but he gets the job done. The emphasis is on character and dialog.
Southside With You is very good at capturing Chicago on a summer day. Everything is so bright, you can almost feel yourself wilting in the audience. And there's such a feeling of space, large neighborhoods and parks; buildings and homes with high ceilings and windows open to coax the air through; kids dance out on the street through water from hoses.
It might be difficult to believe that out of such an ordinary day, so much is to come. But again, that is, in many ways, the point.
Tika Sumpter and Parker Sawyers play Michelle and Barack respectively. They approach their roles in the same way Tanner approaches the writing and directing: as two everyday people who have no idea what their future holds for them.
If there is something to begrudge about the film it might be that it is no more than what it is. It's a film that works on its own terms, while one might wish the terms were more than they are.
But in the end, it is very satisfying.
With the familiar-faced Tom McElroy as the gauche boss.
Sully, Clint Eastwood's 35th film as a director, is also a true story, also about an ordinary man, one Chesley Sullenburger, and begins on an ordinary day.
But where the audience doesn't see where the day leads the characters in Southside With You, in Sully, the title character, an airline pilot, soon finds himself in something of a pickle when, right after take off, a flock of Canadian geese fly through the engines, knocking both out.
An air traffic controller tries to help him land at the nearest airport, but Sully, quickly assessing they will crash if they do, lands the plane on the Hudson River, something that's not only never been done successfully before, he saves the lives of everyone on board.
The media and public quickly herald him a hero. But an investigation into the situation by the National Safety Transportation Board doubted Sully's version of events and suggested he could have landed. This conflict makes up the majority of the film.
The movie is definitely entertaining and even rather moving as it comes to a close. It's what one might call a satisfyingly solid piece of filmmaking, the kind that often gets a lot of Oscar attention, but does little beyond that.
Tom Hanks plays Sully with gravitas and humility. He doesn't try to make more of the role than is there. When Hanks first became known as an actor, his natural likeability got him cast in roles that were character studies of non-threatening people (Big, Forrest Gump, Philadelphia). As he got older, he morphed into non-threatening heroic characters (Apollo 13, Saving Private Ryan, Captain Phillips) and sometimes non-threatening father figures (Road to Perdition, Extremely Loud & Incredibly Close, Saving Mr. Banks).
He wore these roles with such ease that he rarely gave a bad performance. Unfortunately and far worse, somewhere along the way, he started giving uninteresting ones.
There were some suggestions in a couple of films that he was actually at his best when playing assholes (That Thing You Do, The Great Buck Howard, and even Charlie Wilson's War), but apparently 'twas not to be. Alas, alack.
However, starting with Captain Phillips and Saving Mr. Banks, he's grown on me again, perhaps because in all these roles, he's played real people, well captured by the writers. So the parts have become more interesting, as has Hanks performance of them.
And he's very good here, playing a humble man with Hanks' natural humility to help.  Sully is a character that in many ways is all inward, suffering some PTSD and trying to figure out himself whether he did the right thing or not. One sees the soul of Sully in Hanks.
In many ways, it's really all Hanks movie. Aaron Eckhardt, an actor who started out with great promise with such films as In the Company of Men, Nurse Betty and Thank You for Smoking, but then seemed to disappear no matter how many lead roles he was given, plays the second banana. He's good, but isn't given much to do but wear an ironic mustache unironically.
And when did Laura Linney, also one of our finest up and coming actors, get relegated to the "those who serve who also sit and wait" parts as she does here as Sully's wife and as Maxwell Perkin's mate in Genius? They never have a scene together, their interaction is only via phone.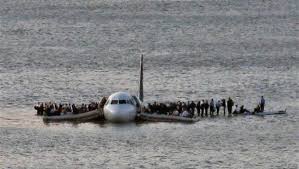 The NTSB investigators are played by Anna Gunn, Mike O'Malley and Jamey Sheridan as a group of frowny face party poopers. They're never quite convincing, though they give it their all.
Actually, there is a fourth investigator who never says a line. He's black. After a while, as happened in Into the Woods, you begin to realize this is a very white movie. I mean very, very white. Very, very, very white.
The screenplay by Tom Komarnicki is solid and involving, though it tends at time to drift, especially during the flashback scenes of Sully's youth (almost never a good idea in biopic).
The direction by Clint Eastwood is what it usually is: what you see is what you get. Though the actual plane landing and rescue is expertly done.
With Michael Rappaport as a bartender who invented a drink based on the water landing (Grey Goose with a splash of water).
And Valerie Mahaffey as a survivor. I mainly mention her because she was a year or so ahead of me in college and I always thought she was a marvelous actor.
---