HEAD CASES: Movie Reviews of Joy and Concussion by Howard Casner
Posted:
January 10, 2016 |
Author:
Donald
|
Filed under:
Uncategorized
|
Tags:
Albert Brooks
,
Alec Baldwin
,
Annie Mumolo
,
Bradley Cooper
,
Concussion
,
David Morse
,
David O. Russell
,
Diane Ladd
,
Edgar Ramirez
,
Isabella Rossellini
,
Jeanne Marie Laskas
,
Jennifer Lawrence
,
Joy
,
Ken Howard
,
Melissa Rivers
,
Peter Landesman
,
Robert de Niro
,
Susan Lucci
,
Virginia Madsen
,
Will Smith
|
3 Comments »
First, a word from our sponsors: I am now offering a new service: so much emphasis has been given lately to the importance of the opening of your screenplay, I now offer coverage for the first twenty pages at the cost of $20.00.  For those who don't want to have full coverage on their screenplay at this time, but want to know how well their script is working with the opening pages, this is perfect for you.  I'll help you not lose the reader on page one. 
Ever wonder what a reader for a contest or agency thinks when he reads your screenplay? Check out my new e-book published on Amazon: Rantings and Ravings of a Screenplay Reader, including my series of essays, What I Learned Reading for Contests This Year, and my film reviews of 2013. Only $2.99. http://ow.ly/xN31r
and check out my Script Consultation Services: http://ow.ly/HPxKE
Warning: SPOILERS
The movie Joy, the new sorta, kinda, maybe bio-pic of Joy Magano, inventor of the Miracle Mop, starts out with text on the screen: "Inspired by the true stories of daring women. One in particular".
I don't know. Somehow on seeing those words up there in front of me, there was something so…condescending and patronizing about it all. It's as if the filmmakers David O. Russell (who wrote the screenplay and directed) and Annie Mumolo (who worked on Bridesmaids and gets co-story credit here) were doing women a favor by making the movie at all and that somehow women should be thankful that someone actually created a film that instructs them how they should be leading their lives, since, being women, apparently, they don't really know how to be daring and independent themselves.  
I'm sure I'm overreacting and I'm sure few others felt the same way, but there was just something about it that left a bad taste in my mouth.
Once this intro was over, we then spend the first third of the movie with Joy being victimized by her family (both extended and not) as it falls to her to take care of everyone else's problems while she puts hers on hold.
This section didn't play that well with me, I'm afraid. It's hard to watch a character allow her or himself to be treated like a door mat, letting everyone walk all over then. I think the intent is for those in the audience to say, "Oh, the poor woman", when in reality, we're sort of thinking, "Hey, no one's forcing you to be the cure all for other people's over-exaggerated slings and arrows".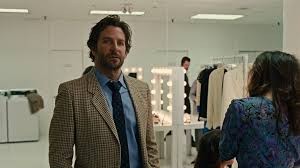 It's all so obvious, familiar and seen it a million times and as subtle as a shovel to the head. It's not so much Joy we're learning about, but the moral of the story Russell so much wants to feed us.
The movie does pick up a bit when Joy invents her mop and the movie follows her trials and tribulation as she tries to make it a success. The conflict is more interesting here and I did find myself becoming more emotionally invested in her life.
Don't get me wrong. She's still victimized over and over again, but the impediments she has to overcome are less clichéd and more the sorts of issues any business owner has to overcome, even if Russell's version doesn't quite match with reality (Joy sold her mops to stores in her neighborhood and to many individuals before going on QVC and when the mop debuted on that channel, it wasn't the disaster shown here, though she did sell many more of the product when she herself went on the air to hawk the mop herself).
I don't know if you can see it, yet, but Joy is basically Cinderella. She's the put upon heroine who is supposed to take care of everyone else's problems; she gets an evil stepmother in the form of her father's new girlfriend (Isabella Rossellini); she has a fairy godmother (split between her grandmother, Diane Ladd, who sees her potential, and her ex-husband, Edgar Ramirez, who has a contact at the QVC network); and she gets to go to the ball accompanied by her Prince Charming (Bradley Cooper as a QVC founder and producer, who gives her a chance to sell her own project on the network).
It doesn't end there, though. The fairy tale borrows a dragon from another story (the company that manufactures the mop for her tries to screw her big time), but here she takes on the monster herself without waiting for her prince to come.
And she wins.
In many ways, there's nothing wrong overall with Joy. It pretty much does what it sets out to do and is often quite entertaining. It works on its own terms and is well made on a technical level.
But the movie never really takes off and becomes more than what it is, a movie in which a man (Russell) instructs women how to lead their lives. In the end, it's fairly run of the mill, just better made than most.
And even though it's dedicated to women who lead daring lives, the movie, ironically, isn't very daring at all.
With Jennifer Lawrence as Joy; she's fine, but the character isn't quite as interesting as she makes her; Robert De Niro, who gets his laughs as Joy's father; and Virginia Madsen as her neurotic mother.
Also wandering around in the cast is Susan Lucci as herself; Ken Howard in a blink or you'll miss him turn as a mop executive; and Melissa Rivers doing a rather nice impersonation as her mother, Joan.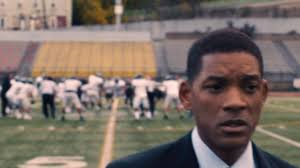 While Joy's structure seems to be inspired by Cinderella, Concussion, another movie based on a real person, seems to be based on an entirely different tale: that of David and Goliath (it would be interesting to go through movie history and see whether most films with female central characters are based on Cinderella, while the ones with males are based on David Goliath).
At any rate, Concussion is inspired by the story of Dr. Bennet Omalu, who immigrated to the U.S. from Nigeria and, at the start of the film, works doing autopsies in the Boston morgue.
The opening scene dramatizes Omalu taking the stand as an expert witness in a trial. When asked for his CV, he reels off a litany of his degrees and honors. Just when he seems to have finished, he flashes a wicked smile, like a little boy playing a prank, and reels off a dozen more. He's an even more perfect and less threatening character than Sydney Poitier in Guess Who's Coming to Dinner.
One day, the body of a famed and favorite son football player, who died a tragic death, is brought in. Refusing to do the easy thing and claim the man died from heart failure and nothing else, he discovers that a large number of football players who should be in good health, are dying in tragic ways with no real explanation.
This leads Omalu to discover an illness caused by constant head concussions over a number of years that basically drives normal people into a state of paranoia, schizophrenia and deep depression. He even gets to name it, CTE, or chronic traumatic encephalopathy. But his discovery also earns the disgruntlement (to be kind) of an organization that, as one character describes it, owns a day of the week, and one they stole from God.
Concussion is, in many ways, a paint by numbers biography. It doesn't really grab you, but it also isn't boring and there are times when you are outraged or profoundly saddened by how the NFL exploits, chews up and spits out their players.
Omalu is played by Will Smith and it's as good a vehicle as any I suppose, though sometimes it feels as if the movie calls attention to itself as not so much a story about the titled subject matter, but as Smith's latest attempt to get an Oscar nomination (which doesn't seem likely). And he, as usual, is very good.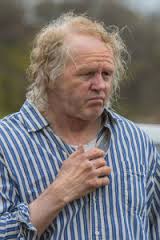 However, as is so often the case in movies like this, it's the supporting characters that steal the show. Both Alec Baldwin and Albert Brooks have been giving wonderful performances ever since both really found their niche in playing character parts in other people's films.
It was obvious that Baldwin had more talent than his early films suggested (often cast, mistakenly, I believe, as a romantic lead) when it was discovered that he was a deft comic actor and then a solid dramatic one. Brooks' career is, probably, a bit more surprising as he changed from the only real threat to Woody Allen as a maker of existential comedies, to an actor of effective gravitas (as he showed in his brilliant turn in Drive).
David Morse, at times almost looking like Rocky Dennis in Mask, also gains a lot of empathy as an ex-football star who just doesn't understand what is wrong with him.
The screenplay is by writer/director Peter Landesman from a GQ article by Jeanne Marie Laskas. It gets the job done and is very sincere, but little more than that.
---