MIXED DOUBLES: Movie Reviews of Legend and Night Owls by Howard Casner
Posted:
December 17, 2015 |
Author:
Donald
|
Filed under:
Uncategorized
|
Tags:
Adam Pally
,
Brian Helgeland
,
Charles Hood
,
Chaz Palminteri
,
Christopher Eccleston
,
David Thewlis
,
Emily Browning
,
John Pearson
,
Legend
,
Night Owls
,
Peter Krause
,
Rob Huebel
,
Rosa Salazar
,
Seth Goldsmith
,
The Krays
,
Tom Hardy
,
Tony Hale
|
2 Comments »
First, a word from our sponsors: I am now offering a new service: so much emphasis has been given lately to the importance of the opening of your screenplay, I now offer coverage for the first twenty pages at the cost of $20.00.  For those who don't want to have full coverage on their screenplay at this time, but want to know how well their script is working with the opening pages, this is perfect for you.  I'll help you not lose the reader on page one. 
Ever wonder what a reader for a contest or agency thinks when he reads your screenplay? Check out my new e-book published on Amazon: Rantings and Ravings of a Screenplay Reader, including my series of essays, What I Learned Reading for Contests This Year, and my film reviews of 2013. Only $2.99. http://ow.ly/xN31r
and check out my Script Consultation Services: http://ow.ly/HPxKE
Warning: SPOILERS
Night Owls, the new self- contained, nearly two person drama written by Seth Goldsmith and the director Charles Hood, takes place in a single location: an upper middle class home.
Poor schlep Kevin gets lucky one night and is picked up at a party by Madeline, a sexy young thing. He takes her to what he thinks is her home and they make the beasts with two backs.
Afterward Kevin wakes up alone in bed. As he gets ready to leave, he discovers that he's in his boss's house and that Madeline is his boss's mistress. Even worse, Madeline has tried to kill herself by taking a bottle of pills (don't you just hate when that happens), so Kevin has to call a co-worker who then calls a doctor (well, a podiatrist, but the principle is the same).
After helping Madeline regain consciousness, the doctor tells Kevin he has to keep her awake for the rest of the night or she might die. So the two spend one of those evenings together where souls are bared, life lessons are learned and characters arc.
Basically what we have here is the scene from The Apartment where Jack Lemmon discovers Shirley MacLaine having overdosed, combined with the final scene where the two reconnect, older but wiser.
But stretched out to over an hour and a half here.
However, there's another big difference between the two films. In The Apartment, the two characters aren't naïve innocents to be sympathized with because of said naivety and not knowing the way of the world. They knew exactly what they were doing; fully cognitive that they are, indeed, their own worst enemies; never expecting anyone to feel sorry for them.
But in Night Owls, Kevin and Madeline are such naïfs, such wide-eyed innocents, such children with pre-pubescent souls, it's almost impossible to first, take them seriously and, second, to have any real empathy for their situation.
Whenever Kevin claims that his boss, a hugely popular college football coach, would never cheat on his wife; has taken an interest in his career; or wouldn't break the rules of recruitment, it's very difficult not to roll one's eyes with incredulity, or worse, laugh.
And it's the same for Madeline when she claims the coach really does love her and wants to get a divorce, but it's, well, you know, like complicated. One just feels the same impulse
Have neither of these characters ever seen a movie, watched a television show or read a book?
I mean, is the title supposed to be ironic? Because neither of them seem particularly wise.
Adam Pally and Rosa Salazar play the two leads and they give it all the off-Broadway, two character play gusto they can. But the roles are a bit too self-defeating.
In the end, the best performance is probably given by Veep star Tony Hale as the "doctor" who slithers in and out. Smarter than the other characters, he flees the situation as soon as possible.
At the same time, for new screenwriters out there, Night Owls could be worth seeing as one of those three-unity films that newcomers are producing now (one location, a short time period, and a simple through line).
And for the most part, the writers do a satisfactory job of making it believable that the two characters would stick around. They only flub it once when Kevin has to convince Madeline to come back into the house after she's gotten into her car to leave. This seems forced and unbelievable.
As do the characters overall.
With Rob Huebel as the co-worker Kevin first calls and Peter Krause as the slimy coach.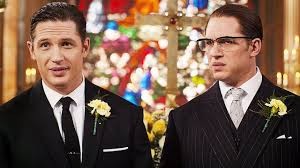 Legend is the more or less true story of the almost mythic Kray brothers, identical twins who became two of London's biggest gangsters in the 1950's: the psychopathic and homosexual Ronnie (though he claimed to be bisexual and was even going to marry at one point), and the more romantic Reggie.
This is not the first movie on the subject. The Krays came out in 1990 and, though not a great film, was a very solid gangster flick that worked on its own terms, was very entertaining, and in many ways better this one.
Legend, written and directed by Brian Helgeland (Mystic River, L.A. Confidential), based on a book by John Pearson, is certainly very beautiful to look at with a superb technical design. 1950's fashions have rarely looked more ravishing and the sets and cinematography are quite impressive.
And in the lead is the quite impressive in his own right Tom Hardy, who plays both brothers. He does it so well and with such apparent ease, you almost want to yell up at him, "Stop showing off, Tom. We know how good an actor you are".
Unfortunately, there's little else here to grab one and it's a little difficult to say why.
I have a couple of theories. One is that the story is seen from the point of view of Frances Shea, who became Reggie Kray's wife. I'm not convinced this was the best approach to the subject matter.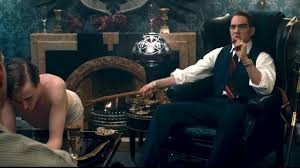 One, she is a bit too wide-eyed and innocent be taken as seriously as the movie wants us to. When she gets Reggie's promise to go straight (something that Reggie barely gives lip service to), it's hard to sympathize with her anger and poor breaking heart.
I mean, c'mon, did she really expect him to reform?
The other issue here could be that the romantic through line is not particularly interesting. It's something that's been done so many times before, and the filmmaker just can't breathe any new life into it.
In fact, the most interesting aspect of the film is probably the one never dramatized. At one point, a representative of Meyer Lansky proposes a deal with the Krays to make London the Las Vegas of Europe. And the Krays agree.
But then we're never shown this happening. In fact, the extent of the Kray's illegal activities rarely seems to get much farther than the walls of a single gambling den/nightclub the two own.
So in the end, we never really get to see the Krays become the Krays.
And once the movie was over, I was a bit confused as to why it was ever made.
With David Thewlis giving a very witty performance as Leslie Payne, the Krays right hand man; Emily Browning as Francis Shea; Chaz Palminteri going back to his routes as Lansky's rep; and Christopher Eccleston, who's role is reduced to a clown, as the police inspector trying to bring the Krays down.
---