A BIT SHORT: The Big Short and The Hateful Eight
Posted:
December 23, 2015 |
Author:
Donald
|
Filed under:
Uncategorized
|
Tags:
Adam McKay
,
Brad Pitt
,
Bruce Dern
,
Channing Tatum
,
Charles Randolph
,
Christian Bale
,
Damian Bichir
,
Ennio Morricone
,
Jennifer Jason Leigh
,
Karen Gillan
,
Kurt Russell
,
Melissa Leo
,
Michael Lewis
,
Michael Madsen
,
Quentin Tarantino
,
Ryan Gosling
,
Samuel L. Jackson
,
Steve Carrell
,
The Big Short
,
The Hateful Eight
,
Tim Roth
,
Walton Goggins
|
77 Comments »
First, a word from our sponsors: I am now offering a new service: so much emphasis has been given lately to the importance of the opening of your screenplay, I now offer coverage for the first twenty pages at the cost of $20.00.  For those who don't want to have full coverage on their screenplay at this time, but want to know how well their script is working with the opening pages, this is perfect for you.  I'll help you not lose the reader on page one. 
Ever wonder what a reader for a contest or agency thinks when he reads your screenplay? Check out my new e-book published on Amazon: Rantings and Ravings of a Screenplay Reader, including my series of essays, What I Learned Reading for Contests This Year, and my film reviews of 2013. Only $2.99. http://ow.ly/xN31r
and check out my Script Consultation Services: http://ow.ly/HPxKE
Warning: SPOILERS
The Big Short, like Spotlight, is the one of those movies ripped from the headlines—of years and years ago; but this time the subject is not pedophile priests, but the downfall of the American economy. Written by Charles Randolph and the director Adam McKay, from a book by Michael Lewis, it's also a very satisfying bit of agitprop theater with Brechtian distancing devices thrown in for good major.
It basically tells the story of four different groups of people who all realized, more or less at the same time, and years ahead of schedule, that the housing mortgage bubble was going to burst in 2007 and destroy the world's economy.
This leads to the movie's major irony: the people who figured this out then proceed to invest heavily against the U.S. economy, making tons of money when their Cassandra like prediction of doom came true.
So basically, we in the audience, along with the characters in the movie, find ourselves and themselves actually hoping that the U.S. financial system tanks like the Titanic.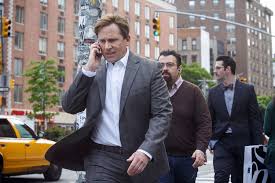 The movie is filled with anger of the righteous kind. How could the government allow something like this happen?
The movie then takes it upon itself to tell us.
The Brechtian distancing methods come in various guises. It's narrated, ala The Wolf of Wall Street, with a character, one Jared Vennett, breaking the fourth wall and speaking directly to us.
But in addition, whenever the details get a bit too complicated and hard to follow, and indeed they do, said narrator turns to a guest celebrity, usually a buxomly blonde, drinking champagne in a hot tub or gambling in Las Vegas, to explain it in terms even a child can understand.
And the explanations are very well explained, I might add.
This is not to overlook the hand held camera technique that never lets us forget that there's someone else in the room shooting while Rome burns.
The result is, like a play by Bertolt Brecht, a film that never lets us forget that it is indeed a film and that it's about a subject that we need to approach not emotionally, but intellectually.
Of course, like a play by Brecht, these devices never do manage to distance us from the movie. Like The Good Woman of Setzuan or Galileo, it actually makes the play, and film, more emotionally involving and somehow makes us actually forget it's a film, though we are constantly reminded that it is.
And The Big Short, if nothing else, is very entertaining. I doubt you will be bored by it. It's very clever, often witty, and gets you motor, if not your fury, going.
At the same time, it doesn't really rise above what it is. It's good, even very good, but falls, uh, short, a bit short, of what it could be.
Which, if you think about it, is better than most movies.
I'm not completely sure why it doesn't do better than it does. One possibility is Jared, the character who speaks directly to the audience, is, unlike Jordan Belfort of …Wolf…, not a particularly interesting character. Ryan Gosling, who plays the role, does what he can, and he's fine. But he just can't escape the fact that the person who is the still point of this turning world is kind of, well, bland and boring. He's the man in the grey flannel suit with about as much personality.
In addition, I'm not sure the hand held camera technique works in the movie's best interest. It feels as if it's supposed to be one of those mockumentaries or found footage films, and when it turns out that it isn't either of those, this stylistic choice is just puzzling.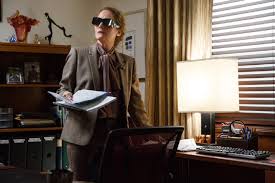 The acting all around is good, though it's Steve Carrell who probably gives the best performance as Mark Baum, a world weary investor who always assumes the worst of Wall Street. He wears his bitterness on his sleeve as a purple heart, a constant sneer in his expression underneath a terrible, unironic (about the only thing in the movie that is) haircut. He digs deep into his character's soul and gives it a dour and powerful resonance.
With Christian Bale as the short wearing, barefoot Michael Burry; Brad Pitt, buried in a beard as Ben Rickert; Doctor Who's Karen Gillan as a SEC worker who's looking for a new job because the SEC isn't doing anything; and Melissa Leo as a regulator who doesn't believe that banks are bad—she wears those all-encompassing pairs of dark glasses (the movie leaves no irony unturned).
Writer/Director Quentin Tarantino also uses distancing techniques in his new movie The Hateful Eight. But while The Big Short's are Brechtian, The Hateful Eight's is more post-modern.
The Hateful Eight creates its distance by harking back to movies of a by gone era, when men were men and films were all wide screen. It begins with an overture before the lights go down (though years earlier, the lights wouldn't go down until the overture ended), has an intermission and is shot in glorious 70 MM and not digitally (which Tarantino seems to consider to be one of the Four Horseman of the Apocalypse).
It also is very obvious in its allusions to such filmmakers as Sam Peckinpah and Sergio Leone (Ennio Morricone did the spectacular score), even outdoing them in their Pecinpahish and Leonish fetish for in your face, realistic violence, sometimes in slow motion.
The basic premise is that bounty hunter Major Marquis Warren, who is stuck in the snow with a blizzard coming when his horse fails him and the three frozen bodies he's carrying to Red Rock to turn in for a reward, is rescued by a stagecoach carrying John Ruth, aka The Hangman, who is taking Daisy Domerque, a member of one of the vilest gangs in the west, to the same town as Warren, to be hung.
Because of the blizzard, they find they have to stop at Minnie's Haberdashery, a stagecoach way station to wait it out. Along the way, they pick up Chris Mannix, who claims he is going to Red Rock to become the new sheriff.
At Minnie's, they find that Minnie and her employees are not there. According to Bob, the Mexican who greets them, they went to another town to visit family and left him in charge. Also at Minnie's are the members of a previous stagecoach that also had to stop as well.
But of course, nothing is what it seems as tension mounts, comedy is served as a relief, the N-word is shared at the drop of a hat, and the inevitable bloodbath begins.
How you feel about The Hateful Eight will probably depend upon how you feel about what happens after the intermission. When the movie starts up again, it is interrupted by a narrator who not only recaps what has been going on, he takes the story back a bit and relays an important piece of info that will change how the plot plays out.
But the voice is so unnarrator-like, in fact it sounds thin and reedy, even jokey (I want to say it's Tarantino himself, but it didn't quite sound like him), that it seemed so out of place and so stylistically inconsistent, that I couldn't take it seriously.
Up until then, the story had been a taught, if talky (oh, how Tarantino loves his characters to talk—mind now, I'm not complaining, few characters can talk like the characters in a Tarantino tale), fascinating western that begins against the vast expanse of the snowy Midwest, but soon finales in a claustrophobic one room stagecoach stopover.
But after the intermission and with the odd addition of the narrator, the movie seems to become a different film, growing more and more absurd and chaotic in its story telling that it feels as if Tarantino totally lost control of it (which, since it's Tarantino, I heavily doubt).
However, if you feel this second half is not a total tonal shift as I felt it to be, but to grow organically out of the somewhat over the top style of the first part, then you may enjoy this movie as much as most of the audience did the night I saw it.
And the acting can't be faulted. Everyone plays their roles to within an inch (or milliliter of blood) of their lives. Kurt Russell commands the screen like a colossus, having the time of his career as the Hangman. He and Samuel L. Jackson as Warren have great chemistry together trying to out larger than life the other.
Jennifer Jason Leigh as Daisy is getting all the praise though. I've always felt that Leigh was one of our most underrated actresses who never had the career that such early films as Last Exit to Brooklyn and Miami Blues suggested she should have had. Perhaps this will put her back on everybody's radar.
However, the slyest performance has to be Tim Roth as an English dandy. The role feels as if it was written originally for Christoph Waltz and Roth even plays it as if he was doing Waltz. He's a ton of fun and almost steals the movie.
With Damian Bichir as Bob, with a great "We don't need no sticking matches" accent; panicked eye Walton Goggins as Mannix; Bruce Dern as a bitter former Southern general; Michael Madsen (perhaps the weakest performance; he seems to play it as if didn't matter) as Joe Gage; and Channing Tatum as Jody.
I do think there might be a glitch in the plot that I didn't realize until we have a flashback in the second part. When the Hangman et al. arrive at Minnie's and are told the previous stagecoach is there as well, no one seems to ask where the coach driver is.
---