IDENTITY CRISES: Movie Reviews of The Danish Girl and Creed by Howard Casner
Posted:
December 14, 2015 |
Author:
Donald
|
Filed under:
Uncategorized
|
Tags:
Aaron Covington
,
Alicia Vikander
,
Ben Whishaw
,
Creed
,
David Ebershoff
,
Eddie Redmayne
,
Lucinda Coxon
,
Matthias Schoenaerts
,
Michael B. Jordan
,
Phylicia Rashad
,
Ritchie Coster
,
Ryan Coogler
,
Sebastian Koch
,
Sylvester Stallone
,
Tessa Thomas
,
The Danish Girl
,
Tom Hooper
,
Tony Bellew
|
2 Comments »
First, a word from our sponsors: I am now offering a new service: so much emphasis has been given lately to the importance of the opening of your screenplay, I now offer coverage for the first twenty pages at the cost of $20.00.  For those who don't want to have full coverage on their screenplay at this time, but want to know how well their script is working with the opening pages, this is perfect for you.  I'll help you not lose the reader on page one. 
Ever wonder what a reader for a contest or agency thinks when he reads your screenplay? Check out my new e-book published on Amazon: Rantings and Ravings of a Screenplay Reader, including my series of essays, What I Learned Reading for Contests This Year, and my film reviews of 2013. Only $2.99. http://ow.ly/xN31r
and check out my Script Consultation Services: http://ow.ly/HPxKE
Warning: SPOILERS
The Danish Girl, a movie about the first recorded sex change operation, is a drama made with such good taste, Merchant/Ivory would probably have been proud to claim it as one of their own.
Now why anyone would make a movie about the first recorded sex change operation in such good taste that Merchant/Ivory would have been proud to claim it as one of their own, is certainly beyond me.
Actually, why anyone would make a movie about anything with such good taste that Merchant/Ivory would have been proud to claim it as one of their own, is even more also certainly beyond me.
That is, except for Todd Haynes, who is possibly the only filmmaker who can take good taste and raise it up to art.
But here we have screenwriter Lucinda Coxon (from a novel by David Ebershoff) and director Tom Hooper (The King's Speech, Les Miserables) who don't do much that is particularly exciting with the subject matter except to make sure it's dressed up as beautifully as a picture by John Singer Sargent, with gorgeous costumes, marvelous sets and beautiful cinematography.
The screenplay comes across as a bit clunky and meandering, not quite sure how to tell its story. There's no real excitement to the plot. It's as if the filmmakers came across an interesting historical incident, but didn't quite know what to do with it.
And there's something a bit self-congratulatory about it all. That we should praise all involved for tackling something so daring. As if they're doing us all a favor. As if they are all so brave.
But transgender issues are actually nothing remotely new. We've had the good (Second Serve, Transamerica, Different for Girls); the bad (Glen or Glenda, The Christine Jorgensen Story) and the great (In a Year With Thirteen Moons).
Where Brian De Palma's Dressed to Kill falls, I'll let you decide.
In fact, there is nothing new or daring or anything here that the filmmakers should be patting themselves on the backs for.
If anything, the really daring movie this year with transgendered characters that does do something new is probably Tangerine. What makes this movie different is that it is not so much about a transgendered character, but about a character who happens to be transgendered. And there's a huge and important difference.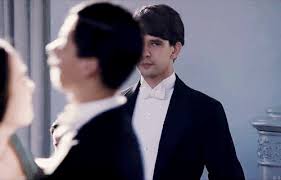 The actors do what they can with their parts, but Eddie Redmayne as Einer Wegener/Lily Elbe and Alicia Vikander as Einer's wife Gerda Wegener don't have that much to work with. Their characters have no real vibrancy. Redmayne whispers his way through his role and takes on a wispy façade at times. He's very effective as a woman, but doesn't really do anything that special.
It's only in the supporting roles that the characters come to life: Matthias Schoenaerts as a gallery owner who was once Einer's childhood crush; Sebastian Koch as the doctor who will do the operation; and Ben I'm in Everything This Year Whishaw as a young man who falls under Lily's spell. All give excellent performances and give the movie what little energy it has.
I suppose one could try and resist Creed, the new boxing film written by Aaron Covington and its director Ryan Coogler, and try not to like it or become emotionally involved.
Yes, one could try, but I'm not sure what the point would be. I strongly suspect resistance is futile. So it's probably wise to give in sooner, because if you don't, you're bound to later.
Creed is the movie that felt like it came out of nowhere and became just not a success, but a huge, unexpected success (much like the title character). It's a sequel to the Rocky franchise started in 1976 by its star and writer Sylvester Stallone, a franchise that has laid dormant for eight years.
The basic premise revolves around Adonis Johnson, the illegitimate son of Apollo Creed, who feels an inner need to box, but wants to make it on his own without anyone knowing who his father is. When the LA trainers refuse to help him, he goes to Philadelphia, the city of Brotherly Love (when they're not pummeling each other in a boxing ring), and seeks out Rocky Balboa, now retired from the fight game and running a restaurant named after his late wife Adrian.
A reluctant Rocky helps Adonis train and Adonis quickly rises in the boxing ranks drawing a great deal of attention to himself. But he gets a real shot at greatness when Liverpool boxer "Pretty" Ricky Conlan, the world champion, needs one last fight before he has to enter prison for a number of years (Conlan is played by real life boxer Tony Bellew, who may be too good for comfort).
And so the boxing ring is set for a climax resembling in many ways the boxing match Rocky found himself in almost forty years ago.
Creed isn't a great film. It's a bit obvious in execution. You can see the wheels and gears spinning in the screenplay. It's the sort of film where, when Adonis hears music played too loud downstairs from his apartment, you know that when he knocks on that door, it's going to be his love interest who opens it.
But it's a well-oiled and finely tuned bit of mechanics that just carries you along. And the filmmakers do manage to solve a particularly sticky wicket of a problem: how do you make someone who's not an underdog into an underdog?
Adonis comes from a privileged background. He really has it all and wants for nothing. As one LA trainer tells him, the boxers he coaches are using the sport to get out of their troubled backgrounds and lives of poverty. They are desperate to box.
But for Adonis, it's more of a choice.
I'm not completely sure how the writers managed this sleight of hand, but they did. Part of it may be that Conlan is an almost sociopathic asshole of the nth degree, so you have to cheer for the more mentally level Adonis.
But it is also probably because the story is about someone not just accepting his background, but being proud of it. It's a story of someone discovering who he really is and coming to terms with it.
Yes, okay, it's more a story about someone with daddy issues. But, boy, the way this movie handles the issue, get out your handkerchiefs, the waterworks are coming.
And then, of course, Adonis has the legendary Rocky Balboa on his side. Rocky is older, grizzled, but he's also someone who has found peace. But here is now an opportunity to honor an old friend who died in the ring.
Sylvester Stallone as Ricky has probably never been better, surpassing his acting in the original film. At first Stallone seemed to have promise as an actor, but when some of his personal films failed (Paradise Alley and F.I.S.T.), he went back to the safety of high budget films (at one time, he had three franchises going simultaneously—Cobra, Rambo and Rocky). He would occasionally try something different (Copland), but nothing really stuck.
And now he's back, putting on his old role like a pair of well-worn slippers. And it just makes you feel all warm and cuddly inside watching him again.
The direction is solid and Coogler (who also did Fruitvale Station) really keeps the story moving and the emotions in check. There's one amazing scene, Adonis's first major fight, which is done in one single breathless take. And the final match grabs you and won't let go until you find yourself bobbing and weaving with our hero and reacting to the punches as if you were in the fight yourself.
And it all ends the way Rocky did, winning by losing.
Michael B. Jordan plays Adonis and he certainly looks the part and he gives the role a certain sincerity. Tessa Thomas is his love interest.
Also with Ritchie Coster, excellent as Pete Sporino, a coach at the gym where Adonis trains, and Phylicia Rashad as Adonis' adoptive mother.
---