A TALE OF TWO JESSES: American Ultra and The End of the Tour
Posted:
August 30, 2015 |
Author:
Donald
|
Filed under:
Uncategorized
|
Tags:
American Ultra
,
Bill Pulman
,
Clouds of Sils Maria
,
Connie Britton
,
David Foster Wallace
,
David Lipsky
,
Donald Margulies
,
Infinite Jest
,
James Ponsoldt
,
Jason Segel
,
Jesse Eisenberg
,
Joan Cusack
,
John Leguizamo
,
Kristen Stewart
,
Lavell Crawford
,
Max Landis
,
Nima Nourizadah
,
Rolling Stone
,
Sam Malone
,
Still Alice
,
Stuart Greer
,
The End of the Tour
,
Tony Hale
,
Topher Grace
,
Walter Goggins
|
5 Comments »
First, a word from our sponsors: I am now offering a new service: so much emphasis has been given lately to the importance of the opening of your screenplay, I now offer coverage for the first twenty pages at the cost of $20.00.  For those who don't want to have full coverage on their screenplay at this time, but want to know how well their script is working with the opening pages, this is perfect for you.  I'll help you not lose the reader on page one. 
Ever wonder what a reader for a contest or agency thinks when he reads your screenplay? Check out my new e-book published on Amazon: Rantings and Ravings of a Screenplay Reader, including my series of essays, What I Learned Reading for Contests This Year, and my film reviews of 2013. Only $2.99. http://ow.ly/xN31r
and check out my Script Consultation Services: http://ow.ly/HPxKE
Warning: SPOILERS
I've always had mixed feelings about the actor Jesse Eisenberg. His stuttering performances, his "gee gosh" can't look you in the face acting technique, his off beat visage, have actually, if I must be honest, and I guess I must, I must, put me off at the beginning and often quite annoyed me.
And, as I also said to my friends: Aren't Jessie Eisenberg, Michael Cera and Paul Dano actually the same person? I mean, have you ever seen them in a room together?
As time has gone on, as time is want to do, as we know from Casablanca, and as Eisenberg has made more and more interesting choices in film roles (from The Squid and the Whale to The Social Network to Night Moves to The Double), he's sort of won me over and I even look forward to his next endeavor.
Well, his next endeavor, nay, endeavors, we now have, and they come in the form of two new films: American Ultra and End of the Tour.
American Ultra is about a slacker, stoner Peter Pan, called Mike, who works at a convenience store in a small town that he can't seem to leave because he has an agoraphobic reaction whenever he tries. He lives with a long suffering girlfriend Phoebe who he has decided to ask to marry him. But something happens that causes his best laid plans to go awry.
He is visited by a woman who speaks some sort of Lewis Carroll Jabberwocky gibberish to him, which he at first shrugs off, but then has to take seriously when he confronts two men in the parking lot doing something to his car. When they attack him he finds he has no trouble taking them out with a hot cup of instant noodles and a spoon (after all, the only thing that can stop a bad man with a gun is a good man with cheap, instant Quicky-Mart fare that has more calories than you would think).
Eventually, our not so hapless hero finds himself involved in one of those conspiracies where the CIA has to cover up something not so nice they did some time ago that they would prefer not be made public. Of course, it's an only an in the movies CIA since in real life, the government has never been this ept since the big bang, or before, in covering up anything and it takes place in a town where no one seems to have phones that can take video that they can then place on social media and expose all the lies the other media is spreading.
I mean, my god, if the CIA were this effective, Putin would be dead, the United States would own all the oil in the Middle East, and Obama would never have become president.
But, sure, you know, I can get into fairy tales as much as the next guy, I guess.
Overall, American Ultra is hit and miss. When it hits it is often clever, smart, witty and very, very funny. When it doesn't, it's not bad, just a bit slow and as lethargic as the lead character is supposed to be.
The main issue with the movie is the second act. I may have quibbles here and there with the beginning and ending, but these are solid pieces of filmmaking that achieve their goal and do it very well and are quite entertaining more often than not.
But the plot take some turns after the parking lot incident that perhaps were not of the best variety.
I think a friend of mine summed it up best when he said that, whereas Mike was beginning to show signs of being this super agent at first, in the second part, these signs only show up at the convenience of the plot. In this section, Mike never really learns anything about himself or his mysterious past by his actions. Here, all that really happens is that time and time again, Mike is rescued (in a series of scenes that sort of feel all on the same level of tension and somewhat repetitious), while the other characters fill him in on what is going on.
And I didn't find this the strongest way of dramatizing Mike's journey to reawakening.
In addition, the filmmakers take the time to introduce two characters, a sheriff and a drug dealing friend of Mike's, only to kill them off long before their no longer use by date. It seems a waste of screenplay space to create these individuals if you weren't going to really, I mean, really, use them.
I also don't think that the way they were just cavalierly killed off helped either. We had gotten to know them enough to want to see them again, but not enough to really have an emotional effect at their passing (of course, Game of Thrones has set the bar high on something like this, but still, I think the movie falls short here).
In fact, I found the amoral attitude of the filmmakers toward the killing off of civilians to be a little disturbing and to lessen the success of the story overall. But this is something that has been a growing concern for me for years now (I remember it first registering with me with Terminator 2), though perhaps this is a topic best left for another time.
The film does have a very exciting third act in which, as in the movie The Equalizer, one wonders what the point is of banning guns since the everyday ingredients of a middle class American store has contents far more deadly than an Uzi. In fact, the whole thing wraps up rather satisfactorily in which a good time is had by all (unless you're one of the ones who don't make it).
And I have to give creds in one area: it may have the best marriage proposal scene in cinematic history.
The movie also has a first rate cast. Eisenberg uses his patented acting tics very effectively here and his lost in the stars panicky looks in his eyes are often quite funny.
Kristen Stewart continues to surprise as Phoebe. She's been working very hard of late to convince people there's more to her than Twilight and Snow White (and to be honest, I really didn't think there was). But with excellent turns in such movies as Clouds of Sils Maria and Still Alice she is showing quite a penchant for playing everyday characters that basically support other people (whether an actor's assistant, the daughter of an ill mother, or the put upon girlfriend of a stoner who can't even cook for himself).
Topher Grace plays the sociopathic CIA agent trying to get rid of Mike. He still looks like he should be playing the lead in That 70's Show, but god does he have first rate crack comic timing and works well with Connie Britton (solid and very reminiscent of Renee Russo in Nighcrawler) as the agent who wants to save our hero.
John Leguizamo is very funny as Mike's drug supplier, but is out of the action too soon (only the good die young, I guess), and the cast is rounded out by Bill Pulman as a burnt out CIA Director; Walter Goggins as the psychotic counterpart to Mike, who has a nice scene at the end; Tony Hale, very funny as a mid-level bureaucrat; Stuart Greer as the Sheriff; and Lavell Crawford and Sam Malone as Leguizamo's entourage who have very little to do, but more than do it (Crawford of Breaking Bad especially steals his scenes).
The movie is directed by Nima Nourizadah. It's only his second one, but he does a rather good job of keeping things moving. The screenplay is by the more experienced Max Landis, which, as I said, has some good moments, but in the end, falls a little short.
The movie The End of the Tour is a bit more, shall we say, less complex and low key than American Ultra, though it still stars M. Eisenberg. The outline of the plot is rather simple: based on a true story and told in flashback form, writer David Lipsky convinces his boss at Rolling Stone Magazine to let him interview, for the first time ever in RS's history, a novelist, one David Foster Wallace, who has just taken the reading public by storm with his book Infinite Jest.
So David L. flies out to meet up with David F.W. and accompany the great writer on the final leg of the book signing. It takes five days and over that period, they talk a lot and occasionally get into some headbanging over some personal issues. David L. then flies back to New York where the interview never gets published.
How you feel about the movie may depend on how you feel about David Foster Wallace and the book Infinite Jest itself. I, myself, have not read it, so I don't really bring a lot of immediate interest to the story. In many ways, Wallace is a complete tabula rasa to me
But though this film has been greatly appreciated by a large number of critics and audience members, I have to admit that I didn't quite get what all the fuss is about. I rarely connected emotionally with the characters and very little of what they did drew me in.
It's a story that, as far as I can tell, doesn't really go anyplace, doesn't really offer any great insight, doesn't really tell us much about anything, but also doesn't seem the sort of existential drama that would warrant such an approach.
Kind of ironic since it's about an author who, I understand, has written one of the great books of the last century.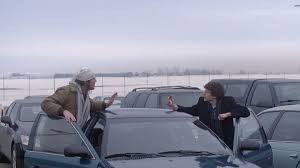 In the middle section, all involved manage to dredge up some sort of conflict, mainly jealousy over women, and the two characters do seem to engage in some sort of gamesmanship. And these scenes were the strongest. But they were also few and never seemed quite generic to anything really happening overall.
It ends with Lipsky reading from a book he wrote about this time in his life with Wallace after Wallace's suicide and there's something a little uncomfortable here. In the movie, Lipsky comes across as a second rate writer who could never match the greats, so his only choice is to exploit greater ones rather than really find his own voice. Which he finally manages to do with the death of Wallace.
In other words, Lipsky displays an, "Okay, enough about me, let's talk about you, what do you think about me?" attitude.
What's odd is that that doesn't seem to remotely resemble the real life Lipsky who is widely read and held in strong renown by the critics and public.
Jessie Eisenberg plays Lipsky and he gives a solid performance.
Comedian Jason Segel assays the role of Wallace and much has been made of his attempt to disappear into the role and the praise is well due in some ways. Segel does become a totally different person and does seem to inhabit this insecure artist. At the same time, he's trapped by a not particularly intriguing character. Segel can certainly make Wallace realistic and believable; he just can't seem to make him interesting.
Directed by James Ponsoldt, who also helmed The Spectacular Now, and written by Donald Margulies, who won the Pulitzer Prize for his play Dinner With Friends. I think they both do what they can with the material and, perhaps, even a bit better.
With Joan Cusack, always a welcome addition, giving the movie much needed bouts of energy as an overly cheerful limo driver and whose total character is not just revealed by the fact that she knows where the Mall of the Americas is, but that she is proud of that knowledge.
---