ART ISN'T EASY: Movie Reviews of Straight Outta Compton and She's Funny That Way by Howard Casner
Posted:
September 1, 2015 |
Author:
Donald
|
Filed under:
Uncategorized
|
Tags:
Andrea Berloff
,
Austin Pendleton
,
Corey Hawkins
,
Cybil Shepherd
,
Dr. Dre
,
Eazy-E
,
F. Gary Gray
,
George Morfogen
,
Ice Cube
,
Ileana Douglas
,
Imogen Poots
,
Jason Mitchell
,
Jennnifer Anniston
,
Joanna Lumley
,
Jonathan Herman
,
Jr.
,
Kathryn Hahn
,
Louise Stratton
,
Michael Shannon
,
Owen Wilson
,
O'Shea Jackson
,
Paul Giamatti
,
Peter Bogdanovich
,
R. Marcus Taylor
,
Rhys Ifans
,
Richard Lewis
,
She's Funny That Way
,
Straight Outta Compton
,
Suge Knight
,
Tatum O'Neal
,
Tovah Feldshuh
,
Will Forte
|
110 Comments »
First, a word from our sponsors: I am now offering a new service: so much emphasis has been given lately to the importance of the opening of your screenplay, I now offer coverage for the first twenty pages at the cost of $20.00.  For those who don't want to have full coverage on their screenplay at this time, but want to know how well their script is working with the opening pages, this is perfect for you.  I'll help you not lose the reader on page one. 
Ever wonder what a reader for a contest or agency thinks when he reads your screenplay? Check out my new e-book published on Amazon: Rantings and Ravings of a Screenplay Reader, including my series of essays, What I Learned Reading for Contests This Year, and my film reviews of 2013. Only $2.99. http://ow.ly/xN31r
and check out my Script Consultation Services: http://ow.ly/HPxKE
Warning: SPOILERS
Though bearing almost no resemblance in any other way (to say the least), two movies have opened of late that demonstrate, to paraphrase Stephen Sondheim, that art sure isn't easy.
Straight Outta Compton is a tale told of the rise of three best friends who stop becoming friends and then find their way back to being friends before the credits come up (or as we say in the biz, guys meet guys, guys lose guys, guys get guys). It's the tale of Eazy-E, Ice Cube and Dr. Dre who took the universe by storm with this newfangled sound called Rap and changed the world of music forever.
The film basically has four types of scenes in it: the first are scenes that show the horrors of growing up in the projects and how blacks are treated by the authorities (even when the authorities are black and in one case, find themselves to be music critics); second are the scenes that show the relationship of the three central characters, especially on tour, including the downtime of hanging out and getting high and laid; third are scenes of confrontation between the artists and their managers; and the fourth are the scenes where they actually perform.
I would say that all but the second set of scenes work well, sometimes astoundingly well, and are strong and rich in dramatic conflict. But the story tends to stall whenever the characters are doing little but hanging around just being themselves (the Beatles from A Hard Day's Night they ain't). Most of these scenes have little vibrancy or originality to them, while others resemble and have as much depth and insight as an MTV music video from the same period.
And as riveting as so much of the film is, somewhere in the second half it starts to lose forward momentum and I did sort of wish that they would wrap things up already at times.
But still, as I said, there is much to like here. Whenever the music starts and the words explode forth, it's hard not to get excited and these performances clearly show why this music became as popular as it did. It's a visceral anger and outrage at the world set to a rhythm that captivates one from the opening beat.
The movie begins with Eazy-E having to escape a horrifying attack by a SWAT team on a drug dealer's home. He joins up with two other friends, Dr. Dre (whose mother keeps telling him to get a real job) and Ice Cube, the most grounded member of the group, as they produce a single that is so popular it grabs the attention of seen better days record manager Jerry Heller who both recognizes the power in the music as well an art form he can exploit that will return him to his former glory days and pocket a fair amount of lucre along the way.
And the rise of these three is fast and brutal. But it also becomes clear they are being exploited by their various managers and producers who mainly see in them a way to increase their wealth while not doing the same for the singers, which is the beginning of the end for the group as Ice Cube is the first to smell a rat and go his own way.
In fact, one of the ironies here is that as humiliating and brutal the treatment of the singers are by the police, in many ways, they aren't nearly as damaging or cruel as the treatment by their managers.   The authorities never screw them as much as the money men do.
The acting is very strong. Paul Giamatti is, perhaps, the stand out here, as Jerry, who almost fools you at first that he really does want to help create a new art form and really has the interests of his clients at heart. But in a very subtle performance, he soon shows his true colors and he has a wonderful scene where he cries almost crocodile tears of outrage at a rap song by Ice Cube that he considers anti-Semitic.
It's the second time he's played an amoral, corrupt manager this year (the first as Beach Boy's Brian Future's caretaker in Love & Mercy) and I do hope he's not planning on patenting the performance and let others have a go at it.
O'Shea Jackson, Jr. (Ice Cube) has a wonderfully cathartic scene as he takes a baseball bat to his manager's office (who hasn't dreamt of doing something like this…more fantastic still, he gets away with it). He and Corey Hawkins as Dr. Dre and Jason Mitchell as Eazy-E work well together and have a nice rapport. Their main issue is the same one that happens to all movies that happen over a series of years—they never seem to grow older no matter how much time has passed; but films have always been terrible at that.
Also with R. Marcus Taylor as the psychopathic Suge Knight, who becomes Dr. Dre's manager. Few actors, outside of Peter Lorre perhaps, have eyes as terrifying.
The movie is directed by F. Gary Gray who did the Italian Job remake and Ice Cube's big hit Friday. The screenplay is by Jonathan Herman and Andrea Berloff.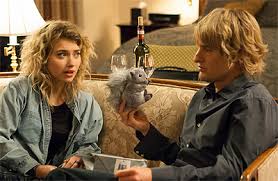 Peter Bogdanovich's career as filmmaker has been spotty at best. I can't think in any other terms but clichés, so I'll just say that he skyrocketed to the frontlines of filmmakers during American's new wave in the 1960's and '70's when he made Targets, The Last Picture Show (his best film), and the delirious, if imperfect, What's Up, Doc?
Since then he has struggled, more often that not, in making a successful movie, often hampered by weak material (At Long Last Love at one time appeared in the book The 50 Worst Films of All Time) and even weaker choices in choosing actors (what his obsession was with Ryan O'Neal and Cybil Shepherd, two of the worst performers of their era, I have no idea).
It's not that he hasn't done well since his heyday. Saint Jack is just about worthy of anything he did earlier and he's done some pretty good, if indistinguishable, work in such movies as Mask and The Thing Called Love. But more often than not we've had Daisy Miller, Nickelodeon, Illegally Yours and the especially abysmal They All Laughed.
He hasn't made a feature film since the failure with the good idea for a movie The Cat's Meow (he has been busy in TV making such fare as To Sir, with Love II—oh, how the mighty have fallen).
And now he's back in the movie theaters with a return to style of one of his earlier successes: She's Funny That Way, a farce (like What's Up, Doc?), written by Bogdanovich and Louise Stratton (her first) about a group of people, often complete strangers, whose lives, as they often do in farces, constantly overlap while one and all attempt to begin rehearsals for a Broadway play.
The basic premise revolves around Arnold, who is about to mount a drama starring his ex-wife Delta, along with Seth, an English actor who Arnold suspects once had an affair with said ex. Arnold has a particular fetish: he hires a call girl and afterwards gives her $30,000 to get out of the business and find another way in life (a great joke that is clunkily introduced and not made enough of as a running gag).
This time around he ends up with Isabella who is an aspiring actor and who, the next day, auditions for one of the leads in the play Arnold is directing and is so good, everyone convinces Albert to hire her despite his misgivings, while the playwright Joshua, who falls for Isabella, has to deal with his overcontrolling girlfriend Jane, a therapist taking over her mother's practice, which includes Isabella as well as a Judge who is obsessed with Isabella and has hired a private detective to follow her who is really…
Well, I think you get the general drift.
She's Funny That Way is often laugh out loud with some scenes, especially a climactic one, that has some wonderful moments of insanity that contain the classical definition of farce: the last person someone wants to enter a room is always the one who does.
However, though there is much to like here, She's Funny That Way never quite makes it. Exactly why, I'm not always sure, but I do have a few theories.
The first has to do with Imogen Poots in the role of Isabella. She works very hard and has a lot of energy, but she also, if truth be told, has one of the most annoying and distracting New York accents I've heard in some time, so weak, it pretty much prevents her from creating any sort of compelling or interesting character. She's the still point of the turning world here, but she can't come even close, or even close enough, to classic performances like Barbra Streisand, Carol Lombard or Katherine Hepburn in holding the movie on her shoulders.
In addition, though the movie has some nice set pieces, they never quite go far enough. The scene in the restaurant where everyone shows up at the same time starts out so well, but never really fulfills its promise (unlike the one in What's Up, Doc? where everyone is at a party that is interrupted by mobsters that leads to a huge chase scene).
But perhaps the one thing that may ultimately be missing is that I'm not sure there's anything that serious at stake. Usually in farces, what is driving everything is something that someone desperately needs like having to stop a Nazi from revealing the names of relatives in Poland of the Polish pilots in England; a grant to finish an exhibit in a museum that someone's career really depends on; or again, a grant to finish a scientific study of musical rocks that again, someone's career really depends on.
Here, no matter what happens and no matter what happens as a result of what happens, nothing is really in that much danger. Even the play is never in peril because no matter what transpires, as Arnold says, we're professionals and the show will go on.   And it pretty much does (as opposed to say, the Marx Brothers Room Service where they have to raise money to do their show before they are thrown out of the hotel room they haven't paid for).
At the same time, the high point of the film must be pointed out: of all the actors here, it is Jennifer Anniston as Jane who absolutely steals the show, playing one of the worst therapists of all times who treats people crueler than trained seals. It's a brilliantly written role and Anniston sinks her teeth into it like a starving dog and delivers more laughs in one scene that the rest of the movie combined.
The leads are played by Owen Wilson as Albert; Kathryn Hahn as Delta; Will Forte as Joshua; and Rhys Ifans as Seth. All acquit themselves admirably.
The rest of the movie is filled with an amazing roster of actors that could possibly only be rivaled by a Woody Allen or Robert Altman film including such Bogdonavich alumnus as Austin Pendleton as the Judge; Cybil Shepherd as Isabella's mother; George Morfogen as the private detective; Joanna Lumley as Jane's mother; and Tatum O'Neal as a waitress, as well as the wonderful Tovah Feldshuh as the Judge's wife; Richard Lewis as Isabella's father; Ileana Douglas as a reporter; Michael Shannon as a Macy's detective; and a famous writer/director as a punchline to the movie in the last scene.
---