O WHAT A TANGLED WEB WE WEAVE: Movie Reviews of Baby Driver and Spider-Man: Homecoming by Howard Casner
Posted:
July 11, 2017 |
Author:
Donald
|
Filed under:
Uncategorized
|
Tags:
Ansel Elgort
,
Baby Driver
,
Edgar Wright
,
Eiza Gonzales
,
Jamie Foxx
,
Jon Favreau
,
Jon Hamm
,
Jon Watts
,
Laura Harrier
,
Marisa Tomei
,
Martin Starr
,
Michael Keaton
,
Spider-Man: Homecoming
,
Stan Lee
,
Tom Holland
,
Tyne Daly
|
2 Comments »
First, a word from our sponsors: I wanted to say thank you to everyone who contributed to our Indiegogo campaign for 15 Conversations in 10 Minutes. We did very well due to you folks. For those who weren't able to give, keep us in your thoughts. And if you are able to contribute in the future, contact me and I'll tell you how. I will even honor the perks on the
I am now offering a new consultation service: so much emphasis has been given lately to the importance of the opening of your screenplay, I now offer coverage for the first twenty pages at the cost of $20.00.  For those who don't want to have full coverage on their screenplay at this time, but want to know how well their script is working with the opening pages, this is perfect for you.  I'll help you not lose the reader on page one. 
Ever wonder what a reader for a contest or agency thinks when he reads your screenplay?  Check out my new e-book published on Amazon: Rantings and Ravings of a Screenplay Reader, including my series of essays, What I Learned Reading for Contests This Year, and my film reviews of 2013.  Only $2.99. http://ow.ly/xN31r
and check out my Script Consultation Services: http://ow.ly/HPxKE
Warning: SPOILERS
I can certainly see why people are so in love with Baby Driver, the new heist film from writer/director Edgar Wright. It's about as stylish as you can get, and with a stylishness that has a bouncy feel good quality to it that gets you to sit up in your seat, tap your foot and just generally groove out.
It begins with a bank robbery and a car chase orchestrated to a song chosen by the title character (a getaway driver with pouty lips and baby face). It's followed soon after by a one take with said character bopping down the street to another song, barely dodging people on the street, and backed by some nice gymnastics (this is important because there comes a time when suddenly he's bumping into people right and left, signaling a sea change within the character).
Everything is calculated and carefully choreographed to be cool and hip. And it is pretty cool. In fact, the movie is not only pretty cool, it's fully aware as to how cool it is and revels in this coolness to such an extent that it knows that the audience knows that it knows just how cool it is.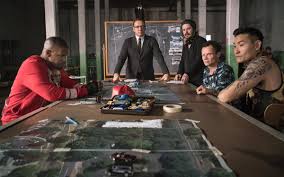 It's a movie very difficult to dislike.
And I didn't dislike it. At the same time, I wasn't quite as impressed as I felt the movie wanted me to be.
I think this is because, beneath all that style, I'm not convinced the film has that much substance or characters or plot that raises it above what it is. It's all surface. And though the surface is extremely well polished, it's still all, kinda, well…surfacey.
The plot starts out as one cliché soon replaced by another. At first it's the "this is the last job and after this I'm out" story swallowed up by the "just when I thought I was out, they pull me back in" one. And the dialog is often a bit too on point and clunky for me.
It's still kind of fun, but also only kind of successful for me.
The highlight of the film is the incredible sound editing backed by some incredible film editing, some satisfying chase scenes, and an argument by the characters over some Mike Meyers Halloween masks (outside of which you might never fully realize just how witty Wright can be with such films as Shawn of the Dead, Scott Pilgrim v. The World and Hot Fuzz).
With Ansel Elgort (late of The Fault in Our Stars) as Baby. He's fine, but perhaps not quite James Deanish enough for my taste. And with Kevin Spacey as the mastermind behind the robberies and Jon Hamm, Eiza Gonzales and Jamie Foxx as fellow heisters.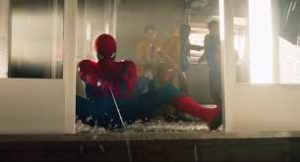 There is a series of scenes in Spider-Man: Homecoming that are inspired. This begins when Peter Parker (aka Spidey) arrives to pick up his date for prom and are driven by said date's father to said prom when suddenly no one is really talking about what they are talking about anymore. In many ways, it's the highlight of the movie, with a twist that I should have seen coming, but didn't.
Outside of this, Spider-Man… is hit and miss with me, though on the whole, I had a very good time and though I have complaints, it left me in a good mood.
The first two-thirds of the film is Spider-man as if John Hughes had written it, with all the good and bad that entails. On the plus side, we're not stuck with Anthony Michael Hall and Molly Ringwald in the leads. And the movie is more focused on the Peter Parker who has trouble fitting in (only made worse by having a secret identity to contend with) which is how I remember him from when I read the comics in the 1960's.
The not so plus side is that there is a lot cuteness and charm in these scenes (even the standard cameo by Stan Lee is much cuter and more charming than usual), which is often to the good, but also a bit pushed too much and a bit wearying.
The interesting thing is that after the prom ride, the movie tends to shed this cuteness and a seriousness takes over. Which, I suppose, could be described as once Parker matures, so does the movie.
There is something a little odd about the moral values here as well. The villain Toomes, an excellent Michael Keaton, starts out as a common working man who owns a company who won a contract to remove debris of alien origin left over from a previous Avenger's league.
But suddenly Anne Marie Hoag, played so incredibly by Tyne Daly you spend much of the movie frustrated because this is her only scene, strides in. She represents Tony Stark, who, in Trumpian manner, has cancelled the contract without warning or compensation for all the money Toomes has invested in his business and no concern for the large number of people who will be out of a job.
Actually, I'm not sure Stark has ever been this dislikeable. Not only does he show no empathy to Toomes, but he lectures Parker after Spider-Man fought Vulture and his henchman on a ferry. He blames Spider-Man for all the destruction. Yet, his solution was to hand the Toomes problem over to the FBI, something far beyond their or anyone who is not a superhero's pay grade. If Spider-Man had not shown up, all those agents would be dead and the destruction might have happened anyway with the ferry sinking and no superhero to rescue everyone.
Talk about an egomaniac with a lot of galls between his legs.
But I did think it a bit interesting that Toomes was made as sympathetic as he was and Stark as ridiculously out of touch as our current President.
And the story rarely makes a lot of sense. Toomes has been spending eight years developing new weaponry and selling them to bad guys. But he only seems to be selling them to low to mid-level gangsters when even top-level gangster couldn't possibly afford them.
And in these eight years, no one seems to have been using the weapons as it is.
Still, at any rate, all in all I got a kick out of it.
Tom Holland (who seems so much shorter here than he does in Wolf Hall) has a nice way with the title role. Out of the three that have played the web slinger of late, he's about the only one who has remotely looked the right age.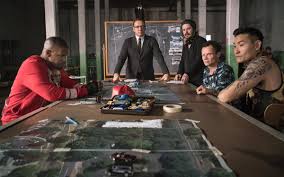 The rest of the cast handles themselves well. Jon Favreau is fun as Parker's overseer, Happy Hogan. Laura Harrier is a sweet love interest for Parker. Martin Starr plays a different kind of nerd from Silicon Valley as a coach and teacher. And Marisa Tomei is wonderful as Parker's Aunt Mae (they get younger with every reboot-next we'll have one younger than Peter).
Jon Watts, who did a nice low budget indie with Cop Car, holds everything together as the director. He also contributed to the screenplay along with a ton of other writers.
The finale after the credits is one of my favorite.
---