MOTHER'S INFERIOR AND SUPERIOR: Movie Reviews of Lady Bird and Noviate by Howard Casner
Posted:
December 17, 2017 |
Author:
Donald
|
Filed under:
Uncategorized
|
Tags:
Diana Agron
,
Greta Gerwig
,
Lady Bird
,
Laurie Metcalf
,
Lois Smith
,
Lucas Hedges
,
Margaret Betts
,
Melissa Leo
,
Novitiate
,
Saoirse Ronan
,
Timothée Chalamet
,
Tracy Letts
|
2,522 Comments »
First, a word from our sponsors: I am now offering a new consultation service: so much emphasis has been given lately to the importance of the opening of your screenplay, I now offer coverage for the first twenty pages at the cost of $20.00.  For those who don't want to have full coverage on their screenplay at this time, but want to know how well their script is working with the opening pages, this is perfect for you.  I'll help you not lose the reader on page one. 
Ever wonder what a reader for a contest or agency thinks when he reads your screenplay?  FosCheck out my new e-book published on Amazon: Rantings and Ravings of a Screenplay Reader, including my series of essays, What I Learned Reading for Contests This Year, and my film reviews of 2013.  Only $2.99. http://ow.ly/xN31r
and check out my Script Consultation Services: http://ow.ly/HPxKE
Warning: SPOILERS
I think I will begin this review with a personal anecdote. Years ago, I was in the audience for one of the final previews for Stephen Sondheim's musical Merrily We Roll Along, a tale told in reverse about three friends who betray the ideals they had when just starting out. It was a disaster. An unmitigated one at that. And it closed, I believe, around two weeks after it opened, if it lasted that long.
It was so terrible, I though the songs, with a couple of exceptions, were not just Sondheim's worst, they were just bad.
A year later, I was in the cutout section of a record store (remember those?) and I ran across a cast recording for the show. I bought it and listened to it anew and realized the songs were wonderful and that it had been the production that was, well, let us be kind and say…lacking.
Since then, I have seen two productions of it and I realized that it actually is a pretty good show.
The relationship Merrily… has to do with this review is that this musical is the one the students do in writer/director Greta Gerwig's success, Lady Bird.
And the reason I relate it is that I don't really have a lot to say about the film, so I needed some filler.
Lady Bird, of course, is the charming, insightful and often moving coming of age story about a slacker, the title character, who realizes she is not so much a slacker as she doesn't have any real dreams or goals in her life and when she does, she tends to be ridiculed for them, not just by guidance counselors and other of that ilk, but by her mother as well. It takes a great deal of losing herself and making a few too many bad choices before she can find herself, but there is a feeling of triumph here.
Though the mother/daughter dynamic only takes up part of the story, it seems to dominate it. Lady Bird's mother can be harsh and unforgiving at times, and this harshness has led many to claim child abuse.
But Lady Bird herself doesn't see it that way. Her mother is frustrating and downbeat, but Lady Bird also feels loved by her mother when all is said and done. It's not a perfect relationship (if it were, would we be watching it), and is disturbing to many. And I certainly can't defend it.
At the same time, it provides a fascinating two hours in the theater. And as such, each viewer must decide for themselves.
Laurie Metcalf of the perpetual frown plays Lady Bird's mother with deep insight and understanding and Saoirse Ronan is simply transcendent as Lady Bird. They play their scenes together as if they were a duet whose singing is greatly disharmonic to everyone but them, such that by the end they've created a truer harmony that those who blend perfectly.
With Timothee Chalamet having a good year between this and Call Me By Your Name as her cad of a boyfriend (he probably has the best line-You're going to have so much unspecial sex in your life); Lucas Hedges redux as her first boyfriend who is a cad in a totally different and ultimately forgivable way; Tracy Letts as her more understanding father; and Lois Smith as a kindly nun.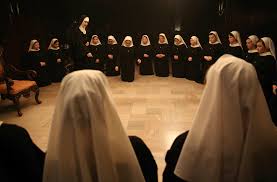 Lady Bird isn't the only film this her with nuns and a Catholic school background. We also have Novitiate, written and directed by Margaret Betts, her first feature as well and might be best described as not your mother superior's The Nun's Story or Where Angels Go, Troubles Follow.
In Novitiate, Diana Agron plays a woman who, though not Catholic in background, attends a Catholic school and falls in love with the idea of joining a sisterhood. Her mother, Julianne Nicholson, cannot remotely fathom why her daughter wants to do something so ridiculous. At the same time, her tendency to party and bringing home a new guy on a regular basis isn't quite the most enticing of lifestyles from her daughter's point of view.
Agron's character, Sister Mary Grace, joins an order because she wants to become something more, to find that something outside herself that will give her a deeper understanding of life and her place in it. And that's a very lofty goal and makes her very sympathetic.
At the same time, this is the ultimate failure, for me, of her journey. In the end she decides to not take final vows because her life in the convent isn't helping her reach her goal (and it isn't, it almost seems designed to do the opposite).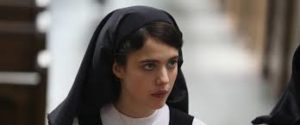 But the issue is that when all is said and done, what she claims is her goal, this desire to become something more, is not actually her real goal. While staying in the convent, she comes to realize she'd a lesbian and really leaves for that reason.
Certainly it's a solid and understandable reason to leave, but somehow it feels a letdown and betrayal to her original idea of becoming something more. When the movie is existential, it's far more interesting and profound. When the reason turns out to be practical, it lessens everything that came before.
However, in the end why Novitiate may not work the way it needs to is because it only comes alive when Melissa Leo as Reverend Mother is on the screen. She's vicious and cruel and every Catholic child's nightmare of a nun. She believes she's saving her sisterhood when in reality, her harsh dictatorship is actually foretelling its doom.
And Leo goes for the jugular in playing the role. She digs into her character's habit and electrifies the screen whenever she shows up.
Otherwise, Novitiate tends to fall a little flat.
---