MAKING A KILLING: Movie Reviews of The Killing of a Sacred Deer and Murder on the Orient Express by Howard Casner
Posted:
December 13, 2017 |
Author:
Donald
|
Filed under:
Uncategorized
|
Tags:
Agatha Christie
,
Albert Finney
,
Barry Keoghan
,
Collin Farrell
,
David Sachet
,
Efthymis Filippou
,
Ingrid Bergman
,
Johnny Depp
,
Josh Gad
,
Kenneth Branagh
,
Michael Green
,
Murder on the Orient Express
,
Paul Dehn
,
Poirot
,
Sidney Lumley
,
The Killing of a Sacred Deer
,
Yorgos Lanthimos
|
1,694 Comments »
First, a word from our sponsors: I am now offering a new consultation service: so much emphasis has been given lately to the importance of the opening of your screenplay, I now offer coverage for the first twenty pages at the cost of $20.00.  For those who don't want to have full coverage on their screenplay at this time, but want to know how well their script is working with the opening pages, this is perfect for you.  I'll help you not lose the reader on page one. 
Ever wonder what a reader for a contest or agency thinks when he reads your screenplay?  FosCheck out my new e-book published on Amazon: Rantings and Ravings of a Screenplay Reader, including my series of essays, What I Learned Reading for Contests This Year, and my film reviews of 2013.  Only $2.99. http://ow.ly/xN31r
and check out my Script Consultation Services: http://ow.ly/HPxKE
Warning: SPOILERS
When I saw writer/director Yorgos Lanthimos and writer Efthymis Filippou's earlier film Dogtooth, I must be honest and say I didn't have the most favorable reaction and many might consider that odd.
I felt it a rather dated attack on middle class mores that had already been done to death in the 1950's and 60's, especially in the off-Broadway theater.
But then I saw The Lobster, their last film, an hysterical satire and social commentary on love and relationships and the society that promotes them.
And now I've seen their latest, The Killing of a Sacred Deer, and I realized I was partially right about my earlier analysis because the more I see of their work, the more I realize the turgid social commentary of those decades are not their main influences. Rather, these two artists are the 21st Century embodiment of the existentialist/theater of the absurd practitioners like Beckett, Ionesco, Sartre, Albee and others of that ilk.
Their movies are comically and bitterly absurd and ridiculous, such that they are far more truthful about the human condition than others who are more realistic and straightforward in style.
The Killing… has its own style. People walk down long, elongated hallways and are filmed in an odd perspective that seem to make them go on forever until suddenly they don't. And the acting is very muted, almost as monotone and underplayed as a David Mamet production.
It all has a somewhat somnambulistic quality about it, a dream that's not exactly unpleasant, but also unnerving at the same time. Everything always seems on the verge.
But then something happens and it becomes a full-fledged nightmare of frustration and fury.
The basic story revolves around Steven Murphy (Collin Farrell), a heart surgeon, who has been playing father figure to Martin (Barry Keoghan), a teen whose father died sometime earlier while Steven was operating on him.
At first everything seems relatively normal in an odd, uncomfortable sort of way. But then Steven's young son finds he can't move his legs or eat. And then it happens to his daughter.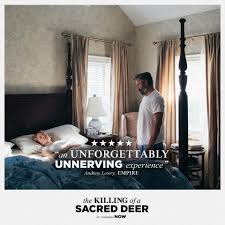 At that point we are told the reason why everything is occurring and the movie becomes a horror film.
Farrell and Nicole Kidman, who plays his wife, give strong performances. Keoghan, looking as if he is often about to fall asleep, gives an off-kilter and odd performance perfectly in keeping with the style of the film.
The Killing… will not be for everybody. Lanthimos and Efthymis have a vision and not everybody will want to wear their glasses. But it's a film that won't leave you alone and should be seen.
Murder on the Orient Express, written by Michael Green and directed by Kenneth Branagh (who also plays Belgium private detective Hercules Poirot), is the third version of Agatha Christie's popular book. There is a 1972 version written by Paul Dehn and directed by Sidney Lumet with Albert Finney as Poirot (the all star film was very popular, Finney received an Oscar nomination, and Ingrid Bergman won Best Supporting Actress). And there is a made for television version starring the incomparable David Sachet.
This version is entertaining enough (just barely), but never really rises to the occasion.
It has few of the highs of the Green/Lumet version. And though the performances are hit and miss (with Josh Gad perhaps coming in first among the suspects), you really, as a friend of mine said, react to the appearance of each actor by saying, oh, that was the Wendy Hiller part, that was the Vanessa Redgrave part, etc.
But the movie is best served perhaps by Johnny Depp as Ratchett, a character everyone hates and wishes was dead (and then he is) and Branagh, who plays a more down to earth and grounded Poirot (though perhaps not quite as fun as the Finney or Sachet take).
The screenplay is somewhat bland. It takes forever to get started as Poirot fusses over his eggs and solves a mystery, leaving less time for character development and the travel porn of the earlier version, which started the story even before everyone got on the train.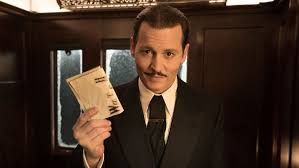 The music is also somewhat generic and doesn't approach the more lush romantic score of Richard Rodney Bennett.
But the biggest error here is perhaps the same as in the television version. There Suchet plays a Poroit as a deeply conflicted Catholic. The new version doesn't go that far, but makes him an unrepentant moral absolutist.
In both cases this requires a huge character arc of a change to justify the ending. However, this is an arc that is almost impossible to do without it happening over the course of the film. But here, as in the television version, it has to take place over a couple of scenes at the end and because of that, just isn't convincing.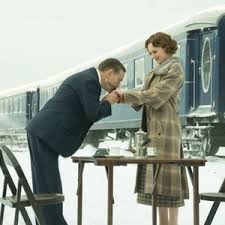 The earlier film version avoided this issue by having the murderers unrepentant and Poirot perhaps a bit troubled, but not so much that he ends his detection with a sturm and drang approach. Poirot doesn't change much here and the story is more satisfying for it.
With a cast of so many stars, I'm not going to list them (this is what IMDB was created for).
It also sets up a sequel, Death on the Nile.
---