3 WOMEN: The Unknown Girl, Battle of the Sexes, Mother!
Posted:
October 1, 2017 |
Author:
Donald
|
Filed under:
Uncategorized
|
Tags:
Adéle Haenel
,
Alan Cumming
,
Andrea Riseborough
,
Battle of the Sexes
,
Bill Pullman
,
Darren Aronofsky's
,
Ed Harris
,
Elizabeth Shue
,
Emma Stone
,
Eric Christian Olsen
,
Javier Bardem
,
Jean-Pierre Dardennes
,
Jennifer Lawrence
,
Jeremie Renner
,
Jonathan Dayton
,
Luc Dardennes
,
Michelle Pfeifer
,
Mother
,
Sarah Silverman
,
Simon Beaufoy
,
Steve Carrell
,
The Unknown Girl
,
Valerie Faris
|
Leave a comment »
For questions: hcasner@aol.com
First, a word from our sponsors: I am now offering a new service: so much emphasis has been given lately to the importance of the opening of your screenplay, I now offer coverage for the first twenty pages at the cost of $20.00.  For those who don't want to have full coverage on their screenplay at this time, but want to know how well their script is working with the opening pages, this is perfect for you.  I'll help you not lose the reader on page one. 
Ever wonder what a reader for a contest or agency thinks when he reads your screenplay?  Check out my new e-book published on Amazon: Rantings and Ravings of a Screenplay Reader, including my series of essays, What I Learned Reading for Contests This Year, and my film reviews of 2013.  Only $2.99. http://ow.ly/xN31r
and check out my Script Consultation Services: http://ow.ly/HPxKE
Warning: SPOILERS
There have been many examples of siblings sharing writing, directing and even producing credits from the Maysles to the Tavianis to the Wachowskis. Perhaps the most successful pairs artistically are the Coens and the Dardennes.
However, though the Coen brothers output is often quite breathtaking with wonderful highs (Fargo, True Grit, No Country for Old Men), they are far more erratic in quality of output (Hail, Caesar!, Burn After Reading, The Ladykillers).
Few filmmakers, however, have had the consistency of Jean-Pierre and Luc Dardennes, Belgium brothers that first made their name in the U.S. with their Cannes winning film Rosetta, about a young women desperate to get employment, and they cemented their reputation with such triumphs as La Promesse, The Son, L'enfant and most recently Two Days, One Night.
Now we have The Unknown Girl, one of the finer films so far this year.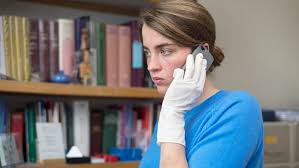 In it, Adele Haenel (Love at First Fight, In the Name of My Daughter) gives a lovely performance as Jenny Devin, a doctor who is in public practice. Her office is out of a clinic that serves people who depend on government insurance. She's very good. So good that she is considering an offer to join a group of doctor's in private practice.
Then one night, an hour after closing, someone rings the clinic's doorbell. Though her intern wants to answer, Jenny stops him. She believes that doctors need to pace themselves and not work from the heart. Otherwise, they will become so emotionally involved, it will get in the way ultimately of providing the best care. Or is she just saying that to justify not wanting to answer the bell because it's so late?
The next day, the woman who rang the bell is found dead. The police don't know whether it was an accident or murder.
And now Jenny feels guilty. So she starts looking into it.
The Unknown Girl is structured like a who done it. But the pacing is more leisurely as we follow Jenny on her routine rounds of patients (it seems in Belgium, doctors still make house calls).
Perhaps the pacing is not that of an Agatha Christie story because Jenny is not trying to find out what happened. She really wants to know who this woman is. She can't bear the thought that the victim's family won't know what happened and that she'll be buried in potter's field without a name.
But the leisurely pace is also there because Jenny does go on a journey from wanting to be a doctor whose focus is on money and who doesn't get emotionally involved to one who rediscovers her humanity and a need to connect and be part of human race around her.
Jenny is someone who rediscovers her soul, which is often the theme of films made by the Dardennes. They are humanists who believe that the soul will prevail and people will ultimately make the existential decision to do what is right.
In many ways, one might call them the art form's most Christian filmmakers, but without mentioning Christianity at all.
However, whether you go with the pacing or whether it is too slow for you will probably be the make or break issue when it comes to the film working for you. They are often not the most obvious of filmmakers and there's a lot of subtlety involved here.
I found the tension often unbearable.
With Jeremie Renner, one of the Dardennes most reliable actors, as the father of one of Jenny's patients.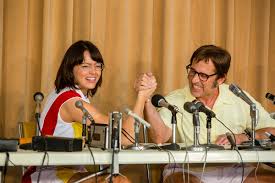 Speaking of directing pairs, we also have the husband and wife couple of Jonathan Dayton and Valerie Faris (Little Miss Sunshine, Ruby Sparks) and their latest, Battle of the Sexes (with no "The", I suppose to differentiate them from the titles of other movies-and there are a number of them-that include the article).
I don't know why for some works of art that even if you know the ending, it can still have all the tension of an Alfred Hitchcock film.
We all know the Titanic is going to sink. We know Hamlet's going to die. We know Scarlett will look to tomorrow and Rhett frankly won't give a damn.
Yet, there we are, sitting on the edge of our seats, wondering if somehow, this time, it will all work out differently.
This is as true in Battle of the Sexes, a dramatized version of the epic battle between two epic tennis players, feminist Billie Jean King and con man, former champion Bobby Riggs. I remember when it happened, I lived through it.
But I still was there in there in the theater, completely wrapped up in the competition, wondering just how it was all going to turn out and would King lose this time round.
Battle of the Sexes is a joyous movie, a ton of fun and a thrill to watch. It leaves you with a sustained high as you leave the theater. Everything about it seems so assured and polished to have a pre-determined effect, but instead of resenting this, you just give yourself over to the movie.
It's so good natured and well made, it just seems rude not to have a rollicking good time.
Some of this is due to the screenplay by Simon Beaufoy, who also gave us 127 Hours and Slumdog Millionaire. It's assured and on point and extremely well crafted without calling attention to itself. It's probably his best work, only rivaled by one of his earliest, The Full Monty (but only rivaled; I believe Battle… is better).
It's probably also Dayton and Faris' best script. Their best known movie, Little Miss Sunshine, was a real crowd pleaser, and I thought it enjoyable, but fairly routine. And their next, Ruby Sparks, failed to do that at the box office.
But here, like Beaufoy, they seem assured and confident.
This is quite possibly Emma Stone's best performance. She wears Billie Jean King as easy as slipping on a tennis dress such that it almost feels that Billie Jean King's only reason for existence was to be played on screen by Stone. King is one of the finest tomboy roles in film in some time and Stone, bested maybe only by Katherine Hepburn, is one of the best tomboy actresses.
Steve Carrell is equally strong as Riggs, a grifter so charming that one can't help but like him no matter what ridiculous piece of idiocy comes out of his mouth.
The supporting cast has a number of familiar faces including Bill Pullman as the chauvinist's chauvinist Jack Kramer; Elizabeth Shue as Mrs. Riggs; Alan Cumming as a camp tailor; and Sarah Silverman, almost unrecognizable, as Gladys Heldman, who managed the female tennis players.
And Andrea Riseborough as King's love interest, Marilyn Barnett, and Eric Christian Olsen in a role that's rarely seen in movies, the long-suffering husband.
Go see it. You'll love it.
As far as I can tell, there is only one thing that everyone who has seen writer/director Darren Aronofsky's latest art film Mother! (I'm not convinced the exclamation point works in the film's favor since with it, the title feels like a shortened vulgarity) agrees on: it's an allegory of some sort.
Most, including moi, think it's an allegory of the relationship between an artist and his wife. This seems so incredibly obvious I can't understand how anyone could see anything else in it.
However, I believe Aronofsky himself has made the claim that it's an allegory between God and Mother Earth.
Well, if Aronofsky is correct, as far as I'm concerned, it's one of the great catastrophic failures a celebrated artist has produced.
If I'm right, the movie simply doesn't work.
The story begins at an isolated farmhouse that burned down in the early life of a writer, Him (Javier Bardem). Him's wife, Mother (Jennifer Lawrence), spends her day rehabbing the farmhouse and hovering over Him to such an extent he can't write.
And with Act One, the movie stops working for two reasons. Almost nothing happens in Act One, but Aronofsky has built up the tension to a 9 on a scale of 1 to 10. This is done through odd noises, directorial flourishes and the use of the house almost as a character in itself (the place could serve as the set to The Haunting or The Innocents).
But with the tension so high already, there's really no room to build, there's no place for it to go.
Then two characters played by Ed Harris and Michelle Pfeifer enter and the tension goes to a 9.5. In their defense, these are the two most interesting and best acted parts of the film. Harris and Pfeiffer play their parts as if they understood what was going on more than Aronofsky does. Pfeiffer especially excels as a woman whose mere glance could whither an oak tree.
Then the sons of the characters of Harris and Pfeiffer enter and finally, finally the story becomes interesting. The tension level is at a 10 and pretty much remains there until the end with the scenes becoming so repetitious and redundant, I couldn't help but laugh at what was going on.
The other reason it doesn't work is as an allegory, which I say is about an artist and his wife, is that the character of Mother is incorrectly drawn. In the last third of the film, Mother is called a muse. But in actuality she's not. She's actually the anti-muse.
Her existence really stops Him from creating art.
It's not until the appearance of Pfeiffer and Harris is Him driven to create. It's not Mother on the inside who inspires Him to write. Instead, as the story is written, she does everything she can to get rid of anyone who comes to the house. She spends her time trying to keep out inspiration.
Because of this, the ending makes no sense. In the final scene, Him creates a new Mother. But that only makes sense if Mother is a muse. If she's an anti-muse, Him has no reason to create another.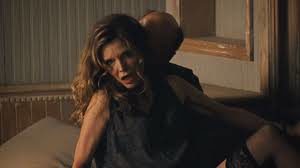 If Mother were indeed a muse, then the allegory holds together. She inspires Him to create art and then once she does, Him no longer has any use for her and she would then be overwhelmed and displaced by the crowds of worshippers, finally disposed of. Thus requiring Him to find a new muse so he can continue creating.
Lawrence does what she can with the title role. But her part is two dimensional, flat, never becoming a real person. In many ways, Mother! is a character study of someone who has no character. All Mother is is a somewhat stereotypical role of the long-suffering wife who has no reason for existence outside of the hero.
Ironically, the poorly written part may itself suggest a stronger allegory as to how weakly women are often portrayed in film.
---