GROWING UP IS HARD TO DO: Movie Reviews of Don't Think Twice and Indignation by Howard Casner
Posted:
August 18, 2016 |
Author:
Donald
|
Filed under:
Uncategorized
|
Tags:
Bartleby the Scrivener
,
Chris Gethard
,
Crouching Tiger
,
Don't Think Twice
,
Gillian Jacobs
,
Herman Melville
,
Hidden Dragon
,
In the Region of Ice
,
Indignation
,
James Shamus
,
Joyce Carol Oates
,
Kate Micucci
,
Keegan-Michael Key
,
Linda Emond
,
Logan Lerman
,
Mike Birbiglia
,
Philip Roth
,
Sarah Gadon
,
Sleepwalk With Me
,
Taking Woodstock
,
Tami Sather
,
The Wedding Banquet
,
Tracy Letts
|
2 Comments »
First, a word from our sponsors: I wanted to say thank you to everyone who contributed to our Indiegogo campaign for 15 Conversations in 10 Minutes. We did very well due to you folks. For those who weren't able to give, keep us in your thoughts. And if you are able to contribute in the future, contact me and I'll tell you how. I will even honor the perks on the original campaign.
I am now offering a new consultation service: so much emphasis has been given lately to the importance of the opening of your screenplay, I now offer coverage for the first twenty pages at the cost of $20.00.  For those who don't want to have full coverage on their screenplay at this time, but want to know how well their script is working with the opening pages, this is perfect for you.  I'll help you not lose the reader on page one. 
Ever wonder what a reader for a contest or agency thinks when he reads your screenplay?  Check out my new e-book published on Amazon: Rantings and Ravings of a Screenplay Reader, including my series of essays, What I Learned Reading for Contests This Year, and my film reviews of 2013.  Only $2.99. http://ow.ly/xN31r
and check out my Script Consultation Services: http://ow.ly/HPxKE
Don't Think Twice, the new movie about improvers from writer/director/actor Mike Birbiglia (his second feature after Sleepwalk With Me, also about comedians), has one of the best analyses of Saturday Night Live (called Weekend Live here) I've come across, encapsulating what has gone wrong with the show for who knows how many years now. The main characters have gathered together to watch one of their group who has been cast in the series. The skit is terrible, as so many SNL skits are. They scrunch up their faces and basically say: you can tell it's supposed to be funny, you can understand why it's supposed to be funny, but it just isn't funny.
The basic through line of Don't Think Twice is, in many ways, very universal. It's happened to all of us. We're progressing when suddenly we find ourselves in a rut, but we don't realize it. We know we need to do something to achieve our longtime goals, but we've grown comfortable, without realizing that's how we feel, and so we drift along the way we are.
Then something happens that forces us to do something to change the status quo. We actually think this event is, in many ways, the apocalypse, but in working through it, we actually realize it's the best thing that could have happened, because we were forced to do something, anything, to make us so uncomfortable that we had to start reaching for that goal again (or redefine it).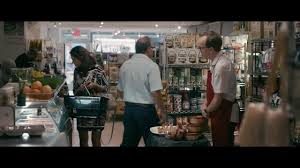 In Don't Think Twice, an improv group who is successful on their own terms, have grown so comfortable doing their weekly show and teaching, they've forgotten what they were aiming for in the first place.
And then it happens. An antithesis comes into contact with their thesis forcing them to come to a synthesis: the folks from Weekend Live are coming to a show and the troupe is also informed that the building hosting their theater has been sold, and they only have so many weeks to figure out what to do. Life even throws a few extra curves to some of the members as they struggle to come to terms with and take stock of their lives.
There are certainly some familiar showbiz tropes and ironies here, but there are also some nice surprises. And the cast, who are all very charismatic, commit to it with all the focus of, well, an improv group. The six actors work very well together and are quite convincing as a "family". And Birbiglia has a knack, as he also showed in his earlier film Sleepwalk With Me, about an aspiring stand up comedian, in dramatizing the theatrical world in a very honest and convincing manner. He doesn't push things or over exaggerate what it's like to be in the biz.
At the same time, I found something sad at the core of these characters. Not in their goals, but in that their life is so focused on improv and their theater, they have nothing else in their lives. None of them are ever shown reading a book, or going to a movie or museum, or catching up on current events. They barely have a life outside their somewhat hermetically sealed existence. No one even seems to have a hobby. Not even a pet. The only TV they watch is when their friend is cast on Weekend Life. I can't imagine what I would talk about if they were sat next to me at a dinner party.
And though they have to make tough decisions about their lives, no one really ends up any worse off and some all up better off than they were.
So in the end, one might even call the movie a very entertaining look at some character who aren't particularly interesting in and of themselves.
Which, in many ways, is a neat trick to pull off.
With Mike Birbiglia, Gillian Jacobs, Kate Micucci, Tami Sather, Keegan-Michael Key and Chris Gethard all solid as the group.
In the shorty story Bartleby the Scrivener by Herman Melville and In the Region of Ice by Joyce Carol Oates, the central characters both face the same issue: they meet someone who acts oddly, they both try to help this person, but find that this person acts the way he does because he has serious mental issues and so they can't do anything for him.
Something similar happens in writer/director James Shamus' new film, Indignation, based on a book by Philip Roth. The hero, Marcus (Logan Lerman), a young Jewish man, goes to a Midwest university that is decidedly not just gentile, but quite Christian. He's somewhat of a misanthrope; he doesn't seem to really like anyone (the Jewish students who reach out to him most of all) and tends to go his own way.
But he does become interested in one student Olivia Hutton (Sarah Gadon) and they go out on a date. On the return home she gives him a blow job. He doesn't understand why someone would do that, especially so soon. He spends much of the movie trying to figure it put, only to realize there is nothing to figure out as Olivia once again ends up in a mental hospital for issues that had nothing to do with him.
Indignation is an often fascinating little film. It's beautifully shot in overcast, but nostalgic, fall colors and the costumes and settings are often breathtaking (it's hard to believe there was a time when students wore suit coat and tie every day to class).
And the plot is quite intriguing as Marcus tries to come to some understanding of this life he's found himself in: a Jew among gentiles, an atheist among believers, an intellectual who is smarter than most around him, including his Dean (Tracy Letts).
Shamus is a very talented writer. He's worked with Any Lee on everything from The Wedding Banquet to Crouching Tiger, Hidden Dragon to Taking Woodstock (this is his first feature as director) and he seems to have quite a talent for creating a convincing look at a situation or society or time period he has no personal experience with.
Here, there is something odd about the dialog. It's realistic, but at the same time feels very stylized. This is especially true of the scenes with Marcus and the Dean, a couple of pas de deux back and forths that often feel like a fencing contests with one of the competitors trying to figure out how he ended up with an epee in his hand. And Lerman has a look on his face of complete bewilderment as he tries to follow the Dean's tortious lines of conversation. Like me, Marcus kept looking at this patronizing buffoon as if to say, "Wait, did he really just say that".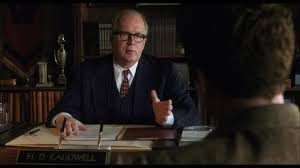 The cast is first rate, but the honors go to Linda Emond as Marcus' mother, who immediately senses what is wrong with Olivia and desperately tries to stop her son from making a mistake.
The main disappointment is the ending, which doesn't seem to have anything to do with what came before. It feels like one of those endings where no one knows how to bring everything together and so results to a voice over to explain it all, but what is said doesn't make a lot of sense. Here, it feels as if it belongs in a totally different movie.
---