THE EAST IS EAST AND THE WEST IS WEST: Movie Review of Woody Allen's Café Society by Howard Casner
Posted:
August 6, 2016 |
Author:
Donald
|
Filed under:
Uncategorized
|
Tags:
Café Society
,
Corey Stoller
,
Jeannie Berlin
,
Jessie Eisenberg
,
Ken Stott
,
Kristen Stewart
,
Parker Posey
,
Paul Schneider
,
Stephen Kunken
,
Steve Carrell
,
Still Alice
,
The Clouds of Sils Maria
,
Woody Allen
|
1 Comment »
First, a word from our sponsors: I wanted to say thank you to everyone who contributed to our Indiegogo campaign for 15 Conversations in 10 Minutes. We did very well due to you folks. For those who weren't able to give, keep us in your thoughts. And if you are able to contribute in the future, contact me and I'll tell you how. I will even honor the perks on the original campaign.
I am now offering a new consultation service: so much emphasis has been given lately to the importance of the opening of your screenplay, I now offer coverage for the first twenty pages at the cost of $20.00.  For those who don't want to have full coverage on their screenplay at this time, but want to know how well their script is working with the opening pages, this is perfect for you.  I'll help you not lose the reader on page one. 
Ever wonder what a reader for a contest or agency thinks when he reads your screenplay?  Check out my new e-book published on Amazon: Rantings and Ravings of a Screenplay Reader, including my series of essays, What I Learned Reading for Contests This Year, and my film reviews of 2013.  Only $2.99. http://ow.ly/xN31r
and check out my Script Consultation Services: http://ow.ly/HPxKE
Warning: SPOILERS
In Woody Allen's most recent attempt at making himself forget that he will have to die one day, or as it's called in the state of the art, his latest film, Café Society, about a young man, Bobby (Allen stand in Jessie Eisenberg), who goes out to the West Coast to see if he wants to make a future there, the camera often glides around a scene with all the grace of Sonja Henri, even at times so smoothly it left me a little dizzy. I can't remember the last time I saw Allen's camera flow as much as it does here. Often of late, his camera feels as if it were following the old saying, what you see is what you get.
Its appearance was so refreshing at the beginning of the film, it had me hoping for something more than a typical 21st Century Woody Allen movie. But alas, though not a terrible night at the cinema, Café Society is only intermittently successful.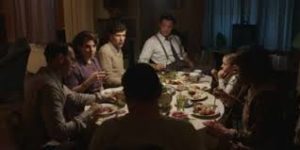 The story is basically divided into two parts. The part that takes place in Los Angeles and the part that takes place in New York. Guess which one has the most going for it?
It shouldn't be a shocker to know that Hollywood and environs gets the short end here. After all, Allen has never made any secret of his dislike of the city. In Annie Hall, Allen's character speaks the well-known line, I don't want to move to a city whose only cultural advantage is being able to make a right turn on a red light.
But here, Allen presents a Los Angeles drenched in a perpetual sunlight that gives a yellow tint to everything. And I mean everything. The result is that not only does everything look the same, it all looks bland and dull.
But New York has character in its dark overcast and gritty kitchen sink streets and homes. The people there feel much more real and vibrant with the result that the acting is stronger and more effective. These scenes are stolen by a riveting performance by Jeannie Berlin as Bobby's mother, who, along with Ken Stott, who plays Bobby's father, basically enact older versions of the parents in Radio Days, still letting each other have it with a Bronx venom.
Allen even gives these characters the best lines, perhaps the most memorial being delivered by Bobby's Uncle Leonard (Stephen Kunken): The unexamined life is not worth living, but the examined one is no bargain.
The only oddity here is the casual way Allen treats the callous ways people are murdered in cold blood, especially by Bobby's older brother Ben (Corey Stoller, with hair, no less). They are directed as to get laughs of the nostalgic kind. "Ah, yes, remember the good old days when people were shot in the head on the street and dead bodies hidden in cement foundations? Good times, good times."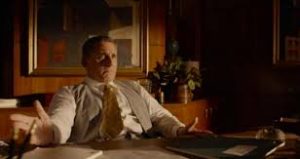 As I said, Allen can't seem to, or has no interest in, bringing the same amount of depth to what happens in L.A. There the dialog feels more stilted, the characters aren't as interesting, and the story never catches fire.
Which brings us to what really is the reason as to why Café Society never takes off. The basic premise is a love triangle between a powerful agent Phil Stein (Steve Carrell, could his character name be a play on Philistine?) and Bobby over Stein's secretary Vonnie (Kristen Stewart). So far so good.
Except that I found it incredibly unbelievable that the two men would fall head over heels for the rather average, unexciting Vonnie. It's probably a bit more believable for Bobby, since neither he nor Vonnie are out of each other's league. But Stein is so out of Vonnie's, it's simply too hard to take her character or the situation seriously.
The problem here is either that the character in and of itself is not particularly interesting or it's that Stewart can't bring what is needed to make the character work. Actually, it's more than likely a bit of both.
Stewart first became famous for her roles in the Twilight franchise and Snow White and the Horseman, both almost unwatchable. And Stewart's performances certainly didn't help any.
Then, instead of playing larger than life romantic characters, she appeared in The Clouds of Sils Maria and Still Alice and shocked everyone with strong and effective performances. But in these films, she was playing everyday people and she was marvelous at it.
But Vonnie is not an everyday character. She's someone who can drive the powerful owner of a Hollywood talent agency to lose all control and upend his life. And I'm not convinced that Stewart is an actress who can bring that off.
And if her character doesn't work, then neither does the movie.
With Parker Posey and Paul Schneider as a husband and wife who split their time between coasts. Both have little to do. And Schneider is often filmed so that if you didn't recognize his voice, you wouldn't know it was him.
The narrator, of course, is Woody Allen.
---