YOU CAN'T GO HOME AGAIN: Movie Reviews of Manchester By The Sea, It's Only the End of the World and The Commune by Howard Casner
Posted:
November 29, 2016 |
Author:
Donald
|
Filed under:
Uncategorized
|
Tags:
C.J. Wilson
,
Casey Affleck
,
Gretchen Moll
,
It's Only the End of the World
,
Jean-Luc Lagarce
,
Kenneth Lonergan
,
Kyle Chandler
,
Lea Seydoux
,
Lucas Hedges
,
Marion Cotillard
,
Matt Damon
,
Matthew Broderick
,
Michelle Williams
,
Nathalie Baye
,
The Commune
,
Thomas Vinterberg
,
Tobias Lindholm
,
Trine Dryholm
,
Ulrich Thomson
,
Vincent Cassel
,
Xavier Dolan
|
11 Comments »
For questions: hcasner@aol.com
First, a word from our sponsors: I am now offering a new service: so much emphasis has been given lately to the importance of the opening of your screenplay, I now offer coverage for the first twenty pages at the cost of $20.00.  For those who don't want to have full coverage on their screenplay at this time, but want to know how well their script is working with the opening pages, this is perfect for you.  I'll help you not lose the reader on page one. 
Ever wonder what a reader for a contest or agency thinks when he reads your screenplay?  Check out my new e-book published on Amazon: Rantings and Ravings of a Screenplay Reader, including my series of essays, What I Learned Reading for Contests This Year, and my film reviews of 2013.  Only $2.99. http://ow.ly/xN31r
and check out my Script Consultation Services: http://ow.ly/HPxKE
Warning: SPOILERS
You Can't Go Home Again is, of course, the title of a posthumously published novel by Thomas Wolfe, and a phrase that has entered common discourse since. I've seen three movies lately that are about people returning home or using memories of their early years as the basis for their stories.
The basic premise of writer/director Kenneth Lonergan's new film Manchester by the Sea revolves around Lee Chandler (Casey Affleck), a janitor living in Boston who is very good at his job, but is a loner with a somewhat self-destructive personality. When he receives word that his older brother Joe (Kyle Chandler) has died, he returns to his home city of Manchester by the Sea, a fishing and tourist town. There he is shocked to discover that his brother in his will has requested Lee to become guardian to Joe's sixteen year old son, Lucas. Joe has provided for Lucas' expenses in his will and just needs Lee to return to Manchester to live.
Why Lee can't return and the conflicts over how to handle this request make up the bulk of the movie and much of the heart breaking suspense is waiting to find out what happened that led to Lee's present situation-you know it has something to do with his three children since they are only shown in flashback. The waiting is painfully unbearable at times.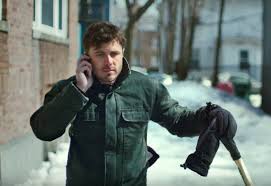 I almost have writer's block when it comes to writing about Manchester by the Sea. It's a lovely, deeply moving story, so lovely and deeply moving I'm not sure what else there is to say about it except that it is lovely and deeply moving.
Besides the delicate and powerful screenplay, much of the success of the film must be laid at Affleck's feet. Affleck is an improbable lead actor. With his raspy, falsettoed voice (much, much more so than the marvelous character actor of film noirs Dan Duryea), he should have been relegated to supporting roles.
But he has somehow managed to not just let this voice not be a hindrance, he has actually used it to his advantage, delivering unforgettable turns in such films as Gone, Baby, Gone, The Assassination of Jesse James by the Coward Robert Ford and perhaps his greatest performance to date, the psychotic deputy in The Killer Inside Me.
And here he delivers a rich and empathetic portrait of a soul who can't ultimately forgive himself. He has a shocking scene in the police station after he realizes that the authorities aren't going to prosecute him for what he did. Something so shocking we are almost immediately willing to forgive, even if he never can.
One of the strongest aspects of the film is that Lonergan ends the story true to his characters and doesn't try to play feel good. Redemption is not as easy to achieve as many may think and sometimes things happen that are simply too awful to forget and forgive (or as Lee says in his final, painful, tear-filled words, "I can't beat it. I can't beat it").
After this comes the remarkable performance by relative newcomer Lucas Hedges. The two actors have a thrilling rapport and work off each other with amazing grace. And Lucas has some of the best lines as he constantly surprises his uncle with revelations about his life, at one time listing the reasons why he can't leave home (including two girlfriends, a situation he asks his uncle not to blow since the two don't know they are being two-timed).
There are a few moments where it almost feels as if Lonergan might be losing control of the story a bit in the final third (something he ultimately did in his second film as director, Margaret, a movie that was very intriguing until it fell apart). But in the end, he regains control of the ship and finishes with a heartbreaking finale.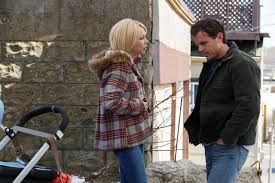 With Michelle Williams as Lee's ex; Gretchen Moll as Joe's ex, Elise; Matthew Broderick as Elise's new devout husband; C.J. Wilson as a family friend who turns down Lee's suggestion of adopting Lucas because he and his wife are actually trying to get rid of a few kids as it is; and Kenneth Lonergan himself as a Manchester pedestrian.
Originally the movie was Matt Damon's idea and he was to produce, direct and star, but when The Martian conflicted with the movie's schedule, he decided to only produce.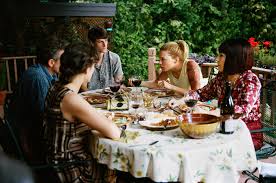 It's Only the End of the World is the latest film from French Canadian writer/director wunderkind (if at 27 he can still be called that) Xavier Dolan. Apparently, he is a filmmaker you like or you don't. He is highly praised and a darling at Cannes. But though I find him to be a marvelous visual stylist (and brilliant when it comes to the soundtrack-no one can pick songs like Dolan), except for his first film, I Killed My Mother, and then Mommy (the one before It's Only…), I have found his movies to be somewhat of a letdown due to what are, to me, weak screenplays.
And I'm afraid I find It's Only the End of the World to be true to form.
It's based on a play by Jean-Luc Lagarce and concerns a young man, Louis-Jean, who returns home after an absence of twelve years. The screenplay never reveals the reason for his change of mind, though it's fairly obvious (so obvious one wonders why the screenplay is playing so fast and lose about it; it doesn't add anything to the story to keep it hidden and is actually more than a bit of a distraction in its absence).
The problem is that his family are some of the most unpleasant people to spend time with, much more unpleasant than even the family of August: Osage County. Of course, that's not the real issue. Likeable characters are never a prerequisite for a successful story. The real difficulty for me is that they aren't particularly interesting. It's sort of like watching Long Day's Journey Into Night minus the tragic dimension of the Tyrones.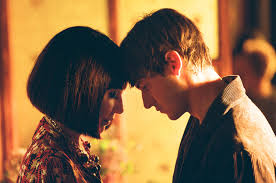 However, it must be said that Dolan has recruited an all star cast for his film, another indication as to how high a regard many hold him. Nathalie Baye, Marion Cotillard, Vincent Cassel and Lea Seydoux all take their turns at bat, being given ample opportunity to strut their stuff (the structure eventually becomes predictable as you realize the story is a series of pas de deux in which each character gets a one on one with the hero-I started counting them down like the victims in And Then There Were None).
Cassel probably has the best scene as his character and Jean-Louis go for a drive and he refuses to let Jean-Louis talk, possibly due to his guessing what Jean-Louis has to say and not wanting to hear it.
Winner of the Jury Grand Prize and the Ecumenical Prize at Cannes and Canada's entry in the Foreign Language Film Category at the Oscars.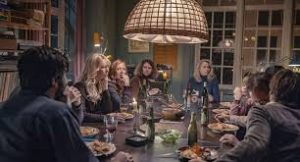 The Danish writer/director Thomas Vinterberg first became known over here with his early film The Celebration, a brutal film about a family reunion made under the doctrines of Dogma 95, an aesthetic movement embraced (and just as quickly abandoned) by such filmmakers as Lars von Trier.
However, it actually has a lesser known, but perhaps even more profound impact on the film industry. It was one of the earliest successful films shot on digital. It encouraged Danny Boyle to shoot 28 Days Later similarly because it was so much more efficient and economical. The rest is cinematic history, for better and for worse.
Since them, Vinterberg has created a nice series of films, often focusing on some darker aspects of life, as in Submarino and The Hunt (the latter of which helped make Mads Mickelson a star). I'm afraid to say this, The Commune is his first disappointment for me (though I didn't see Far From the Madding Crowd).
The screenplay was written by Vinterberg and Tobias Lindholm (who co-wrote The Hunt and Submarino and wrote and directed A Hijacking and A War) and is adapted from a play Vinterberg wrote based on his memories growing up in such a household as indicated in the title.
It's the 1970's and Erik, a professor, inherits a large, rambling house outside Copenhagen. It's too big and expensive for him and his wife Anna and their child, so Anna convinces her husband to start a commune and run the house as a collective. Eric agrees reluctantly.
But there is one thing more powerful than the ideals of the group that finds themselves under one roof. They can fight off anything but irony. And when Erik begins an affair with a student and evens moves her into the house, Anna tries to accommodate the situation, but finds she can't. And because Erik owns the house and no matter what the group votes and decides on, his will must prevail, Anna, whose idea it was to start the commune is the first to leave.
I think there are a few reasons The Commune didn't really gel for me. I think one is that Anna is made to be one of those stereotypical working women who try to do a man's job, but since she is a woman, the conflicts in her life lead to a nervous breakdown (she's a newsreader and the show has to stop when she can't go on) because, well, that's what happens when a woman tries to do a man's job. Whether true to Vinterberg's past or not, I'm just extremely tired of seeing this character.
I think the other reason is that I'm not convinced that the filmmakers are aware of the true message of the movie. As the story plays itself out, the ending seems to suggest this was just an unfortunate result, nothing more than an unhappy ending.
For me, though, the group's decision was much less benign. The commune completely went against everything they stood for in creating their way of life with their final decision. It's not sad because Anna had to leave. It's tragic because the characters sold their souls and their ideals in forcing Anna to leave.
But as I said, I'm not convinced the filmmakers quite see it that way.
With Ulrich Thomson as Erik and Trine Dryholm as Anna.
---