WE ARE FAMILY: Movie Reviews of Toni Erdmann, Fences, 20th Century Women, Julieta by Howard Casner
Posted:
January 8, 2017 |
Author:
Donald
|
Filed under:
Uncategorized
|
Tags:
20th Century Women
,
Adriana Ugarta
,
Alice Monroe
,
Annette Bening
,
August Wilson
,
Billy Cruddup
,
Denzel Washington
,
Elle Fanning
,
Emma Suarez
,
Fences
,
Greta Gerwig
,
Jovan Adepo
,
Julieta
,
Lucas Jade Zumann
,
Maren Aden
,
Mike Mills
,
Pedro Almodovar
,
Peter Simonischek
,
Sandra Huller
,
Stephen Henderson
,
Toni Erdmann
,
Viola Davis
|
6 Comments »
For questions: hcasner@aol.com
First, a word from our sponsors: I wanted to say thank you to everyone who contributed to our Indiegogo campaign for 15 Conversations in 10 Minutes. We did very well due to you folks. For those who weren't able to give, keep us in your thoughts. And if you are able to contribute in the future, contact me and I'll tell you how. I will even honor the perks on the original campaign.
I am now offering a new consultation service: so much emphasis has been given lately to the importance of the opening of your screenplay, I now offer coverage for the first twenty pages at the cost of $20.00.  For those who don't want to have full coverage on their screenplay at this time, but want to know how well their script is working with the opening pages, this is perfect for you.  I'll help you not lose the reader on page one. 
Ever wonder what a reader for a contest or agency thinks when he reads your screenplay?  FosCheck out my new e-book published on Amazon: Rantings and Ravings of a Screenplay Reader, including my series of essays, What I Learned Reading for Contests This Year, and my film reviews of 2013.  Only $2.99. http://ow.ly/xN31r
and check out my Script Consultation Services: http://ow.ly/HPxKE
Warning: SPOILERS
Several movies have opened of late that revolve around parent/child relationships, especially a single-parent household. I don't know if this is part of a zeitgeist or whether award season tends to topics that comic book movies normally don't cover. But whatever the reason, it is what it is.
In Toni Erdmann, the German entry in the foreign language category at the Oscars, and the one expected to win, is about a retired father who decides to look up his consultant daughter who lives in another city. She's in the middle of a major deal and really doesn't have time for him (and the suggestion is that he's never really had time for her), but instead of taking the hint and leaving, he sticks around, dons a wig and false teeth and pretends to be a life coach called Toni Erdmann, insinuating himself into his daughter's life.
The odd turn here is that the daughter seems to decide to call his bluff and pretend that he is the person he is claiming to be.
The movie is overflowing with charm and has a certain quirky atmosphere to it. I can understand why it's a crowd pleaser in many ways. And I can't say I left disappointed.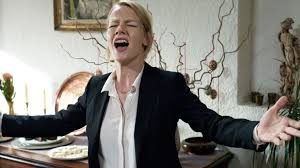 At the same time, I'm not sure it adds up to anything. I get the idea that along the way, through her daddy's shenanigans, she realizes she is better than the job she has and makes a decision to change.
At the same time, I could be wrong and it really doesn't mean anything more than what you see. There was a point when I felt it was simply a bunch of comedy sketches that were funny in themselves, but didn't really build upon each other.
And I did think that its 162 minute running time was pushing it a bit.
But in the end, it leaves you in a rather pleasant emotional state, which is nothing to sneeze at.
Written and directed by Maren Aden and starring Sandra Huller as the daughter and Peter Simonischek as the father. At one point, the two crash an Easter party and the daughter gets roped into singing Whitney Houston's The Greatest Love of All; somehow she is both hysterically funny and deeply moving at the same time.
With a great guest appearance by an eight foot tall Bulgarian folk monster that is supposed to ward off evil.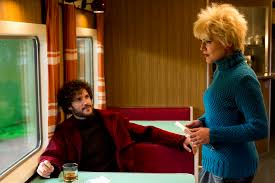 I'm afraid that Pedro Almodovar and I haven't been seeing eye to eye for some time now. When he first begin filmmaking he was creating one wonderful film after another and then reached a peak with Women on the Verge of a Nervous Breakdown. Then something happened and his films were falling short.
He again reached the heights with a trio of films: All About My Mother, Talk to Her (which is probably his greatest film) and Bad Education. And then he started slipping again and I haven't really appreciated any of his art since then.
And I'm afraid I feel the same for his latest movie Julieta, which he directed as well as wrote, based on three short stories by Nobel Prize Winner Alice Monroe.
The story begins as Julieta, now a bit more than middle age, runs into her daughter Ava's best friend who tells her she has recently seen Ava, who suddenly and without warning disappeared by running off and joining a cult twelve years earlier. This causes Julieta to go over her life with Ava and make some decisions about her present life.
The first third of the film showed a lot of promise as to what might come. This section revolves around how Julieta met and married Xaon, had a child Ava and lived their life in a shipping village until Xaon's untimely death. The scenes here are staged with an Alfred Hitchcock lushness and gliding camera work backed by a lovely romantic score. It also includes a very shocking end to a train ride.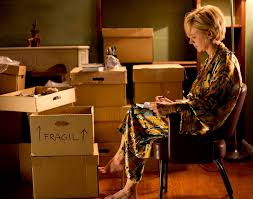 But once Ava disappears from the story, the movie loses something as well. I think it might be because Almodovar doesn't write and direct this section with the same tension as the earlier ones. Things feel a bit more slack and slightly lethargic. And much of the drama happens off screen, such as Julieta going to the authorities and a private detective to find her daughter and how Ava found out something about her father's death.
It's simply not as interesting as the first third.
And it has one of those non-ending endings that are popular in Europe, but I'm not sure is the best choice here.
With Adriana Ugarta and Emma Suarez as Julieta young and older.
Fences is Denzel Washington's adaptation of August Wilson's Tony and Pulitzer Prize winning play of the same name. It's part of Wilson's Pittsburgh Cycle, a series of dramas, one for each decade of the 20th Century, that focus on the African-American experience and take place in Pittsburgh.
Washington directs and he did the adaptation, sort of. He doesn't seem to make any real changes to the play and gives the screenwriting credit to Wilson, though Wilson passed away in 2005.
The story revolves around Troy, a trash collector working for the city who once played for the Negro baseball league and is embittered because he never made the crossover to the Majors. When his son Cory is given a chance to possibly get a college scholarship for playing football, Troy sabotages his chances.
I saw the original production on Broadway in the 1980's with James Earl Jones and he gave a mesmerizing performance. If anyone can talk and talk and talk and hold an audience's attention it's Darth Vader.
But I'm not sure Washington carries it off. What seems like a tragic figure on stage feels more like a near sociopath who simply won't shut up on screen. The more the movie goes on and the more that is revealed about Troy's past, the less sympathetic he becomes. His poetic smooth talk now becomes overbearing and never ending. And what was funny on stage becomes venial on screen.
And because Washington barely opens up the play (all he really does is move it from backyard to inside the house to the front yard and back again and back again) important scenes take place off screen (such as Troy's confrontations with his white bosses over why only whites get to drive the bus and Troy going to his son's coach to stop a recruiter from coming). On stage, these scenes being held off stage weren't as noticeable. But here, they really stand out.
The movie really survives on the shoulders of a great performance by Viola Davis as Troy's longsuffering wife and Stephen Henderson as his best friend, with able support from Jovan Adepo as his son.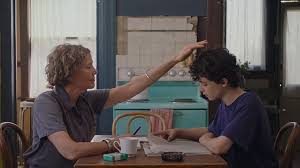 20th Century Women, which is about a mother's relationship with her son, is writer/director Mike Mills' follow up to Beginners, his film about a father's relationship to his son. And that's about where the resemblance ends.
Mills' new film revolves around divorced mother Dorothea (Annette Bening) who is raising her young teen son Jamie in a semi-commune in late 1970's San Francisco. She has sort of reached a crisis point. Jamie has reached the age where he is going to separate himself more and more from her as he finds his own identity. So what is she to do to help guide him?
Her solution is to turn to the others in the house to be there for him. They seem a little puzzled at her request and a little uncertain exactly what to do, but they accede to her wishes.
20th Century Women, like Manchester by the Sea, has a lovely and often poetic screenplay. It may not quite reach the emotional depth of Manchester…, but it is filled with vibrant and deeply felt characters and a story that is profoundly empathetic to all involved. One can help but want to join the others and help guide this young man with them, everything feels so real and immediate.
This might quite possibly be Bening's part and performance of her career. She simply and gracefully disappears into her role, letting the care lines boldly show in her face. She has a very interesting and different look at motherhood here. Dorothea almost never gets angry at her son, no matter what trouble he gets into, but is always rather trying to understand what is going on and why it is happening.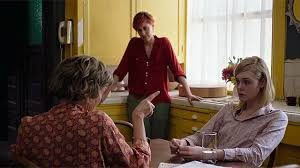 The film also has a marvelous supporting cast with Lucas Jade Zumann as Jamie and Greta Gerwig, Elle Fanning and Billy Cruddup as the others who live at the house.
The exterior house location was apparently the same used for Running with Scissors, also with Bening, but playing a totally different kind of mother.
---