TONE DEAF: Movie Reviews of Marguerite and Hello, My Name is Doris by Howard Casner
Posted:
March 30, 2016 |
Author:
Donald
|
Filed under:
Uncategorized
|
Tags:
45 Years
,
Bach
,
Catherine Frot
,
Cesar Award
,
Florence Foster Jenkins
,
Grandma
,
Grey Gardens
,
Groucho Marx
,
Hello My Name is Doris
,
Laura Turreso
,
Marcia Romano
,
Margaret Dumont
,
Marguerite
,
Marianne Sagebrecht
,
Max Greenfield
,
Meryl Streep
,
Michael Showalter
,
Percy Adlon
,
Peter Gallagher
,
Sally Field
,
See You in My Dreams
,
Stephen Root
,
Sugarbaby
,
The Room
,
Tommy Wiseau
,
Tyne Daly
,
Wendi McLendon-Covey
,
Xavier Giannoli
|
193 Comments »
First, a word from our sponsors: I am now offering a new service: so much emphasis has been given lately to the importance of the opening of your screenplay, I now offer coverage for the first twenty pages at the cost of $20.00.  For those who don't want to have full coverage on their screenplay at this time, but want to know how well their script is working with the opening pages, this is perfect for you.  I'll help you not lose the reader on page one. 
Ever wonder what a reader for a contest or agency thinks when he reads your screenplay?  Check out my new e-book published on Amazon: Rantings and Ravings of a Screenplay Reader, including my series of essays, What I Learned Reading for Contests This Year, and my film reviews of 2013.  Only $2.99. http://ow.ly/xN31r
and check out my Script Consultation Services: http://ow.ly/HPxKE
Warning: SPOILERS
When Tommy Wiseau released his film The Room, it was so awful that it inadvertently became a cult hit, especially on the late night circuit.  But people often wondered whether the filmmaker knew just how execrable his movie really was.
I thought of that as I watched Marguerite, the new French film from writers Xavier Giannoli (who also directed) and Marcia Romano.  It's a story about a patroness of the arts who gave recitals in her home to raise money for various charities.  When all the other performers had rendered their absolutely ravishing arias and duets, Marguerite would then conclude the evening by singing herself.  And out of her well meaning mouth came notes so awful, it made fingernails on a blackboard sound like one of Bach's Brandenburg Concerto.
But did she know? 
Marguerite's last name is Dumont, but she bears no relation to the co-star and butt of many a joke in the Marx Brothers movie (though Marguerite's name might have been chosen by the writers as a homage).  At the same time, she does seem to have one thing in common with her almost namesake.  Groucho Marx always said that his Dumont never understood what was so funny about the four bothers (which only made the movies all the better).
And here Marguerite never seems to understand that she is more than, well, I'd say tone-deaf, but that's an insult to all tone-deafers, or how exploited she was by young people who are leading an artistic revolution.
In many ways, Marguerite is a marvelous movie.  One of its triumphs is that we are never really allowed to laugh at her.  She is so sincere, so desperate to do something she will never, ever succeed in doing, treated so badly by those around her, that we in the audience can do little but love her.
And something similar happens on screen as the movie goes on.  Those she intermingles with slowly see her in a different light than they did at first.  A husband who has a mistress and feels castrated by having no money of his own, falls in love with her and separates from his lover, while the Bohemian artists who once exploited her also come to see her for what she really is, someone who shouldn't even be pitied, but respected.
The first half of the film is lovely and touching.  The second half tends to muddle about a bit as it tries to find its mooring.  This part feels as if the movie is sort of stumbling around trying to figure out what they want to do with this creature they've created.  The filmmakers involved are great at setting up the situation, but seem a little lost in where to take the story after that.
It ends, I suppose, the only way it really could since the filmmakers paint themselves into something of a corner.
Still, you are left with an ending that is painfully beautiful.
Catherine Frot who plays Marguerite (she won the Cesar Award for Best Actress) is pretty wonderful in the role.  She has sad, soulful eyes and a lovely pouting mouth and she is never tone deaf when it comes to playing the part, preventing her character from ever becoming a joke.
The character is actually based on Florence Foster Jenkins, an American heiress.  A movie based on her life is due out later this year with Meryl Streep in the title role.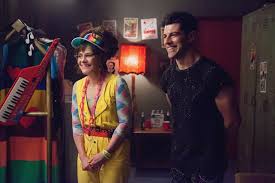 The title character in Hello, My Name is Doris, the latest entry in older women movies (like I'll See You in My Dreams, 45 Years and Grandma), has some similarities to Marguerite, especially in that she is somewhat tone deaf as to how she is coming across to people…well, actually one person, a younger man the 60 year old office drone suddenly and unexpectedly falls for.
The basic premise is that Doris has found herself in an emotional vacuum after her mother dies.  Doris had put her life on hold to take care of her mother and now she's adrift, living in a house that is quickly becoming the overstuffed domain of a classic cat lady (think of the Beales from Grey Gardens living in Brooklyn and you'll have some sort of idea).  She can't bring herself to clean the house out, no matter how much her brother and a therapist try to make her.
At her place of employment, she's just one of a myriad of cubicle workers.  But then there is a new hire, John, a young, more than good looking hunk, and she falls, falls hard.  And she sets her eyes on getting him to fall in love with her.
The basic premise seems cruel to the character.  And at times the movie is somewhat.  As enjoyable as the film is, one of its drawbacks is that it can't seem to decide whether to laugh at Doris or be thrilled with this new life she is inadvertently creating for herself.
When the filmmakers (writers Laura Turreso, who also wrote the short the movie is based on, and Michael Showalter, who also directed) celebrate her blossoming from a wallflower to a rose, we get a series of wonderful scenes where Doris goes to hear a new band because she knows John will be there, and she has a series of adventures because people see something in her beyond her age.  This section is transcendent and I was hoping this is the way the whole movie would go.
However, there are other times when the filmmakers punch down and get easy and unsympathetic laughs at some of the things she does, though in their defense, at the end, they do manage to leave her with her dignity intact.  It begins with her finally getting rid of everything in her home. It's very symbolic, of course; as she clears out the house of its junk, she also clears out herself and becomes an empty vessel that can be refilled with a new life.
At the same time, the movie falls a bit short here as well.  We never get a real idea as to what this new life is going to consist of.  The movie probably ends a bit too soon.
Sally Field plays Doris and she gives it all she's got.  I think she also tends to punch down at times and make her character more ridiculous than she should.  But at other times, she's as transcendent as the scenes allow her to be.
With Stephen Root as her brother; Wendi McLendon-Covey as a Xantippe of a sister-in-law; Max Greenfield as the object of Doris' affections; and Peter Gallagher in a cameo as a self-help guru.
Also with Tyne Daly as Doris' best friend; she steals every scene she's in.
For those who like this movie, you might want to check out Sugarbaby, a 1997 German film by Percy Adlon and starting Marianne Sagebrecht about a rather more than zaftig woman who falls asleep in her metro car while going home and wakes up at the end of the line to see a gorgeous young man.  Like Doris, she starts figuring out ways to meet him and make of him a conquest.  It's a bittersweet story.
---