PERFORMANCE ANXIETY: Movie Reviews of Green Room and Viva by Howard Casner
Posted:
May 6, 2016 |
Author:
Donald
|
Filed under:
Uncategorized
|
Tags:
Anton Yelchin
,
Blue Ruin
,
Cuba
,
drag performance
,
gay film
,
Green Room
,
Hector Medina
,
Jeremy Saulnier
,
Jorge Perugorria
,
Luis Alberto Garcia
,
Mark O'Halloran
,
Paddy Breathnach
,
Patrick Stewart
,
Strawberry and Chocolate
,
Viva
|
1 Comment »
First, a word from our sponsors: I am now offering a new service: so much emphasis has been given lately to the importance of the opening of your screenplay, I now offer coverage for the first twenty pages at the cost of $20.00.  For those who don't want to have full coverage on their screenplay at this time, but want to know how well their script is working with the opening pages, this is perfect for you.  I'll help you not lose the reader on page one. 
Ever wonder what a reader for a contest or agency thinks when he reads your screenplay?  Check out my new e-book published on Amazon: Rantings and Ravings of a Screenplay Reader, including my series of essays, What I Learned Reading for Contests This Year, and my film reviews of 2013.  Only $2.99. http://ow.ly/xN31r
and check out my Script Consultation Services: http://ow.ly/HPxKE
Warning: SPOILERS
Green Room, the new thriller from writer/director Jeremy Saulnier (the follow up to his well-received indie film Blue Ruin, but no, he's not doing a series of titles with color in them), has a marvelous set up. 
A group of head banger musicians take a last minute job to play at a remote white supremacist bar (does it bother anyone else in the audience that neo-Nazis and Washington DC millennials like the same type of music) because, well, their last gig got cancelled and they're desperate for money (Saulnier does a clever thing here—as the first number the band plays, they assert their artistic integrity by singing an anti-Nazi song; it serves to help give them sympathy from the audience for taking the job in the first place). 
After the show, they accidentally walk in on a murder and are then trapped in the titular location and must figure a way out of the mess they're now in.
I mean, it's a really neat little first act.  It's certainly gets one empathizing with their situation, wondering what you could possibly due in the same situation. 
At the same time, this is also where the movie, for me, stopped fulfilling its initial promise.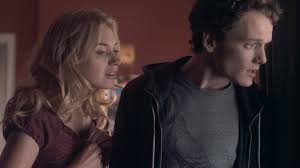 I think there are several reasons for this.  To begin, the situation as set up here is so incredibly one-sided and the circumstances so hopeless, it doesn't feel as if there is anywhere for the story to go.  As the group leader says much later on after the early morning hours have arrived and some of the band members are still standing, this is taking too long.  And I agree. It's just a little difficult, based on the set up here, to believe that it is actually this hard to get rid of a group that are really, in the context, little more than easily swatted flies.
In addition, whenever the author does give the characters something to fight back with (such as a gun, a neo-Nazi that switches sides, a room below them where drugs are made), these advantages are dispensed with so quickly, it was unclear why Saulnier bothered introducing them in the first place.  And by the time the story reaches its finale and the remaining musicians can finally fight back, our heroes are so decimated, it's just a bit too nihilistic and innervating to really care who survives and who doesn't.
Green Room is certainly well done.  As a director, Saulnier keeps us on our toes and never lets us rest.  And there are some strong performances, especially Anton Yelchin as one of the burned out band members, and Patrick Stewart as the head neo-, a part he plays so calmly and easily it kind of makes you wonder.
But in the end, the whole thing feels just a bit too pointless.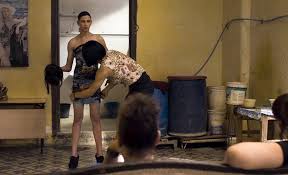 Viva has as one of its main locations a club where female impersonators lip sync to torch songs so emotional you feel the power of their heartbreak even though the lyrics are never translated in subtitles.  They are also, like the movie as a whole, somewhat over the top, melodramatic and verging on camp.
And still at the very end, you leave the theater with more than a tear in your eye.
Though about drag performers in Cuba, Viva was written by an Irish screenwriter (Mark O'Halloran), directed by an Irish director (Paddy Breathnach) and at least partially financed by the Irish film board.  It was also Ireland's entry in the Best Foreign Language Film category at the 2015 Oscars.  Some might see this as ironic.
The story as a whole is not particularly original and neither are the tropes.  It's basically about a young man who wants to be a drag performer in a society that persecutes him.  One day, his father shows up unexpectedly having been away at prison for a number of years.  The ultra-macho father is very much against his son's lifestyle and the son tries to accommodate his father at first, but eventually realizes he must be true to himself.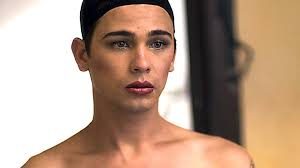 Still, as familiar a story and arc as this is, the movie works on its own terms and becomes a very emotional time in the theater.  And it also takes us into a subculture of a subculture, not just the gay life of Havana, but also the men who perform as women, very reminiscent in many ways of gay life in the U.S. pre- and post-Stonewall.
The story never really gets into the politics of the situation.  The only real indication of how the government treats gays is that the bars pay off the police not to be raided and there is a scene where the police crack down on hustlers at a park in the city.  Still, it's a fascinating glimpse into a way of life that is unfamiliar to most people.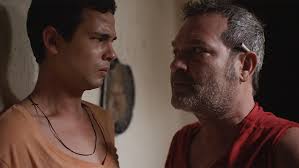 Newcomer Hector Medina plays the central character Jesus with a convincing ease.  His father is played by Jorge Perugorria, who first became known in the U.S. as one of the leads in the 1993 Cuban film Strawberry and Chocolate (the only Cuban film to be nominated for an Oscar), a film that dealt with the growing friendship between a gay individualist and a straight staunch Communist.  And Luis Alberto Garcia as the fiercely protective Mama, the owner and star of the club Jesus performs at.
---