THEY'RE EITHER TOO YOUNG OR TOO OLD: Movie reviews of I'll See You In My Dreams and Inside Out by Howard Casner
Posted:
June 25, 2015 |
Author:
Donald
|
Filed under:
Uncategorized
|
Tags:
Amy Poehler
,
Blythe Danner
,
Brett Haley
,
Diane Lane
,
Inside Out
,
I'll See You In My Dreams
,
Josh Cooley
,
June Squibb
,
Kyle MacLachlan
,
Lewis Black
,
Marc Basch
,
Martin Starr
,
Mary Kay Place
,
Meg LeFauve
,
Pete Docter
,
Phyllis Smith
,
Pixar
,
Rhea Perlman
,
Ronaldo Del Carmen
,
Sam Elliot
|
6,111 Comments »
First, a word from our sponsors. Ever wonder what a reader for a contest or agency thinks when he reads your screenplay? Check out my new e-book published on Amazon: Rantings and Ravings of a Screenplay Reader, including my series of essays, What I Learned Reading for Contests This Year, and my film reviews of 2013. Only $2.99. http://ow.ly/xN31r
and check out my Script Consultation Services: http://ow.ly/HPxKE
Warning: SPOILERS
I'm not really sure what to say about the new independent movie I'll See You In My Dreams, written by Marc Basch and Brett Haley and directed by Haley, except that it is quite a lovely, little film filled with acute observations about life as one enters one's golden years.
Is that enough for a film these days? I don't know. But in this particular case, I found it more than ample.
The movie is basically a character study of one Carol Peterson (Blythe Danner). In her young life she was a singer (she has one of the best explanations for why she is one no longer: "One day I was in a band and one day I wasn't"). She got married and became a teacher, had a daughter, and then her husband died, allowing her to retire on more than comfortable means.
Now she is a widow with a dog and home that has a swimming pool and a group of friends her own age that she hangs out with, especially at their once a week bridge games (though based on the close ups of the cards, I do suspect that their bidding wasn't accurate at one point; Carol's hand seemed a bit strong for a one no trump response).
Carol has not reached the "do not go gentle into that good night" period quite yet. She lives, in many ways, a full life. At least it seems that way to her. She's one of those people who may not seem to do much of any significance (like a 9-5 job), but who, at the same time, really doesn't have enough time to do everything that she does do.
Then into her life come a series of inciting incidents that do cause her to take some sort of stock as to where she is: her dog has to be put down; she sees a rat in her home; and the rat leads her to making friends with her new pool boy, Lloyd.
At the same time, I'm not sure that any of those circumstances match the entrance of Bill, a handsome older gentlemen who reeks of alpha-maleness and is played, appropriately enough, by Sam Elliot. And let me tell you, there are few incidents as inciting as Sam Elliot paying one a compliment in a drugstore.
These events lead Carol to first, going out with the pool boy for karaoke of all things, and second, eventually going to bed with Ben. And Carol begins to wonder whether there actually may be something more yet waiting for her in life rather than the routine she's made for herself.
And then life, as it has a habit of doing, reinserts itself once more for a bittersweet, tearful resolution of the life affirming kind.
Danner is simply understatedly marvelous as Carole, possibly the performance of her career. She commands the screen from the first scene and plays the role with so much realism and empathy you are riveted by her low key life.
She has wonderful support from June Squibb, Mary Kay Place and Rhea Perlman who are a very far cry from the waxworks bridge partners in Sunset Boulevard. All have a vivacious energy and seem like longtime friends.
And Sam Elliot is, well, Sam Elliot. 'nuf said as far as I'm concerned.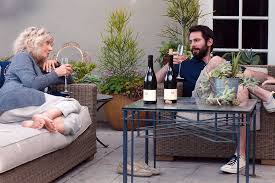 Martin Starr (of Silicon Valley and who seems to be a member of the Seth Rogan, Evan Goldberg roster of actors) is Lloyd. This is perhaps the most interesting relationship in the movie. Lloyd is half or more Carole's age, but as the two interact (especially after she does a wicked version of Cry Me a River), they know that something is going on between them, but they don't know what it is, or they do know what it is, but don't know what to do about it and don't really want to do anything about it, or maybe they do. It's a very well-choreographed dance of awkwardness.
And the last scene between the two is as emotionally moving as any you'll find in film lately.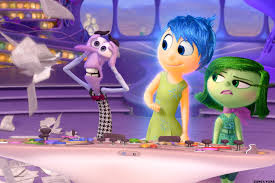 San Francisco seems to be a magical place. I'm not sure there's another city in the world that would have a bus station that would allow an eleven year old to buy a ticket to Minnesota with a credit card and then, when she changes her mind, has a driver that would willingly halt the bus at an unauthorized stop and let her off.
But leaving that aside, Inside Out, the new Pixar feat of whimsy about the emotions inside a pre-teen's head when her family moves her from her home town to the mean streets of San Fran, is charming, imaginative, moving at times, and often quite enjoyable.
And though I'm not sure it really rises to any great heights and in the end plays it somewhat safe (the filmmakers were very careful to place the time for the story to take place at one year before puberty hits), still those are some nice adjectives to have at one's beck and call.
So it's fun, witty and clever, but I'm not convinced it really goes there. I mean, it's not Woody Allen's Everything You Always Wanted to Know About Sex* But Were Afraid to Ask with Burt Reynolds and Tony Randall trying to help a guy have sex in the back seat of a car.
The central character is Riley who so far has had a pretty good life for a kid, especially in that her emotions are mainly controlled by alpha-female Joy. No matter how bad circumstances get, Joy has so manipulated how it plays out in Riley's head that the young lady is upbeat and optimistic and has little to complain about.
But the move was a bridge too far, apparently, and suddenly Sadness is starting to take over, changing how Riley feels about things and even threatening to change how she feels about past memories, especially core ones. And when things go devastatingly wrong, it's up to Joy and Sadness to join forces and find a way to fix things.
In one way there are no surprises here. I found it fairly obvious what the ultimate solution to Riley's issues was going to be, most probably because it makes sense and is an accurate reflection of how we must often deal with life. At the same time, as my friend Jim pointed out, it is surprising that a movie aimed at the family, and especially pre-teens, has as its dominating emotion being depressed.
Though not nearly as dark as it could be (imagine if it started out the way some Disney films, like Bambi or Dumbo, do with a parent being killed or being separated from you, or ended with having to kill a rabid dog), it still tries to tell its audience that being sad is not just okay, but is actually a necessity for getting through life.
With Amy Poehler doing Amy Poehler as Joy and Phyllis Smith, from The Office, as Sadness. Perhaps most appropriately cast is Lewis Black as Anger—more than often very funny and one wonders whether they just used some outtakes from his various appearances on TV.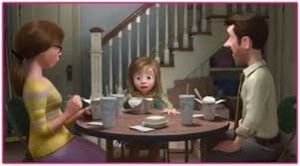 Diane Lane and Kyle MacLachlan are the parents—they possibly have the funniest moment in the movie when we get to see how their inner emotions work during a dysfunctional dinner.
Story by Pete Docter and Ronaldo Del Carmen (who also co-directed), with screenplay by Docter, Meg LeFauve and Josh Cooley. All have worked on a variety of Pixar products from Ratatouille to Toy Story to Monster, Inc. to Up.
---