LAST BUT NOT LEAST: Movie reviews of Selma and Big Eyes by Howard Casner
Posted:
January 16, 2015 |
Author:
Donald
|
Filed under:
Uncategorized
|
Tags:
Amy Adams
,
Ava DuVerney
,
Big Eyes
,
Carmen Ejogo
,
Christoph Waltz
,
Danny Huston
,
DAvid Oyelowo
,
Jason Schwartzman
,
Krysten Ritter
,
Larry Karaszewski
,
Margaret Keane
,
Oprah Winfrey
,
Paul Webb
,
Scott Alexander
,
Selma
,
Terence Stamp
,
Tim Burton
,
Tim Roth
,
Tom Wilkinson
|
3 Comments »
First, a word from our sponsors. Ever wonder what a reader for a contest or agency thinks when he reads your screenplay? Check out my new e-book published on Amazon: Rantings and Ravings of a Screenplay Reader, including my series of essays, What I Learned Reading for Contests This Year, and my film reviews of 2013. Only $2.99. http://ow.ly/xN31r
Warning: SPOILERS
The title of these reviews is called Last But Not Least because Big Eyes and Selma are the final two movies I'm going to include under my 2014 reviews. After this, all films will fall under my 2015 reviews, no matter whether they were released in 2014 or not.
So off we go.
The strongest aspect of Big Eyes, the new bio-com written by Scott Alexander and Larry Karaszewski and directed by Tim Burton, is the art direction and production design.
Beginning in the 1950's, the sets, the costumes, the look, the colors all have a poodle skirt playfulness about them that gives the movie some much needed energy.
This should probably be of no surprise since Burton has always had one of the more striking visual eyes in movies today, from Edward Scissorhands to Ed Wood to Alice in Wonderland. If nothing else, his films can be fun to watch.
But outside of that, there is almost nothing that works in this movie. Nothing, and almost amazingly so.
Perhaps even odder that that is that I'm not sure, for the life of me, why.
There are probably more than a myriad of reasons. The first being the subject matter itself.
The story is about the creation of those kitschy paintings of street urchins with eyes as big as saucers and the conflict over who actually put brush to canvas in realizing them.
As art, they rank somewhat above dogs playing poker. And though as awful as they may be, they can kind of catch you in the throat and bring a bear tear to the eye if you're not careful about it (they sort of remind me of those blond haired, unworldly kids in Village of the Damned).
Big Eyes has the same problem as the trio's Ed Wood, which is also a bio-com about a terrible artist creating terrible art (Okay, I will concede Margaret Keane isn't a terrible artist, but really, there's no reason to mince words, those kids are pretty pathetic).
In both cases, we are asked to root for someone whose contribution to society actually lessens us as human beings.
For most audience members, the movie Ed Wood managed to get away with it. It didn't for me, but at least there I could be impressed by the acting, witty dialog and the technical aspects of the film (including the incredible black and white photography).
But when all was said and done, I just couldn't care whether Mr. Wood got Plan Nine From Outer Space off the ground (and in fact was secretly hoping he wouldn't).
In Big Eyes, the filmmakers are even less successful in making us look past the art, even though the skill of the artist is superior to Wood's. By the time we get to the famous court case and paint off (yes, you read right, paint off), perhaps Ruben, an art gallery owner played by Jason Schwartzman summed it up best when he said, "Who would want credit for them".
But perhaps the weakest aspect of the movie is the casting of Christoph Waltz as Walter Keane. Waltz, the fine actor of such films as Inglourious Basterds and Django Unchained, and who has been the saving grace of other films like Carnage, just seems so…wrong, so incredibly…well, wrong for the role. In fact, he seems to scream it from the screen.
He even looks out of place in those ill-fitting jeans with rolled up cuffs he first appears in.
I can't see how it's totally his fault. I mean, I suppose it might be, but he's an excellent actor and he works his tail off and I suspect that it's just one of those unfortunate and incredible bits of miscasting of which there is really nothing to be done. One does wonder whether Burton usual Johnny Depp might have worked a bit better here.
As for the screenplay, it's hard to say how well it works burdened as it is by the subject matter and the Waltz miscasting. But it is safe to say that it never really created in me an emotional connection to the people, try as it might to finesse the story from being one about bad art to being one about a woman coming into her own (one might even call it pyrrhic victory, she won, but this is her prize, to be known as a terrible artist that people snicker about behind her back).
The one potential aspect that never seems to be fully explored that might have helped was when Margaret broke away from the bug eyed kids and painted portraits in a different style that were more a reflection of her soul. I'm not sure that, as shown in the film, these were great works of art either, but they were obviously superior and more interesting that the others. However, the movie never really goes there for whatever reason.
Amy Adams as Margaret Keane has her moments and if the movie works on any level, it's due to her.
But there are also effective performances by Krysten Ritter as besty friend DeeAnn; Danny Huston as a reporter; and Terence Stamp, marvelous as an art critic.
The real Margaret Keane makes an early cameo sitting on a park bench behind Adams and Waltz's characters as they paint.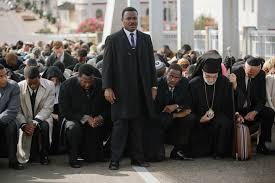 Selma, another bio-pic, but this time a drama, and this time about more serious subject matter, the attempt by Marking Luther King and his followers to march from the town of Selma, Alabama, to the state capital in order to protest racist voting rights, has a series of spectacular set pieces.
It opens with a shock and heartbreaking series of scenes dramatizing the bombing of the Birmingham church in which three young black girls were killed.
There's another one fairly early on in which a group of nighttime marchers are attacked by police resulting in the death of an innocent young man that can help but make one think of current events.
It all culminates in a terrifying tour de force of an attempt, half way through, of the group of marchers to attempt walking over the Edmund Pettus Bridge as they leave Selma on their way to Mobile.
It is scenes like this where director Ava DuVerney is in her element. These are magnificent moments of chaos and brutality that rivet you in your seat in silent anger.
But, unfortunately, I have to say that as far as I was concerned, when the dust settled and the anarchy was over, and the scenes become all dialog and people began to speak to each other, the movie was not as effective.
It all felt a bit flat and bland and more than often a bit too on the nose and very, very familiar. The movie never quite had the same emotional resonance as the more visual scenes of silent protest.
What perhaps also didn't help are some issues with the general structure and the plot (though, I suppose, history may be more to blame than anyone else involved).
The first encounter at the Edmund Pettus Bridge is so big, so vibrant, so emotionally involving, so, so…climactic, that all that followed felt more than a bit of the anti- kind. The movie, though it isn't, feels as if it is all over but the denouement.
In addition, no one involved in making the film can seem make the second attempt to cross the bridge dramatically satisfying, the one where King suddenly stops everyone, bows down for prayer, then indicates for one and all to return to town and not to cross over. No one, not just on the screen, but behind it as well (including screenwriter Paul Webb), seems to know what to do with this odd course of events.
And so the energy and the tension wind down and it becomes a little difficult to be able to tell where the movie is going.
The acting is certainly solid, but again, not always as effective as one might wish. David Oyelowo is Martin Luther King and Tom Wilkinson is Lyndon Baines Johnson. Neither ever made me forget the original as George C. Scott did for Patton, Meryl Streep for Margaret Thatcher and Daniel Day Lewis for Lincoln.
Oyelowo, though, has some moments, a way of looking, an angle here and there, a delivery of a speech where he almost seems indistinguishable from the historical figure.
Wilkinson is a different kettle of fish. He never remotely resembles LBJ (which isn't easy, I grant you, with our 36th president's beagle dog looks) and Wilkinson's voice sounds more Ronald Regan than Johnson's particular brand of Texas twang.
The oddest bit of casting, though, has to be Tim Roth as George Wallace. Roth is actually rather good, but so unresembles the Alabama governor that it's almost impossible to take him seriously. In fact, Roth seems more like an actor that someone would choose to play them not because they look like him, but because they look so much better than they do.
In the end, Selma is a worthy and necessary story to be told, especially since many of its themes resonate so resoundingly in today's society.
And the ending when the marchers do cross that bridge and make their way to Mobile is deeply moving.
But I do wish more of the movie had that same power.
With Oprah Winfrey very moving as Annie Lee Cooper, a woman attempting to register to vote who is sadistically toyed with and then turned away after failing a literacy test; and Carmen Ejogo playing Coretta Scott King for the second time.
---