THE MOORE THE MERRIER: Movie reviews of Still Alice and Maps to the Stars and why Julianne Moore will win the Oscar this year by Howard Casner
Posted:
December 14, 2014 |
Author:
Donald
|
Filed under:
Uncategorized
|
Tags:
Alec Baldwin
,
Bruce Wagner
,
David Cronenberg
,
Evan Bird
,
Hunter Parrish
,
John Cusack
,
Julienne Moore
,
Kristen Stewart
,
Maps to the Stars
,
Mia Wasikowski
,
Richard Glatzer
,
Robin Pattinson
,
Still Alice
,
Wash Westmoreland
|
60 Comments »
First, a word from our sponsors. Ever wonder what a reader for a contest or agency thinks when he reads your screenplay? Check out my new e-book published on Amazon: Rantings and Ravings of a Screenplay Reader, including my series of essays, What I Learned Reading for Contests This Year, and my film reviews of 2013. Only $2.99. http://ow.ly/xN31r
Warning: SPOILERS
Julianne Moore is destined to win the Best Actress award at the 2014 Academy Awards. It's written in the stars (pun intended) as much as any plot in a drama by Aeschylus or Shakespeare. Far and wide it has been announced that it is Ms. Moore's year. And who am I to argue with the stars, metaphorical or not?
Now, the question that remains is, "why"? What confluence of events, both within and without anyone's control, has lead Moore to this momentous precipice?
I'm glad you asked. I shall try and enumerate the reasons.
First, there's an old saying in Hollywood (though I may have actually made it up, I don't remember) that just about everyone who deserves an Oscar gets one, but not for the movie they deserve it for.
Because of this, Bette Davis got it for Dangerous and not Of Human Bondage or All About Eve; John Ford got it for How Green Was My Valley, but not for Stagecoach or The Searchers; Humphrey Bogart got it for The African Queen, but not for The Maltese Falcon or The Treasure of the Sierra Madre.
This doesn't take into account those who never won and/or weren't nominated and had to settle for a special statuette, like Edward G. Robinson, Greta Garbo, Myrna Loy and Alfred Hitchcock.
This is an over-exaggeration, of course. You could probably come up with many, many examples to prove me wrong. But I still believe there is some truth to it.
And this year we will have Julianne Moore winning for Still Alice and not for Far From Heaven and after not even receiving a nomination for A Single Man (which was pretty mindboggling).
Add to this that Moore is an actor who is well respected and well liked in Hollywood. In fact, she is one of our finest actors, which means that the voters have been looking for an opportunity to give her an award, since she so obviously deserves one.
Finally, this has been what is termed, in the art, a weak year for actresses. This isn't exactly accurate, of course. But to parse what is true about the statement, it must first be defined what a weak year for actresses really means: it is a year in which there aren't enough of the types of roles that are the sort that get Oscar nominations.
In actuality, this has been a rather good year for women, as long as one thinks outside the box and goes overseas or to smaller, independent films. But the Academy voters are not really known for thinking outside the box.
And as of now, the race for the five Best Actress slots at the Oscars is now a bit overcrowded. Of course, back in September, the male category was already overflowing and the Battle Royale begun. It took two to three more months for the distaff side to catch up (which says mounds about what American filmmakers think about the female of the species, and I don't mean that they are deadlier).
Add to everything already said that Moore is playing a woman with early onset Alzheimer's and not even Zeus with his never ending supply of thunderbolts could change fate.
In fact, unless Moore is arrested for child molestation or commits murder, there's not a lot anyone, including Harvey Weinstein, can do to stop what is going to happen from happening.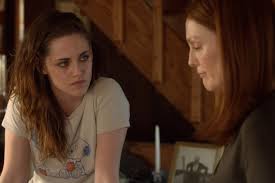 And so we come to Still Alice, the new drama written and directed by Richard Glatzer and Wash Westmoreland, the duo who also gave us the marvelous Quinceañara and the interesting, but not quite so successful, The Last of Robin Hood.
First, I have to get something off my chest.
I know that Moore, who plays the title role, and Kristen Stewart, who plays Alice's daughter, are protraying fictional characters. But I still think that there's something odd, if not just wrong, with Moore's character telling Stewart's character that she should give up acting and get a real job since she's unlikely to make a success of it.
I mean, it just really, really struck me as strange.
At any rate, Still Alice, as was said, is the story of a woman who comes down with early onset Alzheimer's, or as we call it in my household, the beautiful movie star disease. You know, the type of illness that Bette Davis came down with in Dark Victory; Susan Hayward in the remake Stolen Hours; Ali McGraw in Love Story; Debra Winger in Terms of Endearment; and Julie Christie in Away From Her.
And it gets better. The victim this time is a renowned professor of language at the top of her game who is still gorgeous after all these years and has successfully raised three beautiful children and has a faithful and supportive husband.
And this is important because, as a friend of mine said, it's much more tragic when it happens to someone like Alice than when it happens to someone like you and me.
Okay, I admit it. I am being one snarky douchebag here. But the point is that as sincere as Glatzer and Westmoreland are, and as solid and well done a piece of entertainment Still Alice is, it really doesn't quite rise that much above what we use to call a disease of the week film during the heyday of the made for TV movie.
So though it may fall a bit short of having something unique or original to say, what it does have is a marvelous performance by Moore, who carries the movie effortlessly on her shoulders as easily as her film counterpart carriers her "career woman who has it all" on hers.
And why wouldn't she? As I said, Moore is one of our finest actors, a performer who is not afraid of how she looks on the screen or the type of part she plays, and here she gives yet another deeply empathetic performance.
The movie also has another surprisingly strong portrayal from Stewart. I'm not sure what it is, but it might be that when she is required to play everyday people, rather than an angst filled teen caught between vampires and werewolves, or a fairy tale character who has to lead a rebellion, her naturalness comes through.
Maybe what also helps is having an actress cast against her (like Juliette Binoche in Clouds of Sils Maria and Moore here) that challenges her to do better.
What the film also has is a nice restrained approach to the subject matter. As the bad news gets worse, the characters tend to take a calm, stiff-upper lip approach to everything (like they were in a play by Noel Coward set during World War II). As the disease progresses and takes over Alice more and more, there's little in histrionics and even less of the weeping and wailing and gnashing of teeth.
Instead, everyone takes a more "so what do we do now" approach, which is very refreshing (there's one scene where Alice plans ahead and is taken through a home for people with her issue that is all the more devastating the less emotion is shown by everyone involved).
With a very reserved performance by Alec Baldwin who gives a lovely performance as Alice's husband. Also, with Hunter Parrish from Weeds as her youngest son.
Glatzer, who is experiencing Alzheimer's himself and can't speak, co-directed by using a text to speech app.
Maps to the Stars, Julienne Moore's third of three movies this year (she is also in The Hunger Games: Mockingjay, Part I), is another one of those, to quote Oscar Levant, films that is the real tinsel behind the fake tinsel of this tinsel town we call Hollywood.
The story revolves around two households, one in which Benjie, a child star, is in recovery and trying to get signed on to do a sequel to his hit, Bad Babysitter, and one in which a diva movie star, Havana, is trying to get signed on to a remake of a movie that made her late mother a star (again, like in Still Alice, it just seems a little odd to hear Moore's character whine about her career depending on this role because it's a sure fire Oscar winner when Moore is going to win the Oscar this year as it is).
Things start going off the rails for the characters when Benjie's sister, a pyromaniac who almost killed him and the family after setting the home on fire years earlier, returns to town and takes a job as personal assistant to Havana.   Things continue going off the rails as both Havana and Benjie start seeing dead people.
But Sixth Sense it ain't.
The movie simply doesn't work and the screenplay seems to be the chief culprit here. The movie takes itself too seriously to laugh at, but is far too over the top and kitschy not to. I can't even tell if the screenwriter Bruce Wagner and the director David Cronenberg think this is a realistic look at the entertainment industry or the fantasy of what they would like it to be.
There is almost nothing here that isn't a cliché, from the spoiled entitled brat of a movie star to the flailing actress so insecure she takes out her neuroses on her assistants, viciously treating them like trash.
The structure seems wobbly and not really thought out (it makes sense that one of the characters is having visions, but both having them waters down the effectiveness of this storytelling choice) and Moore's character doesn't really seem to have anything to do with anything. It's not her story and seems to take up more space than is wise for the success of the film.
It is true that as the story goes along, it does become somewhat fascinating. One just has to know, not what these characters are going to do, but what Wagner and Cronenberg are going to have them do (which isn't the same thing).   The two filmmakers seen so intent on humiliating these people without making them real, that it feels like they are trying to out-Solondz Todd Solondz and aren't quite making it.
There's something off about the acting as well. The best performance is given by John Cusack as Benjie's father, a pretentious self-help guru that provides therapy through massage. Moore never feels quite convincing when she is emotionally reacting to childhood trauma (it feels a bit forced), but she is rather bitchingly brilliant when she's being the horrid diva (is that a compliment?).
The others tend to deliver their lines in a somewhat flat manner that makes it seem like they are not just saying them, but commenting on their characters at the same time.
There's also a lot of talk about incest. In fact, there's one big revelation near the climax that is delivered in such a way that one gets the feeling that it is supposed to explain everything and be the first cause of all the tragedy, but if it did, I didn't understand how.
And it's simply not that shocking anymore. I felt about the big reveal the same way I felt about it in August: Osage County. The older I get, the less I care about who sleeps with whom.
In the end, I just wasn't sure what the point of the movie was.
With Mia Wasikowski as the sister who likes to set fires; Evan Bird, the kid on The Killing as Benjie; and Robin Pattinson as a limo driver trying to get ahead as an actor—he still looks like he's about to bite someone in the neck.
---