FOOD FOR THOUGHT: Movie Reviews of The Lunchbox, The Missing Picture, Two Men in Manhattan by Howard Casner
Posted:
March 28, 2014 |
Author:
Donald
|
Filed under:
Uncategorized
|
Tags:
Christophe Bataille
,
Irrfan Khan
,
Jean-Pierre Melville
,
Nawazuddin Siddiqui
,
Nimrat Kaur
,
Pierre Grasset
,
Ritesh Batra
,
Rithy Panh
,
The Lunchbox
,
The Missing Picture
,
Two Men in Manhattan
|
568 Comments »
I once worked for an intellectual property law firm.  One of the most unusual countries to deal with was India.  By the time the renewals for trademark registrations were due, the original registration itself had yet to be accepted.  I'm not sure what this says about bureaucracy in that country except that it definitely exists.
This was brought to mind as I watched writer/director Ritesh Batra's award winning out the whazoo film The Lunchbox, a first feature no less, in which a whole bureaucratic type industry has evolved around picking up lunches from various people's homes and restaurants, delivering them to various recipients, and then picking them back up and returning them to their place of origin.
It's a fairly amazing piece of clockwork machinery (which even Harvard had come to study at one point according to one of the characters, as well as the King of England, which seems a bit doubtful since how long has it been since there's been one of those exactly?).  It also seems to work in a more timely manner than the registration of trademarks.  Most amazing, they never seem to make a mistake and deliver the wrong lunch to the wrong person.
Until…
The plot revolves around Saajan Fernandes, a widower who lives a lonely life at home eating packaged meals, and who is about to take early retirement.  To add insult to injury he's a chartered accountant, so that tells you how boring and meaningless his life is suppose to be.
Ila is a young housewife and mother whose husband has lost all emotional and sexual interest in her.  The container she uses for her husband's lunch looks exactly the same as the container used by the fast food restaurant that sends Saajan his and somehow the two get mixed up.
The result is that Saajan and Ila start writing to each other, ultimately revealing the truths about their lives, their fears, their hopes (or lack of them), their needs.  Over time, they develop the sort of deep relationship that only strangers can create for no other reason than that they don't know each other.
In other words, The Lunchbox, in many ways, is an Indian version of The Shop Around the Corner, a story about two people who are writing to each other and developing an emotional relationship without ever meeting.
And like The Shop Around the Corner, the story is very slight.  There's really not much here.  There's no reason why it should work or the plot gain traction.   But it does.  Like The Shop…, it still manages to create a strong poignant core to the characters and their lives.
Saajan is terrified of retiring, but what else is there in his life?  Accepting retirement is like admitting that death is the next step.  And the emptiness of his existence is only reinforced when he is assigned Shaikh as a trainee, a younger accountant that just reminds him how long ago youth was.
Meanwhile, Ila is at a loss as to whether to leave her husband or not because he simply doesn't care about her anymore.
Saajan is played by Irrfan Khan (known over here as the older Pi from Life of…, the best performance in that movie, as well as roles in Slumdog Millionaire and The Namesake).  He looks out on the world with pain, loneliness and loss in his eyes.  He's the neighborhood Mr. Wilson who won't give the local kids their cricket ball back when it gets batted into his yard.  And when you see him lost in the multitude of desks at his work, like Jack Lemon in The Apartment, one's heart immediately goes out to him.
He and Nimrat Kaur, as Ila, have an amazing chemistry together which is no mean feat since they never meet, except through the notes they put in the food containers.
The movie is sweet, touching and ultimately full of hope.   I suppose one can find a way to not like it, but I'm not sure I see the point.
With Nawazuddin Siddiqui as the hilarious, until you get to know him and he's not so much anymore, overly polite, near unctuous Shaikh, who is more than eager to take over Saajan's desk.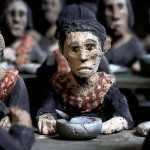 The Missing Picture is a personal essay about the filmmaker's, Rithy Panh, experiences as a teenager while at a reeducation camp under the Khmer Rouge in Cambodia from 1975-1979.
He uses archival footage while fashioning miniatures of people out of clay and putting them in toy like recreations of the camps, the sorts of things one builds for model train sets, even burying "dead" figurines in holes the size one might use to bury a dead bird in the backyard.
The style has a sort of Brechtian distancing to it, possibly because how else can one share such a nightmarish existence and make it real and resonate emotionally?   And it is at times devastating.
At the same time, the approach and the narration (written by Christophe Bataille and vocalized by the filmmaker) does give the proceedings a certain lethargic quality and you might find your thoughts wandering from time to time.
Still, the subject matter is horrifying and important and probably shouldn't be missed.
Nominated for best foreign language film at the 2013 Academy Awards; unusual for a documentary.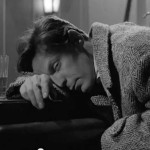 In the late 1950's, Jean-Pierre Melville, the roi of French film noir, came to the U.S. to shoot a movie, Two Men in Manhattan.  He wrote, directed and starred in it.
It doesn't work.
The story revolves around a French delegate who didn't show up during a vote at the U.N.  Moreau, a reporter for a French news service (Melville himself), is assigned to find him.  He takes along with him an alcoholic photographer Delmas (Pierre Grasset of Rififi) because Delmas knows all the best dives in town and if anyone can navigate the city, it is he.
But there's not enough of a story here to really hold everything together.  The two look up the three women the delegate was known to keep private company with, but they're of little help, until they are led to the apartment of a Broadway actress.  And there they find the mystery solved, but solved in one of the most anti-climactic plot turns in movie history perhaps.
Melville tries to up the tension by having a car follow the two reporters all night, but when it's revealed who is in the car, it's as anti-climactic and uninteresting as everything else.
Whenever Melville and Grasset are on screen together by themselves the movie gains a nice rhythm and suggests what could have been.  Moreau is a journalist who still has some idealism as to the work where Grasset is only out to make a buck (in one of the more amusing moments in the film, he moves the dead body of the delegate from a couch to a bed because a picture of a body on a couch won't make anywhere near the money of a body on a bed—and he does have a point, since the discovery of the body on the couch was a pretty dull twist).
But the supporting cast is filled with what seem to be, in polite terms, amateurs, and all of them sound like they are reciting their lines phonetically.  And Melville never brings an interesting outsider's eye to the city.  It's a pretty standard and bland big apple as many movies that take place there are.
In the end, the most that one can really say of it is that it's a novelty.
---