THE MARRIAGE GO ROUND: Movie reviews of The Wedding Plan, The Lovers and The Dinner by Howard Casner
Posted:
May 31, 2017 |
Author:
Donald
|
Filed under:
Uncategorized
|
Tags:
Aidan Gillen
,
Amos Taman
,
Azazel Jacob
,
Debra Winger
,
Laura Linney
,
Medora Walters
,
Noa Kohler
,
Oren Moverman
,
Oz Zehavi
,
Rama Burstein
,
Rebecca Hall
,
Richard Gerr
,
Steve Coogan
,
The Dinner
,
The Lovers
,
The Wedding Plan
,
Tracey Letts
|
6,736 Comments »
First, a word from our sponsors: I wanted to say thank you to everyone who contributed to our Indiegogo campaign for 15 Conversations in 10 Minutes. We did very well due to you folks. For those who weren't able to give, keep us in your thoughts. And if you are able to contribute in the future, contact me and I'll tell you how. I will even honor the perks on the original campaign.
I am now offering a new consultation service: so much emphasis has been given lately to the importance of the opening of your screenplay, I now offer coverage for the first twenty pages at the cost of $20.00.  For those who don't want to have full coverage on their screenplay at this time, but want to know how well their script is working with the opening pages, this is perfect for you.  I'll help you not lose the reader on page one. 
Ever wonder what a reader for a contest or agency thinks when he reads your screenplay?  FosCheck out my new e-book published on Amazon: Rantings and Ravings of a Screenplay Reader, including my series of essays, What I Learned Reading for Contests This Year, and my film reviews of 2013.  Only $2.99. http://ow.ly/xN31r
and check out my Script Consultation Services: http://ow.ly/HPxKE
Warning: SPOILERS
Just some quick reviews to get caught up on my movie going which has been curtailed to some degree due to health issues, but now I feel closer to my old self. Now if I could only feel closer to my old self of thirty years ago, everything would be wonderful. But, 'tis not to be.
One subgenre of film I usually detest is the romance where the female central character has no other goal in life than to find a husband and who believes that her life will always be incomplete without a man in it.
Usually when confronted by such a personage, I always want to yell "get a life" at the screen.
However, I also always say that there are always exceptions and so it goes that Michal, the focus of writer/director Rama Burstein's new film The Wedding Plan, is just such an exception.
I'm not sure why. Perhaps it's her sincerity, her desperate innocence, her willingness to let herself be humiliated by her honesty. But one is quickly won over as she goes to a matchmaker and, reduced to tears, tells her last hope that she is tired of being alone, of not having a family, of being talked about, of simply not feeling normal-and with that your heart goes out to her.
But this is a movie, so the course of true love, etc., because the matchmaker does find her a suitor and a date for the nuptials does get set when, at a venue the future bride and groom are considering for the ceremony, her fiancé dumps her.
But Michal refuses to give up. Instead, she keeps the date for her wedding, insisting that God will provide her a husband if she only has faith.
And Michal is sincere. She is an observant and Orthodox Jew and strong in her beliefs. And though there are the naysayers that tell her that one should not tempt God, she holds on to her faith and continues searching.
And perhaps this is another reason why I was so willing to go on Michal's journey with her, because it takes me on an adventure into unfamiliar territory and customs and a way of life that I'm not immediately familiar with, yet manages to keep everything universal.
Michal is observant, devout, sincere, but she is also familiar and recognizable.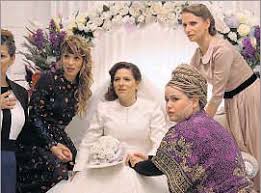 She next goes on a series of arranged dates. In many ways, these dates are written the same way they would be in a modern American rom com in which the central character can seem to meet only oddballs. But as unusual as some of these males are (one refuses to look at any women until the wedding so that his bride will be the most beautiful woman he's ever seen), they are observant, Orthodox oddballs and have a vitality and vibrancy that make their American counterparts feel like cheap cartoons (which they usually are).
As the days dwindle down to a precious few, the tension mounts. Will God recognize her faith and provide?
The suspense is sometimes on the level of a Hitchcock film.
The screenplay is strong and filled with rich characters and dialog. No one seems to be quite on point in what they want to say, but tend to dance around the subject until all comes clear. It's dialog with its own rhythm, syntax and color. The directing is solid, but the film tends to look a bit flat.
With Noa Kohler as Michal. It's her film début and she has an engaging and natural presence on the screen.
And with Oz Zehavi (the young man who reignites love in an older man who lost his lover, in the film Yossi), as a pop star who proposes to Michal, and Amos Taman as the far too handsome owner of the venue Michal rents for the ceremony.
There is an interesting hook at the center of writer/director's Azazel Jacob's dramedy The Lovers. Michael and Mary, husband and wife, are having affairs with Lucy and Robert respectively. It's reaching a point where they have to decide whether to divorce and marry their younger counterparts.
And as life would have it, suddenly they find their own romance has been awakened and they start cheating on their lovers.
It's certainly an interesting enough idea for a film. But in the end, the whole conflict for me falters on one central flaw.
I can certainly understand what Michael and Mary see in their romantic partners. Lucy and Robert are much younger. And Lucy is a dance teacher who performs ballet while Robert is a successful novelist. Of course Michael and Mary are entranced.
But for the hell of me, I couldn't come within a universe of understanding what Lucy and Robert saw in these bland, boring, bourgeois Babbits.
And because of this alone, the movie never remotely came to life for me.
The story climaxes with a visit from the couple's college age son and new girlfriend. He warns her that her parents treat each other terribly and she should be prepared for a real downer of a visit. When he arrives, Michael and Mary are still in the glow of their new found desire for each other and get along as giddily as newlyweds.
In response, their son throws a tantrum and storms out because his parents are getting along.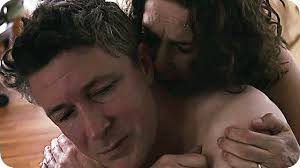 Of course, since I never once saw Michael and Mary resemble the couple their son claims they really are, it's hard to verify whether his tantrum is justified or whether he's just a spoiled, entitled, middle class brat.
The odds favor the latter.
With Debra Winger and Tracey Letts as Michael and Mary and Aidan Gillen and Medora Walters as Robert and Lucy.  They do as much as they can with what little they're given.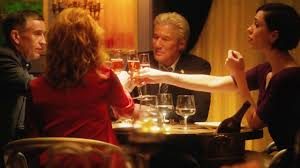 The Dinner is about a social gathering between a politician (Richard Gerr), his trophy wife (Rebecca Hall), his manic depressive brother (Steve Coogan) and his long suffering wife (Laura Linney).
It takes place at one of those fine dining experiences, you know, one of those restaurants where every diner has a separate waitstaff and the food is explained in such detail that all the fun feels wrung from the experience?
The reason for the meeting is not social. It seems their kids have committed a horrible crime (the details of which are meted out in quick, small doses to create suspense such that the filmmaker is so exploitive of the horror one wonders whether he is any less guilty than the juvenile delinquents who actually did the crime). A video of the event has hit social media, but the perpetrators are as of yet unrecognizable, so the 'rents, as they are called these days, have to decide what to do.
It's not a bad idea for a film. In fact, it's so not so bad, it's been done twice before. Based on a novel by Herman Koch, a writer from the Netherlands, his own country, as well as Italy, have offered their own versions. And there's probably no reason why other countries shouldn't fall in line. (I've only seen the Italian version, which doesn't quite work, but works better than here.)
But it never comes together, mainly for two reasons. The first is that the build, the conflict, is so constantly interrupted by a new course, there is no build or strong conflict (it's also one of those films where no one ever eats, constantly leaving the table, their dish full, yet when the time comes, the waitstaff are somehow always taking away empty, dirty dishes).
The other issue is that about halfway through, the film gets off subject and devotes an incredibly long period of time to a series of manic depressive episodes in the life of Coogan's character as well as a trip the two brother's make to a Civil War battleground as research for a book, none of which has any clear, serious impact on the present day issue.
The film simply never gets anyplace because no one allows it to get going.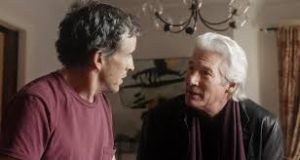 And it ends on a scene so over the top that, to be honest, it elicits some unsolicited laughter and rolling of eyes.
The actors do what they can, but there's little they can do.
The writer/director Oren Moverman has already created a strong presence in the indie film industry with such movies as Jesus' Son, I'm Not There, The Messenger, Ramparts, and Love & Mercy.  These are all films worth revisiting.
---