THE NAZIS ARE COMING, THE NAZIS ARE COMING: Movie Reviews of Imperium, Anthropoid and The People v. Fritz Bauer by Howard Casner
Posted:
September 2, 2016 |
Author:
Donald
|
Filed under:
Uncategorized
|
Tags:
and Toby Jones
,
Anthony Frewin
,
Anthropoid
,
Burghart Klaussner
,
Cillian Murphy
,
Daniel Radcliffe
,
Daniel Ragussis
,
Imperium
,
Jamie Dornan
,
Lars Krause
,
Olivier Geez
,
Rudiger Klink
,
Sam Trammell
,
Sean Elli
,
The People vs. Fritz Bauer
,
Toni Collette
,
Tracy Letts
|
279 Comments »
For more information, contact hcasner@aol.com
First, a word from our sponsors: I am now offering a new service: so much emphasis has been given lately to the importance of the opening of your screenplay, I now offer coverage for the first twenty pages at the cost of $20.00.  For those who don't want to have full coverage on their screenplay at this time, but want to know how well their script is working with the opening pages, this is perfect for you.  I'll help you not lose the reader on page one. 
Ever wonder what a reader for a contest or agency thinks when he reads your screenplay?  Check out my new e-book published on Amazon: Rantings and Ravings of a Screenplay Reader, including my series of essays, What I Learned Reading for Contests This Year, and my film reviews of 2013.  Only $2.99. http://ow.ly/xN31r
and check out my Script Consultation Services: http://ow.ly/HPxKE
Warning: SPOILERS
In the 1970's Hollywood on, people were having trouble coming up with an acceptable background for villains. Critics and audiences were becoming more and more resistant to the idea that the bad guys had to be a member of a minority group.
What was a filmmaker who liked to use shorthand to create characters rather than create in-depth individual to do?
Well, George Romero gave us the living dead. Steven Spielberg gave us a shark (which is only fair since he soon took away aliens as bad guys with E.T. and Close Encounters of the Third Kind, not to return space creatures to their evil glory until War of the Worlds).
But perhaps the filmmaker we should be most grateful to is George Lucas who gave us the most villainous of all villains, the Nazi, in the Indiana Jones franchise.
After all, other than Trump supporters, who likes Nazis?
And now we have three movies that use the Third Reich as the antagonists for their stories: Imperium, Anthropoid and The People vs. Fritz Bauer.
Imperium, or the Harry Potter neo-Nazi film as I like to call it, is about Nate Foster, a milquetoast FBI agent, who goes undercover to infiltrate American white supremacy groups to stop a possible terrorist attack.
The lead is played by Daniel Radcliffe, who is about as milquetoast as you can get. He shaves his head, lowers his voice and removes his glasses to complete his assignment.
The irony here is that as the Harry Potterish FBI agent, he's not particularly convincing. His acting seems forced and there's not much there. However, as the new neo-Nazi, he's actually very compelling, giving a solid and satisfactory performance.
However, once the transformation is made, it does result in one peculiarity: if Foster could remove his glasses and have no problem with his vision as a skinhead, then why did he need to wear glasses in the first place? I mean, he isn't Clark Kent who wore glasses even though he didn't need to.
Imperium is a first feature by writer/director Daniel Ragussis and though often entertaining and never really boring, the movie doesn't quite work. One reason is that the more Foster makes his way up the corporate swastika of the various Reich-cliques, one doesn't so much become concerned about this growing movement, as conclude that these guys are some of the most gullible groups of criminals one has come across in some time.
Though always able to come up with a response when anyone doubts his authenticity, Foster's such a newcomer, it's hard to believe that his over aggressiveness in becoming involved didn't set off alarm bells. His ability to disarm people and make trusting friends always felt a bit forced and never quite convincing enough.
The other issue is that his ultimate success felt very specious at best. Unable to get the leaders he wanted and desperate to make an arrest, he talks a minor group of middleclass Nazis into doing something they were kinda/sorta considering doing, but quite possibly wouldn't since they didn't have the means to do so until Nate says he not only can provide them with everything they need, he'll lead the operation.
Not quite the feather in the cap from my perspective, but one less far rights group is one less far rights group, I suppose.
Toni Collette plays his FBI handler. She tears into her part as one tough cookie, but tends to push it by snapping gum, which I suppose is to make her seem macho, but only makes her annoying.
The various neos are played by Tracy Letts as a far right radio host and Sam Trammell as the middle class white supremacist. Both are very good.
Imperium is a word of Latin derivation that is sometimes used by neo-Nazis to refer to a Western Reich.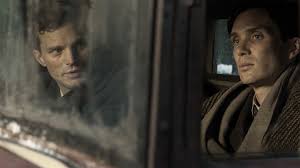 Anthropoid is the true story of one of the most ridiculous and stupid operations ever conceived during WWII. After SS General Reinhard Heydrich took over the German occupation of Czechoslovakia and almost totally destroyed the underground and ruthlessly murdered any opposition, two Czech soldiers were parachuted in from England in order to assassinate him.
Why, you might ask? And that's a very good question. Even in the movie they are not quite sure what possibly could be gained by doing something that would have absolutely no benefit in the war against Germany and, if successful, which it was, would only result in the mass extermination of thousands of Czechoslovakians, most of whom would probably have survived by waiting for the allies to make their way east.
And I thought sending a troupe of GIs to rescue a soldier behind enemy lines for little more than a publicity stunt was a bit odd.
The one difference is that Saving Private Ryan is almost totally fiction and Anthropoid really happened.
Anthropoid is written by Anthony Frewin and Sean Ellis (who also directed). The technical aspects are first rate. It's a handsome film that looks convincing. And the filmmakers do what they can to keep it moving and deepen the emotions.
The main characters are played by Jamie Dornan, Cillian Murphy, and Toby Jones. No one gives a bad performance, but one can never forget that they're all British actors using Czech accents.
The main reason to see the movie is an astounding set piece at the end as the underground and the two soldiers make one last stand at a church. It's an impressive, and even moving, series of scenes in which the good guys are so well situated, they do extensive damage to the German soldiers. It's beautifully directed.
In real life, the stand off lasted six hours.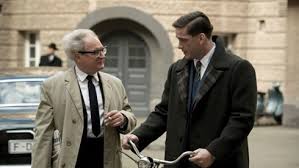 The People vs. Fritz Bauer, written by Olivier Geez and Lars Krause, who also directed, is the most successful and satisfying of the three films. Also based on a true story, it dramatizes a portion of the life of Germany's Fritz Bauer, a German prosecutor who brought a number of Nazis to justice in the early sixties as well as helped the Mossad find and abduct Adolf Eichmann from Argentina so he could sit trial in Israel.
The latter episode, the abduction of Eichmann, takes up most of the focus of the film, an event that could have resulted in Bauer's prosecution in Germany for treason.
But the movie adds an extra dimension. Though before Hitler rose to power gay men and women were making progress on Germany, as the Third Reich seized power homosexuals, like Jews, were persecuted and eventually sent to concentration camps.
The one difference is that once the war was over, homosexuals were not always freed since being gay was still against the law, not just in Germany, but pretty much everywhere in the world.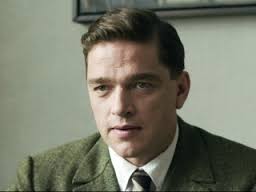 And Fritz Bauer was gay. He was married, but he had had run ins with authorities when he would try to pick up men in Denmark, where his wife and family lived. This caused no problem in Germany, but his enemies were holding onto the information to use against Bauer if he ever slipped up.
The threat this posed for Bauer is indicated by a lawyer he worked with, also gay, but who did slip up. Though a fictional character, his very moving through line shows what could have happened if Bauer had been caught. Would Eichmann have been found and would anyone else have taken up the yoke of going after ex-Nazis still living in Germany?
Bauer is played by Burghart Klaussner, one of Germany's finest character actors who has been seen over here in such films as Good Bye Lenin!, The Edukators, and The White Ribbon. He plays the part with a Mr. Wilson loveable gruffness and commands the screen in a powerful performance.
Rudiger Klink plays his tragic associate with great empathy.
A strong and fascinating film.
---