Posted: June 22, 2017 |
Author:
Donald
|
Filed under:
Uncategorized
|
Tags:
Beatriz at Dinner
,
Carmen Ejogo
,
Chloȅ Sevigny
,
Christopher Abbott
,
In It Comes at Night
,
Jay Duplass
,
Joel Edgerton
,
John Lithgow
,
Kelvin Harrison Jr.
,
Michael White
,
Miguel Arteta
,
Riley Keaugh
,
Salma Hayek
,
Trey Edward Shults
|
Leave a comment »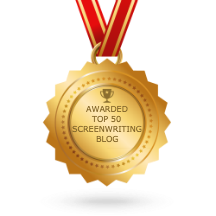 For questions: hcasner@aol.com
First, a word from our sponsors: I am now offering a new service: so much emphasis has been given lately to the importance of the opening of your screenplay, I now offer coverage for the first twenty pages at the cost of $20.00.  For those who don't want to have full coverage on their screenplay at this time, but want to know how well their script is working with the opening pages, this is perfect for you.  I'll help you not lose the reader on page one. 
Ever wonder what a reader for a contest or agency thinks when he reads your screenplay?  Check out my new e-book published on Amazon: Rantings and Ravings of a Screenplay Reader, including my series of essays, What I Learned Reading for Contests This Year, and my film reviews of 2013.  Only $2.99. http://ow.ly/xN31r
and check out my Script Consultation Services: http://ow.ly/HPxKE
Warning: SPOILERS
Beatriz at Dinner is writer Michael White and director Miguel Arteta's third film collaboration after Chuck and Buck (an interesting character study of a gay man wanting to take up a former relationship with his best friend who is now married and apparently no longer gay) and The Good Girl (a modern day somewhat clever take on Madame Bovary).
Together they have made a very solid series of films. Nothing perhaps to light up the sky, but still, quite respectable and entertaining.
Beatriz at Dinner is probably their most ambitious. At the same time, however intriguing and entertaining it often is, it is probably their weakest. I think this may be because they set up an intriguing premise, but failed to, or didn't know how to, really resolve it all in a rich and satisfying way. Read the rest of this entry »
---