REEL MOTHERS: Movie reviews of I, Tonya, Three Billboards Outside Ebbing, Missouri by Howard Casner
Posted:
December 14, 2017 |
Author:
Donald
|
Filed under:
Uncategorized
|
Tags:
Allison Janney
,
Craig Gillespie
,
I
,
John Hawks
,
Lucas Hedges
,
Margot Robbie
,
Martin McDonagh
,
McDormand
,
Missouri
,
Paul Walter Hauser
,
Peter Dinklage
,
Sam Rockwell
,
Sebastian Stan
,
Steven Rogers
,
Three Billboards Outside Ebbing
,
Tonya
,
Woody Harrelson
,
Zeljko Ivanek
|
232 Comments »
First, a word from our sponsors: I am now offering a new consultation service: so much emphasis has been given lately to the importance of the opening of your screenplay, I now offer coverage for the first twenty pages at the cost of $20.00.  For those who don't want to have full coverage on their screenplay at this time, but want to know how well their script is working with the opening pages, this is perfect for you.  I'll help you not lose the reader on page one. 
Ever wonder what a reader for a contest or agency thinks when he reads your screenplay?  FosCheck out my new e-book published on Amazon: Rantings and Ravings of a Screenplay Reader, including my series of essays, What I Learned Reading for Contests This Year, and my film reviews of 2013.  Only $2.99. http://ow.ly/xN31r
and check out my Script Consultation Services: http://ow.ly/HPxKE
Warning: SPOILERS
I, Tonya, the new film from writer Steven Rogers and director Craig Gillespie, is a fictional account of the ice skating scandal where the husband of skater Tonya Harding, along with her bodyguard, conspired to break the leg of Tonya's main rival, Nancy Kerrigan.
No matter what else it may be, I, Tonya is very successful and could easily be a real crowd pleaser. Structurally, it's a forthright dramatization of the events punctuated with talking head interviews of the characters looking back on events. It's often extremely funny and at times manages to show some empathy for the title character.
Though it is effective, it also at times feels a bit condescending and exploitive, as if the filmmakers were treating this as an elongated Jerry Springer show. So the laughs are sometimes a bit cruel and at the expense of the real life counterparts.
But it's certainly well made. Rogers' screenplay is quite a step up from his other films that often seem inspired by the Hallmark Channel rather than here, which is more inspired by reality shows that pride themselves on ridiculing "white trash". And Gillespie's direction holds everything together and is probably his best film since Lars and the Real Girl.
Margot Robbie crawls her way into Tonya's skin and gives a bravura performance. But it's Allison Janney who really triumphs as Tonya's cruel and heartless mother who destroyed her daughter's life while claiming she was saving it by making her a world class skater.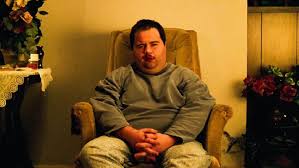 They get able support from Sebastian Stan (Bucky Barns in the Marvel franchise) as Jeff Gillooly, Tonya's on again, off again husband, and sleepy eyed Paul Walter Hauser as Shawn Eckhardt, who steals the scene as Harding's bodyguard who never seems to be fully awake.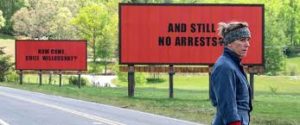 There are two McDonagh brothers. John Michael, who is responsible for The Guard and Calvary, and Martin, responsible for In Bruges and Seven Psychopaths. Both are excellent filmmakers, though so far, it's Martin who seems to be leaving the greater impression with his dark and edgy films that are full of sound and fury and often signifying something.
Martin has again captured filmgoers imagination with his latest film Three Billboards Outside Ebbing, Missouri, a movie that seems to have really connected with the audience, especially with Frances McDormand's fierce, feisty and unforgettable performance as Mildred, a mother filled with barely controllable rage because the local authorities have yet to make an arrest in the murder and rape of her daughter less than a year before.
In response, she sets up the basic conflict of the film, renting three billboards and putting up letters larger than life, asking why hasn't her daughter's killer been found. This results in embarrassment for the local authorities and creates conflict in her home town.
Three Billboards… connects with you almost immediately and it never really lets go. It's so filled with anguish for a lost child, it's difficult not to feel deep emotion for the characters.
Though the film definitely works and there really isn't anything to complain about, it's probably not as imaginative or edgy or chance taking as Martin's earlier films. It's a bit safer and softer, even cuddlier in a prickly sort of way (it has the lowest body count at two than any other of Martin's films), which could be why the film has seen such success. And the emotional core, the loss of a child in a cruel and unforgiving way, is certainly universal.
Besides McDormand's breathtaking performance, Sam Rockwell has one of his best roles as an unsympathetic, not particularly bright deputy. It's a deeply empathetic performance.
And with Woody Harrelson as the local sheriff; John Hawks as McDormand's abusive husband; Lucas Hedges, who seems to have become the go to actor for high school roles, as her son; Peter Dinklage as someone besotted by Mildred; and Zeljko Ivanek as a world weary desk sergeant.
One of the finer films of the year.
---