NEW YORK, NEW YORK, A HELL OF A TOWN: Movie Reviews of the The Dark Tower and Good Time by Howard Casner
Posted:
August 15, 2017 |
Author:
Donald
|
Filed under:
Uncategorized
|
Tags:
Barkhad Abdi
,
Ben Safdie
,
Dennis Haysbert
,
Good Time
,
Idris Elba
,
Jack Earle Haley
,
Jennifer Jason Leigh
,
Joshua Safdie
,
Mathew McConaughey
,
Michael Barbieri
,
Nicolaj Arcel
,
Robert Pattison
,
Ronald Bronstein
,
Tom Taylor
|
2 Comments »
First, a word from our sponsors: I am now offering a new consultation service: so much emphasis has been given lately to the importance of the opening of your screenplay, I now offer coverage for the first twenty pages at the cost of $20.00.  For those who don't want to have full coverage on their screenplay at this time, but want to know how well their script is working with the opening pages, this is perfect for you.  I'll help you not lose the reader on page one. 
Ever wonder what a reader for a contest or agency thinks when he reads your screenplay?  Check out my new e-book published on Amazon: Rantings and Ravings of a Screenplay Reader, including my series of essays, What I Learned Reading for Contests This Year, and my film reviews of 2013.  Only $2.99. http://ow.ly/xN31r
and check out my Script Consultation Services: http://ow.ly/HPxKE
Warning: SPOILERS
The Dark Tower is proof of an observation I've made of Hollywood at its worst. They take a filmmaker, often foreign, who has gained attention, often with a body of impressive work. Then, as punishment for this sin, they bring the filmmaker to the U.S. and give him any old crap to film.
The filmmaker referenced here is Denmark's Nicolaj Arcel, who has either written or directed, or both, such noteworthy fare as the original The Girl with the Dragon Tattoo, A Royal Affair, and the Department Q trilogy.
The crap he's been entrusted with has already been mentioned.
All right, that's not exactly accurate. The Dark Tower is not crap. It's not really anything. It's just kind of there…like limbo.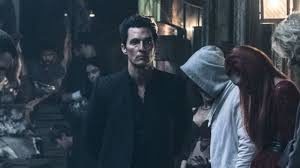 The movie is a sort of adaptation of the Stephen King series of the same name. I say sort of because as I understand it, the film takes the characters from the original books and uses them in a somewhat different plot.
I don't know. But I do know that it took four credited screenwriters to create the screenplay, which alone should have been an omen to the distributors on the level of "beware the ides of March".
The basic story concerns a tower whose existence creates a force field around the known universe which keeps out terrifying, demonic creatures on the other side who want to get in and destroy everything and everyone (if you've seen the film The Mist, you get an idea what we're dealing with here). So far, so good, especially as a metaphor for a world that always seems on the brink of destruction.
The plot is a conflict between Walter, pure evil, who wants to destroy the tower for no other reason than he is pure evil (it's not like it will profit him in any way and the creatures would probably take him down as they destroy everything they come across).
Trying to stop him is Roland, the Gunslinger, a character inspired by Clint Eastwood's portrayal of The Man With No Name.
It all boils down to a young teen, Jake, who lives in New York City, a boy with great psychic power who has the ability to bring down the tower.
Probably the biggest reason the story doesn't work is the underdeveloped character of The Gunslinger. We know so little about him and his personality is so blank and bland, even Idris Elba can't bring him to life.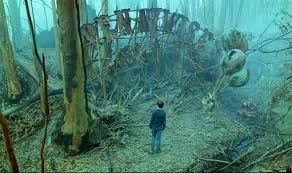 Rather the most effective moments are when Walter, played by Mathew McConaughey with laser like calmness, dispenses with those he wishes to punish or no longer has any need for by simply telling them to stop breathing or to kill each other. Little in the film comes up to these stunning moments.
Though I do want to point out a somewhat wickedly funny scene when Roland goes to a gun store to buy bullets and can't believe how many he can get and how easy it is to get them (at the same time, it's one of those movies where Roland says that bullets are very rare, yet he never comes close to running out of them).
But as written, Roland's only purpose seems to be to bring Walter down, which he does. But then at the end he invites Jake to go on his travels with him. But since Walter is dead, just what will that life be like?
Like so much of the film, this ending feels haphazard and clunky and it has no emotional resonance.
I'm not sure I can, with any sure confidence, say why the film doesn't work. But I do know the exact moment it stopped working for me. At one point Jake is about to step through a portal and the floorboards of the house he's in fly up and surround them. He stops them with a single word. But all I thought was, okay, it's all filler from here on in until we get to the climax.
With some nice cameos by Dennis Haysbert as Roland's father; Jack Earle Haley as the head of a New York chapter of Walter's followers; and Michael Barbieri of Little Men as Jake's best friend.
Tom Taylor plays Jake and does a commendable job of holding what there is together.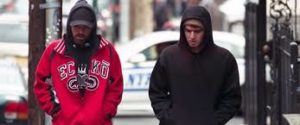 When the Twilight franchise finished, a series I tried to watch, but gave up quite quickly due to how awful it was, I bemoaned one result: the films were so successful it meant we were going to be saddled with terrible performances by the three leads for eons to come (the same thing happened with Love Story).
My definition of Hollywood hell.
But something odd happened. Of the three youth stars referenced, two have actually surprised us and are giving strong performances as they try to redefine themselves (only Taylor Lautner hasn't made the jump from idol to serious actor).
The main reason for this is that, like the stars of another franchise of a boy wizard with spectacles and a lightning bolt birthmark, they refused to rest on their laurels and worked hard to come into their own, independent of their earlier success.
Kristen Stewart did it somehow by simply just being on screen, and in some ways, by either not acting or not seeming to act. She amazed the audience in The Clouds of Sils Maria (and was the first American to win a César) and followed it up with spot on performances in Still Alice and Personal Shopper, as well as the earlier American Ultra.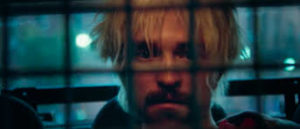 However, Robert Pattison went in a different direction. When he tried to just be on screen, it resulted in weak or uninteresting performances as in Cosmopolis and Star Maps.
Pattison surprised us when he went in the other direction. In The Rover, he was dressed is clothes not fit for the homeless, did something to his mouth that made it look like he was trying to out mumble Marlon Brando and played an Australian.
Perhaps I should have seen it coming because one of his best early performances was as Salvador Dali in Little Ashes, with period clothing and a mustache and playing a someone who could be described as a real character.
As himself, Pattison hasn't really impressed on screen. But there are some actors and you give them things like a new look, an accent and all sorts of oddities and tics, it can distract them into giving a strong performance.
And now we have the film Good Time in which Pattison has donned a scruffy, streetwise garb and talks like a Manhattan street corner hustler. And he and the film never lets go. It's a non-stop ride of desperation and Pattison never lets up.
The basic premise revolves around Connie (Pattison), the older brother of Nick, a special needs case. Connie gets Nick to help him rob a bank, but Nick gets caught. Connie spends the next 24 hours desperately trying to come up with bail money before something bad happens to Nick.
And this leads him to interact with a broad spectrum of New York City types, from an older woman he has sex with because she helps him out with money from time to time (Jennifer Jason Leigh); a sixteen year old who lets Connie borrow her grandmother's car and gets caught up in the chase; a newly paroled con who Connie abducts from the hospital thinking it's his brother (you had to be there); and a security guard at an amusement park (Barkhad Abdi of Captain Phillips).
The film is written by Ronald Bronstein and Joshua Safdie (he's very effective as Nick) and directed by brothers Ben and Joshua Safdie. The trio has worked together before and here have created a New York that is kaleidoscopic and chaotic, a city that can't stop breathing.
There is one oddity in the story. Though the plot seems to be a continuous stream of events, the news refers to the bank robbery as happening the previous week. In addition, once Connie is told that even if he can get the bail money, it's too late to get his brother out, and once he finds out Nick has been transferred to a hospital, about the safest environment for him, this takes all the time pressure off Connie and there's no need for him to run around like Edmond O'Brien in DOA.
Still, it's a strong and well done movie with a surprisingly moving and optimistic ending.
All that needs to happen now is to have Hollywood come calling and punish the trio for their sin of making a good indie by giving them the next bit of tentpole crap to make.
---