THE FRENCH ARE COMING, THE FRENCH ARE COMING: Movie Reviews of Lolo, Valley of Love and My Golden Days by Howard Casner
Posted:
April 5, 2016 |
Author:
Donald
|
Filed under:
Uncategorized
|
Tags:
A Christmas Tale
,
Arnaud Desplechin
,
Brigitte Bardot
,
COLCOA
,
Cyrus
,
Danny Boon
,
Death Valley
,
Duplass brothers
,
Gerard Depardieu
,
Grandvil
,
Guillaume Nicloux
,
Isabel Huppert
,
John C. Reilly
,
John LeCarre
,
Jonah Hill
,
Julie Delpy
,
Julie Peyr
,
Kings & Queen
,
Lola
,
Lou Roy-Lecollinet
,
Marisa Tomei
,
Mathieu Amalric
,
My Golden Years
,
Quentin Dolmaire
,
Seth Rogan
,
Valley of Love
,
Vincent Lacoste
|
4,222 Comments »
First, a word from our sponsors: I am now offering a new service: so much emphasis has been given lately to the importance of the opening of your screenplay, I now offer coverage for the first twenty pages at the cost of $20.00.  For those who don't want to have full coverage on their screenplay at this time, but want to know how well their script is working with the opening pages, this is perfect for you.  I'll help you not lose the reader on page one. 
Ever wonder what a reader for a contest or agency thinks when he reads your screenplay?  Check out my new e-book published on Amazon: Rantings and Ravings of a Screenplay Reader, including my series of essays, What I Learned Reading for Contests This Year, and my film reviews of 2013.  Only $2.99. http://ow.ly/xN31r
and check out my Script Consultation Services: http://ow.ly/HPxKE
Warning: SPOILERS
COLCOA, the incredible film festival of new French cinema (as well as some classics), will be starting in a couple of weeks.  But while you may be waiting in baited breath for it (well, I am), you don't have to wait that long to see Gallic cinema.  A few films from the land of Truffaut and Godard have opened in Los Angeles in the last few weeks.
They are opening now between the months of January (where the movies are mainly the leftovers from the Oscar noms and those movies the studios wish to bury) and June (or whatever month is the one where the tentpole films will be thrust upon us).  Translated, this means the time period when strong, introspective and personal films can make their appearance before they are gulped up and spit out by billion dollar movies as if they were a character in Jaws.
Lola, the new French rom com written by Eugenie Grandvil (a first feature) and the director Julie Delpy, has more than a passing resemblance to the Duplass brothers' American comedy Cyrus, starring John C. Reilly, Marisa Tomei and Jonah Hill (in the title role).  In both, the young son of an unattached mother tries to ruin any chance she may have of a relationship.  But where Cyrus is about someone driven by an hysterical version of an Oedipus complex, in Delpy's film the title character is more of a sociopath.  This approach, though entertaining here and there, isn't quite as effective.   This time around, the object of mom's affection, Jean-Rene, is made to be the butt of ridicule time and time again until Lolo frames him for hacking the computers of the company Jean-Rene works for (there seemed to be a running joke about the pretentiousness of Jean-Rene's name, but I'm not sure what the punchline was).  At that point Jean-Rene is threatened with serious jail time.  Jean-Rene manages to save the day, but Lola, who did the crime, doesn't have to do the time for some unexplained reason.  Danny Boon as Jean-Rene is as funny as usual (he's one of France's finest comic actors).  Vincent Lacoste as Lolo and Julie Delpy as his mother Violette more than get the job done.  The problem is that the story takes a bit too long to really get going and seems to stall and lose focus every time it gets off Lolo and Jean-Marie and focuses on Violette's issues.  The dialog, which is of the TMI kind one often finds being spoken trippingly off the tongue in Seth Rogan films, felt a bit forced here.
Valley of Love, written and directed by Guillaume Nicloux, is quite interesting, but I'm not sure how successful it is.  Gerard Depardieu and Isabel Huppert play film actors called Gerard and Isabel.  They were once married and have a gay son living in San Francisco.  Well, had a gay son, because he killed himself six months earlier for reasons unknown.  However, he sent his parents each a letter requesting them to come to Death Valley and go to seven different tourist sites at two pm every day.  If they do, he writes, he will reveal himself to them.  The plot feels a bit arbitrary (though I'm assuming the location was chosen because it had "death" in the name), if not a bit tortious in the set up.  And it does take the film a little long to establish the premise.  It's also a bit slow.  The conflict is basically the chestnut where one (Huppert-it's always the woman) believes that something supernatural could happen, while the other one (Depardieu) has no faith.  But Depardieu and Huppert are always worth watching and work together very well.  And the resolution is intriguing and strangely moving even at the same time it leaves you wondering what the point is.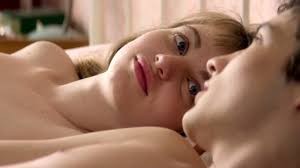 Arnaud Desplechin is one of France's more celebrated filmmakers, noted for such movies as Kings & Queen and A Christmas Tale.  His latest film, co-written with Julie Peyr (who has worked on other of Desplechin's projects) is My Golden Days, in which a man, Paul Dedalus (a reference to the maze maker, I'm sure), remembers certain events in his youth.  It's basically divided into three events in his life, and they each get longer as each is dramatized: as a young boy, he went to live with his lesbian great aunt because his mother had serious mental issues; as a teen, he engaged in some espionage while on a school trip to Russia; and last but not least (especially in length), the story follows his love for a young woman and their tempestuous relationship.  There is much to like here.  The trip to Russia is the most successful, filmed as it is in John LeCarre style with overcast skies and depressing mood.  The early scenes with his mother and great Aunt feel over before they began.  The final one about star crossed lovers is often very effective.  But it tends to go on long past its expiration date and I'm not sure I buy the basic premise: that this was the love of his life, a great romance sabotaged by someone who was supposed to be his friend.  From what I could tell, the relationship was pretty much doomed from the beginning (there was simply no way these two people could ever create a satisfying life together), so the attitude of romantic tragedy the central character has seems a bit out of place (the days seem more golden because they are in the past, than because they were).  With Mathieu Amalric (a familiar face in Desplechin films) as the older Paul; Quentin Dolmaire, as Paul the younger (his film debut); and Lou Roy-Lecollinet (with Brigitte Bardot lips and pout) as Esther, the object of Paul's affection (also a film debut).  All do excellent work.
---