SOUL SEARCHING: Movie Review of Knight of Cups and Confirmation by Howard Casner
Posted:
March 23, 2016 |
Author:
Donald
|
Filed under:
Uncategorized
|
Tags:
8 ½
,
A Better Life
,
Alice Adams
,
Antonio Banderas
,
Armin Mueller-Stall
,
Bill Murray
,
Bob Nelson
,
Brian Dennehy
,
Cate Blanchett
,
Christian Bale
,
Cinderella
,
Clive Owen
,
Confirmation
,
Federico Fellini
,
Hardcore
,
Jaeden Lieberher
,
John Gielgud
,
Kitty Foyle
,
Knight of Cups
,
La Dolce Vita
,
Liam Neeson
,
Mario Bella
,
Matthew Modine
,
Natalie Portman
,
Patton Oswalt
,
Paul Schrader
,
Robert Forster
,
St. Vincent
,
Stephen Tobolowsky
,
Taken
,
Terence Malick
,
The Bicycle Thief
,
The Pilgrim's Progress
,
The Searchers
,
Tim Blake Nelson
,
To the Wonder
,
Vittorio de Sica
,
Wes Bentley
,
Working Girl
|
Leave a comment »
First, a word from our sponsors: I am now offering a new service: so much emphasis has been given lately to the importance of the opening of your screenplay, I now offer coverage for the first twenty pages at the cost of $20.00.  For those who don't want to have full coverage on their screenplay at this time, but want to know how well their script is working with the opening pages, this is perfect for you.  I'll help you not lose the reader on page one. 
Ever wonder what a reader for a contest or agency thinks when he reads your screenplay?  Check out my new e-book published on Amazon: Rantings and Ravings of a Screenplay Reader, including my series of essays, What I Learned Reading for Contests This Year, and my film reviews of 2013.  Only $2.99. http://ow.ly/xN31r
and check out my Script Consultation Services: http://ow.ly/HPxKE
Warning: SPOILERS
Knight of Cups, the new film from art house fave writer/director Terence Malick, begins with some excerpts from John Bunyan's The Pilgrim's Progress, spoken, I believe, in the dulcet tones of Sir John Gielgud.  The Pilgrim's Progress is an allegory about a man who is weighed down by his sin and must seek a path to righteousness, but he finds many dangers, toils and snares along the way. 
I suppose the allegory in that classic is supposed to also be an allegory for Rick, the central character in Malick's drama, and his journey.  Rick is a screenwriter who basically just drifts from place to place, observing the world he encounters while avoiding screenwriting as much as possible.  It's sort of like a movie by Federico Fellini, 8 ½ or La Dolce Vita, character studies of a men who are spiritually lost or have writer's block, set against dwarfing architecture and a somewhat impressionistic view of the local's lives.
I have to say I liked Knight of Cups, though I also have to say I'm surprised that I did.  In Malick's last film To The Wonder, the filmmaker told an almost impossible to understand story, made almost impossible to understand because it was not told in chronological order.  And since you were spending so much time just trying to understand what was going on, it was difficult to become emotionally involved in the movie.  And it didn't help that when you did figure it out, it was a pretty bland and banal story line.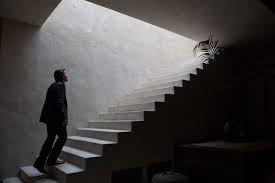 This time round, though, I think what happened is that it was pretty clear almost from the beginning that Malick wasn't going to give us a plot, but instead a film in which a series of shots and scenes simply unfold before you.  If you're not looking for a story, then the images and events eventually have a sort of hypnotic rhythm to them.  In the end, though in some ways I feel I should have been, I was never board.
However, I'm not sure that the movie is much more than that or really succeeds even on its own terms.  One thing about comparing it to a film by Fellini is that one realizes quite quickly how unaesthetically interesting L.A. is, as opposed to, say, Rome, the site of many a Fellini film. In fact, L.A. is somewhat ugly and boring in comparison.  What may be even sadder is that the hero takes a side trip to Las Vegas and in all its vulgarity and cheesiness, that city is a hundred times more attractive just to look at than Malick's vision of L.A.
Christian Bale (an unintended pun when it comes to Bunyan's book perhaps) more or less lopes along through all this architecture as Rick and rarely does more than simply stare at all the PG, if that, rated decadence around him; the only time he smiles is when he's pursuing sex.
Which probably brings us to the reason why, though the film did hold my attention well enough, that it did little more than that.  We see what Rick sees and hear what he hears and go to places he goes to, but we never experience what he experiences, we never feel what he feels.  Malick isn't really able to bring the meaning or psychology of Rick's journey through visuals alone.  So the movie never really seems to be doing anything or going anywhere.  It just lopes along like Bale's character.
With Cate Blanchett as Rick's doctor wife; Natalie Portman as a woman he has an affair with (or maybe she's his second wife, who knows); Brian Dennehy, who probably gives the most arresting performance as Rick's guilt ridden father; Wes Bentley as his brother (they all have names on IMDB, but who knows if they do in the movie); as well as such familiar faces as Antonio Banderas and Armin Mueller-Stall.
There are some basic plots that have captured the attention of filmmakers such that they use them as the outline for their own stories over and over again.  Cinderella, about a young woman pretends to be something she isn't, rising in status as she finds her Prince Charming, can be seen in such films as Alice Adams, Kitty Foyle and Working Girl.  The Searchers, in which a parent goes looking for a missing offspring in enemy territory, is one of the most popular and can be seen in Paul Schrader's Hardcore and more recently in the Liam Neeson vehicle, Taken.
Of late, we are now getting films that seem to have as their source the Vittorio de Sica classic The Bicycle Thief, a story about a man's relationship with his son and what happens when his only means of transportation, and something he needs for work, is stolen and he spends the day trying to find it again.  That basic plot has showed up recently in such films as A Better Life, in which an illegal immigrant's truck is stolen.
And now we have The Confirmation, a story in which a man's carpentry tools, very specialized tools, are stolen and he has to find them in two days or he can't do a job he was hired to do, a job he needs in order to pay rent and meet necessities.  Meanwhile, he has to take care of his young son while his ex-wife goes on a marriage retreat with her new husband, all the while trying to stay more or less on the wagon. This enables him to criss-cross the city and have fun interactions with a series of strong character actors, like Robert Forster, Tim Blake Nelson and Patton Oswalt.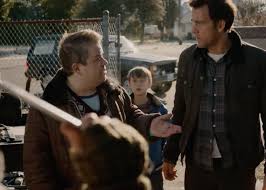 All in all, Confirmation is a very satisfying story.  It's very well written and hits all the right notes and tropes.  It's never boring and it's definitely highly entertaining.  The writer/director Bob Nelson works hard to keep the story going and keep it interesting.
And the star, Clive Owen, makes this most of his flawed and frustrated character.  Owen also has great chemistry with his young co-star Jaeden Lieberher (he can be seen in that other study of Catholic guilt and penance, St. Vincent, where he also had great chemistry with his co-star Bill Murray).
But while The Bicycle Thief is a sort of tragedy, Confirmation tends to play it safe and makes sure that everything is wrapped up very neatly and tidy.  Lessons are learned, changes are made, and every through line is resolved.  This is nothing to sneeze at, but it is one of the things that makes the movie little more than what it is…a solid piece of dramaturgy sure not to offend or challenge anyone.
It does end a bit unfairly, though, I think.  The central character's wife has remarried.  But she has chosen as her second hubby one these men who is in touch with his feelings and is, therefore, bland and boring, and somewhat less of a man (and played very well that way by Matthew Modine), and absolutely of no practical use around the house or a car that needs repair.
Meanwhile, Owen's character is an alcoholic, irresponsible, can't make the rent, not a good husband or father, but he can build bookcases and put new brake linings on a car and somehow because of it, he's actually more authentic than the new ager the wife is now stuck with.
Both are immature, but only one is immature in the right way, and I think that's taking the easy way out.
With Mario Bella as the wife and Stephen Tobolowsky absolutely hysterical as a priest.
---