MIXED DOUBLES: Movie Reviews of The Trust and The Nice Guys by Howard Casner
Posted:
May 27, 2016 |
Author:
Donald
|
Filed under:
Uncategorized
|
Tags:
Adam Hirsch
,
Alan Sharp
,
Alex Brewer
,
Angourie Rice
,
Anthony Bagarozzi
,
Arthur Penn
,
Benjamin Brewer
,
Chinatown
,
Elijah Wood
,
Jerry Lewis
,
Kim Basinger
,
Kiss Kiss Bang Bang
,
L.A. Confidential
,
Leigh Bracket
,
Lethal Weapon
,
Lois Smith
,
Los Angeles Plays Itself
,
Matt Bomer
,
Myrna Loy
,
Nicholas Cage
,
Night Moves
,
Rififi
,
Robert Altman
,
Robert Benton
,
Robert Towne
,
Roman Polanski
,
Russell Crowe
,
Ryan Gosling
,
Shane Black
,
The King of Comedy
,
The Late Show
,
The Long Goodbye
,
The Nice Guys
,
The Trust
,
Who Framed Roger Rabbit
|
1 Comment »
First, a word from our sponsors: I have just launched the indiegogo campaign for my short film 14 Conversations in 10 Minutes. Check it out http://ow.ly/SblO3005HHu.  Below is a video sample of the short. Think about contributing (the lowest contribution is only $5.00). Please view and share anywhere and everywhere.
I am now offering a new consultation service: so much emphasis has been given lately to the importance of the opening of your screenplay, I now offer coverage for the first twenty pages at the cost of $20.00.  For those who don't want to have full coverage on their screenplay at this time, but want to know how well their script is working with the opening pages, this is perfect for you.  I'll help you not lose the reader on page one. 
Ever wonder what a reader for a contest or agency thinks when he reads your screenplay?  Check out my new e-book published on Amazon: Rantings and Ravings of a Screenplay Reader, including my series of essays, What I Learned Reading for Contests This Year, and my film reviews of 2013.  Only $2.99. http://ow.ly/xN31r
and check out my Script Consultation Services: http://ow.ly/HPxKE
Warning: SPOILERS
The Trust, the new semi-caper film from writers Benjamin Brewer and Adam Hirsch and directed by Alex and Benjamin Brewer, starts out somewhat as a shaggy dog story. Which works rather well since the two central characters, both Las Vegas PD police officers (Nicholas Cage and Elijah Wood), look and act like mutts one might find at an animal shelter, desperate to be adopted before they end up in the incinerator.
The two decide to rob a convenience store after they notice that said store receives regular deliveries, large bags, which disappear inside the premises. In return, nothing comes out; nada; zip; not a thing. So what exactly are the owners hiding inside in that new, state of the art, almost impossible to get into, concrete and steel freezer that is just simply too high end for a mom and pop operation such as it is?
The two decide to go after a pig in a poke and break in and take whatever they can find. And though each have their own personal motivations (Wood's character Waters is bored and burnt out, and Cage's character Stone has ideas for the force that go underappreciated), in many ways they really do it for the best of all reasons—they can.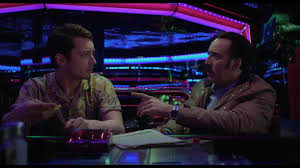 So far so good and the first third of the movie is solid and entertaining. Cage and Wood play their odd couple relationship very well (Cage really milks it as he is so often inclined to do and he has nice comic timing). There is also a scene when Cage buys guns from a fellow officer that ends with one of those really and I mean really neat twists that made me think, okay, this story is really going somewhere.
But then it doesn't, go anywhere, I mean, and I know exactly where that began for me. It started when I realized that I had their plan for breaking in all wrong. I thought they were going in through the ceiling Rififi-style from the apartment above. They weren't.  They simply needed to break through the ceiling so they could lower a camera and see the lock cylinder on the inside so they can tell when the correct numbers of the lock are reached as someone turns it on the outside, thus avoiding setting off the alarm.
Yeah, I guess it's different, but it seemed just a bit too small and anti-climactic to justify all the build-up it received, sort of like killing a flea with an elephant.
But my next issue began when they discover not only what was in the freezer, but also what is stashed in the apartment. At this point the movie changes horses mid-stream, or maybe more than mid.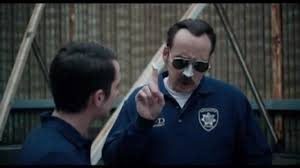 What started out as a caper drama with dark humor suddenly becomes something more existential. Now, I like a good helping of existentialism with my popcorn as much as the next guy (well, actually, a whole lot more), but this switch came so late, it really didn't leave enough time for the filmmakers to fully explore it.
And with that, everything goes out of focus until it was difficult to have an emotional investment in the outcome.
With Jerry Lewis as Stone's father. He's very good (The King of Comedy showed that he was very capable of being a fine dramatic actor), but he is not really given anything to do here.
All the police uniforms, badges, squad cars, et al were created for a fictional "LVPD." The real Las Vegas Metropolitan Police is actually known as the LVMPD or Metro.
The new neo noir The Nice Guys, a first film for writer Anthony Bagarozzi, but not for writer/director Shane Black, takes place in Los Angeles in 1977.
I think that year is actually an important detail. It harkens back to a time in cinema that is perhaps the last great period for American noir. Robert Benton's The Late Show with Lily Tomlin and Art Carney took place that same year; Alan Sharp and Arthur Penn's Night Moves with Gene Hackman came out in 1975; and Leigh Bracket and Robert Altman's The Long Goodbye with Elliot Gould was 1973.
It was the time when film noir had moved from romantic cynicism to cynical cynicism, reflecting the period of the Viet Nam war, Watergate and the anger still felt from the assassinations of John Kennedy, Robert Kennedy and Martin Luther King.
Even Chinatown, which doesn't take place in the 1970's, but was released in 1974, has that same sensibility. In fact, that great film written by Robert Towne and directed by Roman Polanski, is sometimes considered the father of neo-noir.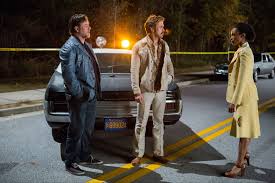 And now The Nice Guys (the title is taken from a joke that always ends on a variation of, "…and they're the nice guys") lives, breathes and marinates 1970's neo noir.
Even more, and/or better than that, it's a ton of fun. The authors have infused the story with odd ball characters and dialog with a witty and humorous rhythm to it. The plot is equally quirky and the movie has so much energy and laser like focus, it never stops.
Russell Crowe plays Jackson Healy, a somewhat sad sack of a lug who does small jobs, like scaring older men away from dating someone's underage daughter. He lumbers around like a bull in a china shop, but one that never seems to knock over any merchandise.
Ryan Gosling is Holland March, the "smart" one and the one with a private investigator's license. He knows how to milk a client for more money than a case is worth. Though lean and lithe, he's the one who always seems to knock the dishes over. He also has a long suffering but resolutely honest teen daughter and drinks a lot because of unresolved feelings over his wife's death.
The story basically begins when March takes a job from an elderly woman wanting to find her granddaughter. This is a bit more complicated that it sounds because the granddaughter, a major porn star, is supposed to be dead, having died in a car crash that opens the film. March takes the job and it leads him to a woman named Amelia. Meanwhile, Amelia has hired Healy to keep a stalker away from her. The stalker is March and thus the two meet on less than friendly grounds. Things get even more complicated, as they are wont to do in films like this, when two thugs beat up Healy asking where Amelia is.
And so Healy returns to March to find a now disappeared Amelia and thus a new odd couple, and hopefully a franchise, is born.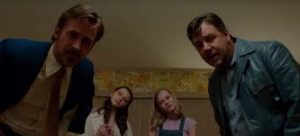 The plot is appropriately labyrinth, but as witty as the characters and dialog. And to its credit, it's one of those mysteries where you are more into the character and relationships that who is guilty and who did what to whom and what everyone is after (yes, Virginia, there is a MacGuffin here).
At the same time, and this is actually part of the fun of the film, they tend to solve the mystery for the most part by accident. They stumble onto clues and their solutions rather than using their little grey cells. It's not until the end that they actually put two and two together intellectually.
But as I said, it's not the plot that entertains. That could be anything. It's the bonding of the two misfits at the story's center (something Black's been good at from Lethal Weapon to Kiss Kiss Bang Bang) that keeps us in our seats. You know the two have reached a true melding of the minds when March sets up something at a bar without telling Healy first, and Healy comes up with the appropriate and hilarious response (don't worry, it's in the previews)—it's like they're an old married couple who can finish each other's sentences.
I do have issue with the cynicism in some of the plot. The two don't go to the press because they believe the press is controlled by the bad guys. But this is the period of Woodward and Bernstein and I find it had to believe the two couldn't find some journalist who wouldn't salivate at the idea of winning the Pulitzer Prize. In addition, if the ending were a true reflection of reality, then it may be unclear why there are no more smog alerts in L.A.
This ending reminds me of Los Angeles Plays Itself (a film that looks at how L.A. has been portrayed in film over the years) and a section that analyzes Chinatown, L.A. Confidential and Who Framed Roger Rabbit? (that triumvirate of L.A. cinematic corruption). All were inspired in part by true events, but the plots ultimately did not really reflect the reality of what actually happened in real life. (And if this movie had been released in 1977 rather than just take place then, it's hard to believe it wouldn't have been included in that great documentary.)
And this short conversation, thrown in during the denouement and between the two new friends, feels forced and clunky and a rare failure of the dialog.
With Angourie Rice as Molly, March's daughter, who has somehow managed not to be removed from her home by social services. It's one of these dysfunctional relationships that just prove how much the two love each other. Rice is a real scene stealer and her part is every bit as fun as Myrna Loy's in The Thin Man series.
With Lois Smith, as the grandmother with coke bottle glasses who hires Healy; Kim Basinger, as terrible and flat as usual, as the head of the Justice Department; and Matt Bomer, appropriately oily and with an icy smile, as Johnboy (no, not the Walton's Johnboy).
---