WIIGING OUT: Movie reviews of Welcome to Me and About Elly by Howard Casner
Posted:
May 15, 2015 |
Author:
Donald
|
Filed under:
Uncategorized
|
Tags:
About Elly
,
Alan Tudyk
,
Asghar Farhadi
,
Eliot Laurence
,
Golshifteh Farahan
,
James Marsden
,
Jennifer Jason Leigh
,
Joan Cusack
,
Kristen Wiig
,
Linda Cardellini
,
Loretta Devine
,
Peyman Hoaadi
,
Shahab Hosseini
,
Shira Piven
,
Taraneh Alidoosti
,
Tim Robbins
,
Welcome to Me
,
Wes Bentley
|
3 Comments »
First, a word from our sponsors. Ever wonder what a reader for a contest or agency thinks when he reads your screenplay? Check out my new e-book published on Amazon: Rantings and Ravings of a Screenplay Reader, including my series of essays, What I Learned Reading for Contests This Year, and my film reviews of 2013. Only $2.99. http://ow.ly/xN31r
and check out my Script Consultation Services: http://ow.ly/HPxKE
Warning: SPOILERS
When Welcome to Me, the new comedy written by Eliot Laurence and directed by Shira Piven, began, I instantly became a bit wary. The central character, Alice Kleig (played by the quite funny Kristen Wiig) is bipolar and has just gone off her meds. I felt in these opening scenes the filmmakers were exploiting her condition for laughs and I became a bit uncomfortable.
But then something interesting happens. We stop seeing Alice through the eyes of the director and writer, but through the eyes of her friends, who love her very much, as well as her therapist, who is very concerned for her and also likes her very much, and suddenly all those things she does (like starting any explanation by whipping out a piece of paper and saying, "I have a prepared statement") now seem charmingly eccentric.
We like Alice and have affection for her and her foibles and are concerned for her because her friends have affection for her and are concerned.
Events then take an interesting turn when Alice wins big at the lottery and, because she is medicationless, decides to do a cable access show exactly like Oprah Winfrey's, except that it will be all about her and with no book club, interviews or guests.
She is then taken advantage of in many ways by Rich Ruskin, one of a pair of brothers who owns the studio and who is so desperate for money and to keep the business afloat, he gladly takes her check and is willing to do whatever she wants.
Even here I was still with the movie, mainly because Rich's brother Gabe is instantly smitten with Alice and they start an affair and their affair is charmingly eccentric, as well. And also because others working at the station have moral qualms about the situation.
And then there is something quite fascinating about the show itself, called Welcome to Me, as ridiculous as it might be.
But then…but then…I'm sorry, I don't know how else to say it, the whole movie turned incredibly ugly for me. And I know the exact moment it happened.
Alice is interviewed by a graduate student for a paper and while in a limo together she seduces him and gives him a blowjob, which he takes quite willingly. And this scene isn't really seen from Alice's point of view or is used to try to understand Alice and her bipolar issues. It is played for laughs; but the film is no longer laughing with Alice, but at Alice. The movie is no longer seriously exploring Alice's illness or trying to understand her, it's now exploiting her.
And for me, it was very, very ugly.
Part of this could be that though the first act is very strong, it's possible the filmmakers just didn't know where to go with the story or what they really wanted to do with this character (which is quite understandable, I'm not sure I would know either; it's a great setup, but then, how to build on it becomes a real problem), with the result that they have a second act that is unpleasant in the wrong way and then a third act that is purely formulaic and at times almost seems little more than thrown together.
In the end, the main joy from the movie comes in the amazing cast. It's almost pure wit in its choice of actors. James Marsden is the snake oil salesman brother Rich; Wes Bentley is almost unrecognizable as his gangly, awkward sibling; Linda Cardellini is Alice's long suffering best friend Gina; twinkle eyed Alan Tudyk is her ex-husband Ted; Jennifer Jason Leigh is an employee who has a conscious; and Tim Robbins, who seems so relaxed in his role, is her therapist.
However, the two outstanding scene stealers have to be Joan Cusack, who is perhaps one of our finest laugh milkers, as the show's director, and Loretta Devine, who has only one scene as the brothers' attorney and you just can't take your eyes off of her. Both have some of the best crack timing around.
And of course, Wiig is tailored made for Alice. She often plays clueless people that have vacant looks on their faces, yet can give them depth, and she's very effective here.
But when it all comes down to it, though, I couldn't help but keep thinking of those lines from Todd Solondz's Happiness when one sister says to the other, "I'm not laughing at you, I'm laughing with you" and the sister says, "But I'm not laughing".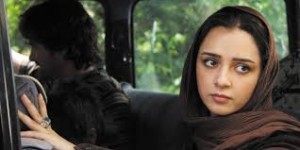 Iranian writer/director Asghar Farhadi first burst on the scene in the U.S. with his powerful chamber drama, A Separation, about a wife who is seeking a divorce and what happens when her husband may or may not have caused a caregiver to slip while being pregnant. It won, deservedly, Best Foreign Language Film at the Academy Awards.
So I suppose it should be no surprise, and is actually very appropriate, that we are now going to see more of Farhadi's earlier films as a result.
About Elly, a film that was released in 2009, is about a family who goes on a weekend vacation and who invite the title character, a schoolteacher friend, along who they hope to play matchmaker with for one of their group who is recently divorced from a wife in Germany.
About halfway through, one of their little boys almost drowns and after rescuing him, they realize that Elly is nowhere to be found. But has she just gone back to town as she said she was going to do or did she disappear while trying to rescue the boy herself?
Then complications ensue when little white lies emerge that show that not everybody has been honest about Elly and her background, including Elly, and they now have to decide how to handle new issues rising up.
There is much to like in this ensemble piece, mainly in the amazing acting. This group of people feel like they have spent their entire lives together as a family. Certainly, much of this is due to the writing and directing, but this is a movie that has characters of depth and a vibrant realism to them and their relationships.
And it is a very interesting insight to the morals and mores of modern day Iran. The complications that ensue, I can hardly think, would elicit the same reactions from characters in the U.S. In fact, except for the tragic circumstances of Elly, the ensuring revelations would probably be treated as farce locally since the audience could hardly take them as seriously as they do in this movie.
So I also think it's too the credit of all involved in About Elly that we do come to understand how serious everything is here and what might seem trivial in our culture, is far more dire in Iran's.
I do think, though, that the movie didn't quite work as well as I would have liked it to. I do think it takes far too long for Elly to disappear. This is what the movie is about after all, and right now, the structure is a before and after film (i.e., a movie divided into two parts with a major event happening the middle) and I'm not sure that there is enough in the before part to justify its length.
Then when Elly does disappear and all the stϋrm and drang began, it's often riveting, but I'm not sure what the point was or what I was supposed to take away with me. No one's life really changes and no one gains any real insight into their character or even the universe, except perhaps for a final character who shows up at the end—but he's actually a minor character and isn't driving the story.
So I felt the movie lacked something.
With Golshifteh Farahan of The Patience Stone, Rosewater and Exodus: Gods and Kings (she plays Nefertiti) in an empathetic performance as Sepideh, the one who invited Elly on the excursion; Peyman Hoaadi, the husband in A Separation, as a brother-in-law;
Shahab Hosseini, also of A Separation, as the divorced friend; and Taraneh Alidoosti as Elly.
---